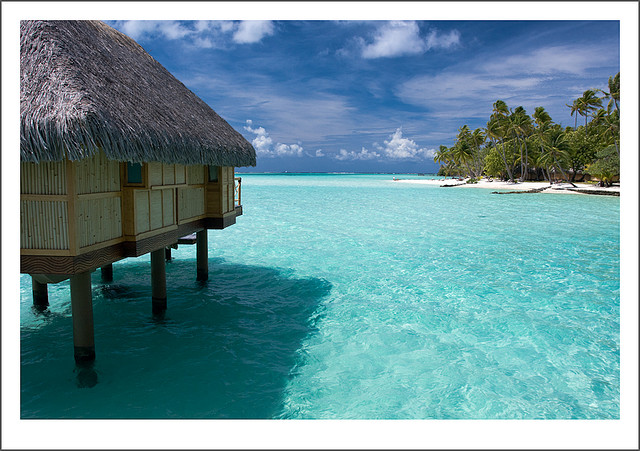 Okay, so doesn't that photo make you wanna get married just so you can honeymoon at the St. Regis hotel in Bora Bora? I first saw the hotel in that awful Vince Vaughn film "Couples Retreat" and have been obsessed with going there ever since.
*  Ryan air is going to offer child-free flights!  What do you think? My thoughts on the subject can be summed up in the quote below.
From the article:  "When it comes to children we all love our own but would clearly prefer to avoid other people's little monsters when travelling," Ryanair spokesman Stephen McNamara said.
*  Travel to Create Your Self – This article in Psychology Today answers the question:  Why do we travel?  Here's an excerpt:
"Fear is part of what makes travel so enlivening and revelatory. You're perpetually off-balance and on guard. After a while one yearns for the mindlessness of familiar routines. And when you do return home, old pleasures are much the sweeter for having been suspended."
*  I've always wanted to stay in an airplane hostel.  Check out this HuffPo article about upcycled airplanes.
*  How to Tap into the Right Side of Your Brain – A good read for anyone suffering from writers' block or for anyone in need of a creativity boost. On a related note, this poster about the 12 1/2 writing rules is cute and would look awesome in my office. Anyone wanna buy it for me?
*  Which way is the ballerina turning for you?  I only see it turning clockwise, which means I'm more right-brained then left (no surprise there!).
*  The Ted Talk "Three Things I learned While My Plane Crashed" is both funny and thought-provoking.
*  Some dude has been collecting airplane barf bags since 1988 and now they're on display in a museum.  Interesting!  I could totally see framing some of the more colorful ones.
*  Tourist Stereotypes (according to the British).  Huh.  Canadians are boring?  Really!?  All the Canadians I know seem to be quite the opposite, actually.  Are they confusing 'boring' with 'nice'?