Long gone are the days when people equated "eating out in Vegas" with dollar shrimp cocktails and bland, cafeteria-style buffets. Since the 90s, Vegas has made an effort to diversify its dining options in an attempt to compete with restaurant meccas like New York or San Francisco and in order to accommodate the refined pallets of Europeans and health conscious young people. Now the Neon City serves up so many fine-dining options that US News ranked Las Vegas as one of the "best foodie cities in the US."
If I was going to create a list of the best places to eat in Vegas, I'd probably mention restaurants like Eat or Pizza Rock, but since this list is not about the "best places to eat in Vegas", but rather the most UNIQUE, I'll save those for another post. While all four restaurants below serve decent food, it's the original decor and rich history of these eateries that make them stand out and worthy of inclusion on this list.
Here are my top picks for the most unique restaurants in Las Vegas.
1. Eat spaghetti in the old house of an Italian grandma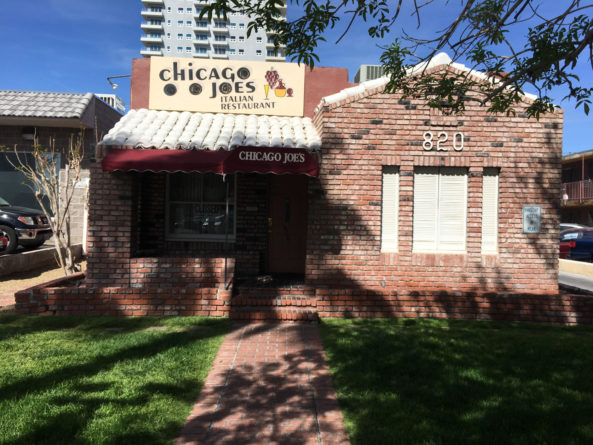 Chicago Joes
820 South 4th Street
Las Vegas, Nevada, 89101
(702) 382-5637
www.chicagojoesrestaurant.com
Why it's unique: This 30-year-old vintage Vegas gem is located in a tiny 70s-style brick house in downtown Vegas.
Walking up to the front door of Chicago Joes feels a little like you're trespassing onto a private residence. That's because this family-owned Italian restaurant is located in a converted brick house. In fact, if it weren't for the wooden "open" sign out front, you'd half expect to see a grandpa wander out the front door and holler at you to get off his lawn. Stepping through the threshold can feel almost intimidating.
But the awkwardness evaporates as soon as you enter because the inside of the restaurant looks like a Golden Girl's living room. The walls are decorated with old framed photographs and Christmas lights, white lace curtains line the windows and there's no hostess desk—just two rooms crammed with wooden dining room tables.
Chicago Joes is situated in a stretch of Las Vegas that straddles the arts district and downtown. The neighborhood is slowly becoming gentrified with contemporary bars, boutiques and restaurants, but that doesn't mean you should mistake this for a hipster hangout. This place was trendy long before the neighborhood became cool, back when the only businesses on 4th street were bail bonds and pawn shops (coincidentally, Vegas's most famous pawn shop, the one featured on the show Pawn Stars, is located just a block away. You'll recognize it from the tourists lining up outside).
The family who owns Chicago Joes bought the house in 1974, spent four months converting it and then opened it in 1975. It's been owned and managed by the family ever ever since. Although the original "Joe" ("Little Joe", as we he was called) has passed away, his son, also named Joe, has since taken over and still runs the restaurant today. Joe's wife, Marlene, manages the kitchen and about 80 percent of the items on the menu are recipes that have been passed down from Joe's grandmother.
What to order: Don't come here expecting fancy food. The dishes are traditional, classic Italian recipes with simple ingredients—just like what you'd expect from grandma's cooking. I always order the spaghetti and meatballs, but the lasagna is also good. The most popular dish is the stuffed artichoke.
2. Enjoy rum-flavored frozen custard in the Arts District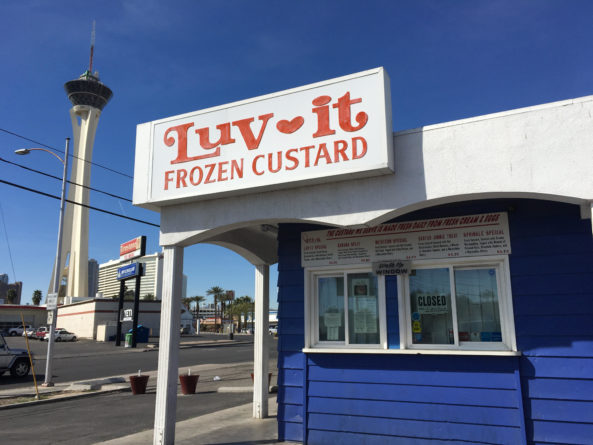 Luv-It Frozen Custard
505 East Oakey Boulevard
(702) 384-6452
Why it's unique: Besides the fact that the frozen custard is the best in Vegas, it also comes in some pretty interesting flavors, including: chocolate pretzel, banana nut, rum rainbow and Rootbeer float.
This place has been around since 1973—over 40 years—which is a rarity in a town that has embraced an "out with the old and in with the new" mentality. The little blue and white concrete building doesn't look like much, and it takes "no thrills dining" to the extreme (there's nowhere to sit and there's no "inside"- it's basically not much more than an ice cream shack), but the frozen custard is delicious and it's a convenient stop if you're on a walking tour from the Strip to downtown Las Vegas (it's located along Las Vegas Boulevard, north of the Stratosphere).
3. Eat an omelet the size of your FACE at The Omelet House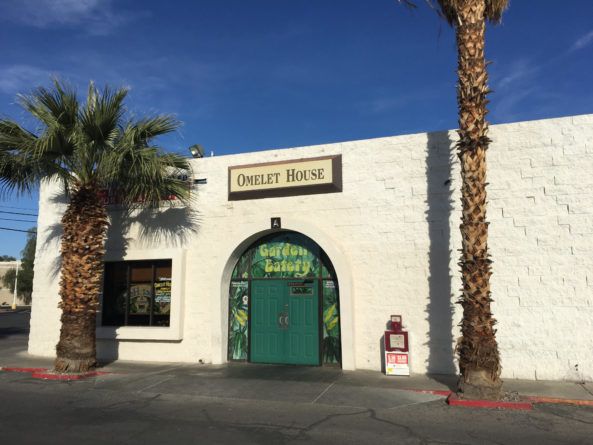 The Omelet House
2160 West Charleston Blvd
Las Vegas, Nevada 89102
(702) 38406886
omlethouse.net
Why it's unique: The Omelets are HUGE—So big, they take up the entire plate. What's more, the décor in this restaurant is kitschy and odd; like a cross between a grandmother's attic and a house on an episode of Hoarders.
The Omelet House is a family-owned and operated business that was started in 1972 and has a location on Charleston Blvd (west of the Strip) and on Boulder Highway.
There are 34-different choices of omelets at the Omelet House, which include some unique flavor combinations, like a roast beef omelet with sour cream, a shrimp omelet or an omelet with chili and onions. But weak-stomached eaters, fear not! The menu also offers more traditional breakfast fare as well.
What to order: When you visit a restaurant with the name "omelet" in it, naturally you've got to order an omelet! But you also must, MUST, order the banana bread. Many of the meals come with it, but if your meal doesn't, order it as a side—The banana bread (don't skimp on the whipped butter) is hands down the best item on the menu.
4. Chill by a firepit in a purple forest at The Peppermill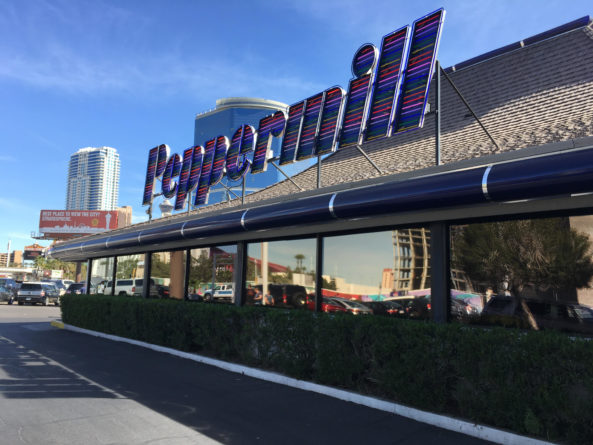 The Peppermill Restaurant and Fireside Lounge
2985 S Las Vegas Boulevard, Las Vegas, Nevada 89109
(702) 735-4177
peppermilllasvegas.com
Why it's unique: It has fire pits and a purple forest. Need I say more?
The Peppermill is one of those restaurants where the décor is just so bad, it's good. With mirrored ceilings, purple and aqua-blue-colored seating, neon lights and fake trees, it's like a Candy Land gone wrong. Because the diner has been in operation on The Strip since 1972, it has that rare, old-school Vegas street cred that somehow makes it cool.
The portions are huge and typical diner fare, but to be honest, the best reason to go is the fireside lounge, which is in an adjacent room to the restaurant. The fire pits and the intimate, dimly-lit room make for a fun place to stop for a late-night drink. The fireside lounge was in the Martin Scorsese film Casino and the film Showgirls. It was also a hangout spot for the mafia, back when the mob ran Las Vegas.
Both the lounge and the restaurant are open 24-hours.