Okay, warning: I'm about to make fun of Japanese fashion for a second. But I'm sorry, it's just too funny not to.
T-shirts with English phrases printed on them are really popular here. Unfortunately for these t-shirts (and the people who where them), somewhere in the manufacturing process, spell check and a translation check were overlooked. Thus, people are left wearing shirts with sentences that make little sense and are not much more than a random jumble of words.
Like this t-shirt, for example. Maybe it's a deeply meaningful haiku. Or maybe the manufacturer just thought those particular words looked beautiful strung together randomly like that. Who knows?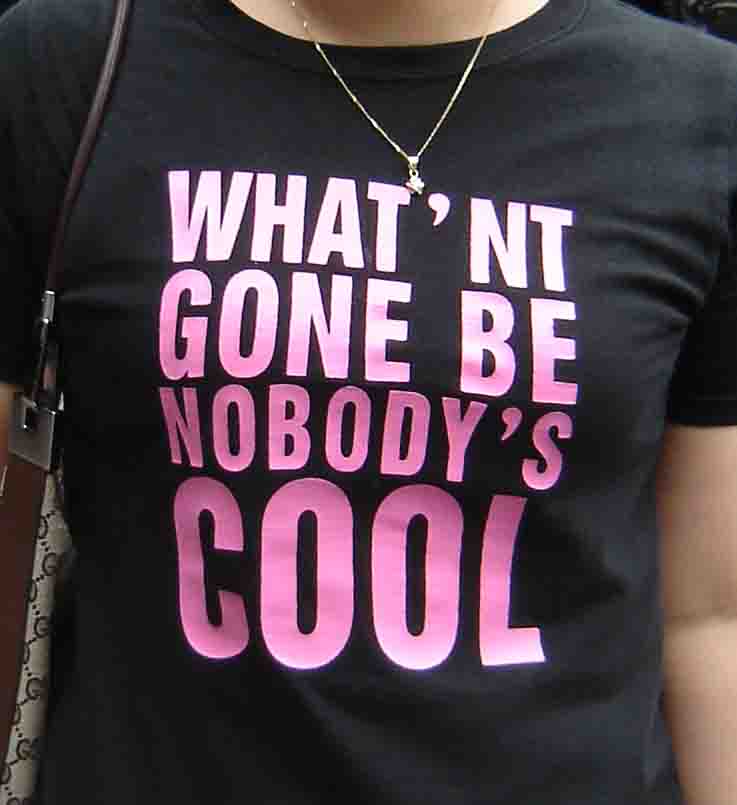 In other cases, the meaning can be understood, but there are typos and somewhere the message gets lost in translation slightly.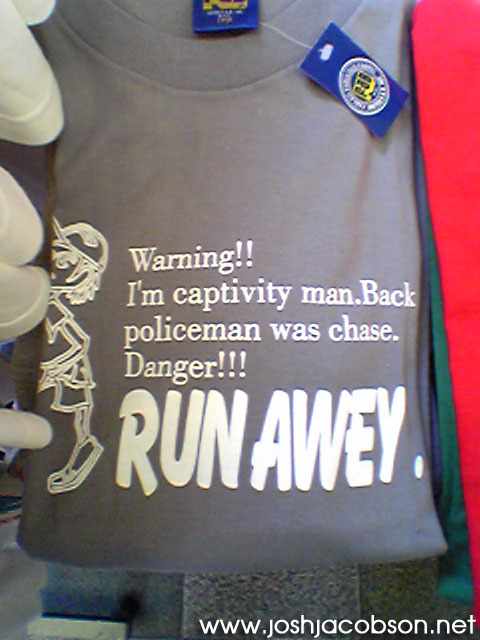 Well, who doesn't feel happiness when they eat a potato? I love potatoes! And I definitely want to buy this shirt.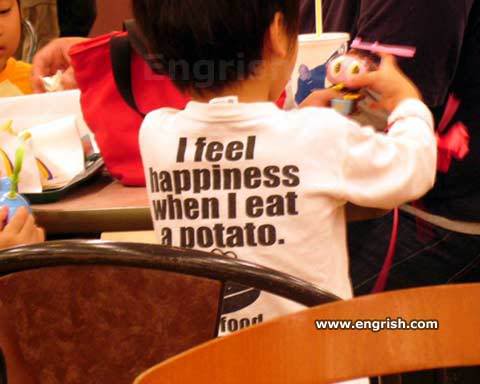 Then there are the shirts that may be grammatically correct, but are totally inappropriate. Last week, for example, I saw an elderly Japanese gentleman wearing a t-shirt with a picture of a plate of spaghetti across the front. Written in cursive above it was the caption:
"Straight? So is spaghetti until you heat it up."
Now, was this man trying to make a bold statement about his sexuality or did he not understand what was written there and bought the t-shirt because he liked the cute spaghetti graphic?
Or, here's another example. A little over a month ago I was exploring my neighborhood mall, when I saw a woman, (40-ish) pushing an infant in a baby stroller. The woman's hot pink t-shirt read:
"Your lovers all wish they were sleeping with me."
Someone, somewhere in a clothing manufacturing company is snidely chuckling to himself right now, I'm sure of it.
Is it really wrong that I laughed out loud when I saw this picture? Especially funny are the kids and teacher in the background…Seriously, no one realized what his shirt meant and sent him home to change?!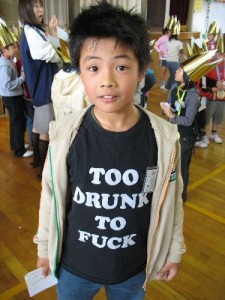 To be fair, Westerners aren't any better. How many people stupidly have bogus Chinese characters tattooed to themselves without bothering to verify the meanings first? And tattoos (unlike t-shirts), are permanent! America's own Britney Spears apparently got a Chinese character she thought meant "mysterious" only to find out later it really meant "weird" (which is sort of fitting, don't you think?) And my boss told me a story of his friend who cluelessly had the Japanese word for 'kitchen' tattooed to his arm…because he thought it looked nice.
Anyways, it all makes for interesting reading during my long and otherwise mundane commutes to work. I like to surreptitiously study the people wearing these 'Engrish shirts' and imagine to what extent they understand what's written on them.
Got any fun examples to share?