I'm not a flight attendant. But ask most everyone that knows me and they'll say that I am. And that's because whenever I start to tell people about my job, they don't get much past the "I work for an airline…" bit before their minds are conjuring up images of this: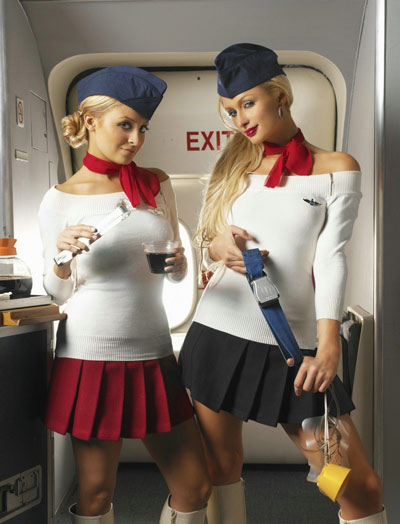 Paris and Nicole as Flight Attendants.  Photo courtesy of Jaunted
But I'm not a flight attendant. I'm a customer service agent. Which in the airline world is the equivalent of being the flight attendant's ugly stepsister.  Or to put it another way:  If the airline world were a high school, the pilot would be the class president, the flight attendant would be the head cheerleader and the customer service agent would be the cheerleader's nerdy, half-cousin from Omaha.  We're really only popular by association and even that's debatable.
Tell people you're a flight attendant and they assume your job to be glamorous, exciting and adventurous, but tell people that you're an airline customer service agent and they just look at you in confusion.
"I work at the check-in counter and at the gates," is the usual explanation I give.  Sometimes they then nod their heads in recognition, but more often than not they just stare at me blankly. I then put on my best announcer voice: "We'd like to begin our general boarding process for flight XYZ to LAX.  We ask that all ticketed passengers please proceed immediately to gate 5 for an on-time departure."
Sometimes this works and sometimes it doesn't.
"Sooo wait, you mean you don't fly in the plane?" is what usually follows next.
"No," I answer, sighing inwardly. "I'm not a flight attendant."
Not that there's anything wrong with being a flight attendant. I like flight attendants. My own mother was one once. But like the shy nerd who grows weary of constantly being out-shined by her more outgoing, popular older sister, the flight attendant favoritism gets old. Flight attendants get all the fame and glory.  They get the book deals, they get fired and then become weblebrity bloggers and they even inspire screen plays, reality television series, variety shows and a slew of pornographic films.
It's not fair, really. Because a flight attendant's job isn't glamorous or sexy.  They're glorified waitresses who happen to be cross-trained in emergency evacuation procedures. Their chief responsibilities involve the safety of a plane full of people…so what's so sexy about that?
Sometimes though, when I watch them prance by in their perfectly-pressed uniforms and unchipped manicures, I can't help feeling a little jealous. Especially since I usually greet them at the gate, with my hair windswept from running back and forth between the aircrafts and smelling like I bathed in Purell. Which most days is what I use to cover up the smell of Eau de Aircraft Lavatory Trash Can.  And even if I was the type to spend money on manicures, between lifting luggage onto the ticket counter bag belt and scratching dried bubble gum off of the aircraft carpet, nail polish wouldn't last an hour on my nails.
But even though our jobs functions are similar (safety and service with a smile!) there's definitely an unspoken hierarchy among airline employees which has caused some flight attendants to develop an attitude. There are some I've met who've obviously bought into the "I have Barbie dolls created in my vision, so now you must worship the ground I walk on" mystique and are incredibly demanding.
"I need more water," they'll snap the second I open the aircraft door. Or some will wait until twelve minutes before departure to check their supplies and then will demand more hot towels or cans of Coke. I've actually had to delay a flight because the flight attendants insisted that the plane could not depart until it was fully loaded with enough bags of trail mix.
But I suppose everyone has to have someone to feel superior to. The pilots feel superior to the flight attendants and the flight attendants feel superior to the customer service agents and the customer service agents feel superior to the baggage handlers. And we all feel superior to the passengers, which I suppose is the one common bond that we all can share.
Sometimes I even think that it'd be easier to be a flight attendant. I mean sure, they're on call a lot, away from home most weekends and until they've worked their way up the seniority list (which takes years, by the way) they're often relegated to shuttling back and forth between not-so-exciting cities like Pittsburgh and Buffalo. But at least they don't have to pick up puke or get screamed at by irate customer's all day long.
But then there are other times, when I'm standing on the jet bridge watching the plane pull away and the captain smiles and salutes me or when an old woman hugs me for helping find her missing luggage or when I'm running across the tarmac dodging luggage carts and aircraft tugs and I look up to see an airplane roaring overhead…That's when I think that my job is pretty, damn cool.
…Even if I'm not a flight attendant.