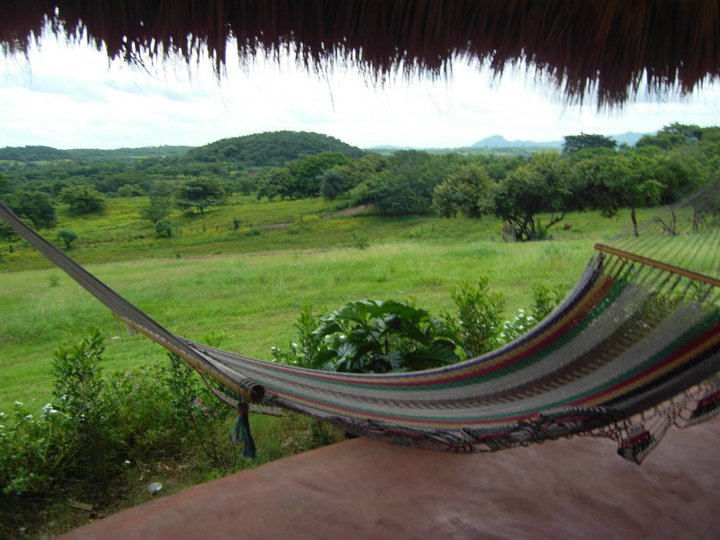 That's a picture of the hammock where I spent the last five days.  You can't see it from the photo, but just to the left of the hammock is the ocean.
For five dollars a night, I stayed at a hostel that was only a hundred meters from a deserted beach.  The nearest town was an hour away and the only living creatures I saw the entire week (besides the half a dozen Canadian and Californian surfers) were  cows and horses and the farmers that lead them for walks along the shoreline.
Every morning I got up at five thirty and meditated with the hermit crabs and the geckos and then went for a long walk.  I swam. I read four books and wrote in my journal.  But mostly, I just layed in my hammock and stared at the ocean.
On about the fourth day, Helen, the waitress at the hostel's small restaurant, asked me, in Spanish:  "Are you sad?"
I laughed and answered:  "No, just lost."
She contemplated me for a moment and then sat in the hammock next to mine.
"I have no plan for my life," I said, trying to offer a better explanation. But I knew that even if I had the Spanish vocabulary to articulate concepts like 'quarter-life crisis' and 'travel addiction', I would have been far too embarrassed to present those to her as if they resembled anything like real problems.  My biggest concerns at the moment involved worries about finding a job when I returned to the US and how I was going to endure the shame of returning home to live with my parents again.  There was no way I was going to tell that to a girl who not only lived with her parents, but who worked 10 hours a day for six dollars a day.  At 20, she'd already gotten married, given birth and been divorced.  She lived in a house with no walls, only a grass-thatched roof held up by four spindly pieces of wood.  And she was missing a tooth.
And while you would think that this life comparison would give me some perspective and perhaps even make me feel grateful for all the wonderful opportunities I've been given, it just made me depressed.
Since I couldn't explain why I felt lost (even to myself), I remained quiet.  Helen and I sat there for the next 20 minutes, rocking back in forth together in our hammocks and watching the sun set, a flamingo pink over a grey, choppy ocean.  I fretted over whether or not I should enrol in a hammock sewing class in Granada while she probably fretted over whether or not she had enough money to buy beans to feed her two-year-old.