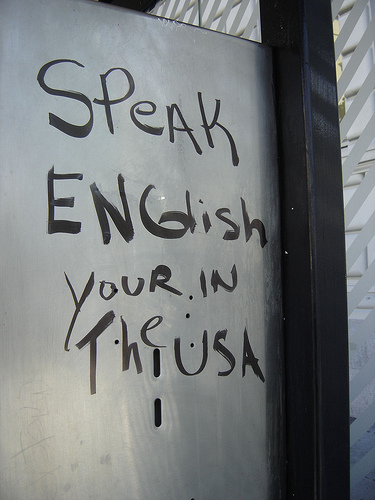 When it comes to dating, many foreign accents (like French, for instance) are considered sexy. In fact, CNNGO compiled a list of the world's sexiest accents and placed the Italian accent in first place (lesser known accents like Nigerian, Czech and Thai were also on the list).
But when it comes to employment in the US, a foreign accent can be the kiss of death. Though I have no statistics on foreign accent discrimination, from what my ESL students have told me (many of whom work in the service industry),  it happens. Two of my students are taking accent reduction classes for the sole reason that they believe that they've been denied work promotions due to their thick Chinese and Korean accents.
Is there any truth to their claims? According to an article that was published in Scientific America, there is.
"Like skin color or attire, accent is a characteristic we routinely use to identify someone as unfamiliar or foreign. But while most people understand that discrimination based on visual appearance is wrong, bias against foreign speech patterns is not universally recognized as a form of prejudice."
Up until recently, when Arizona overtuned a decade-old piece of legislation left over from the 'No Child Left Behind Act', ESL teacher's in Arizona could be written up for having thick accents; pronouncing 'the' as "da" for instance, or 'another' as "anuder". This is all according to a New York Times piece about a lawsuit filed by civil rights advocate Silverio Garcia.
As Garcia explained, "This was one culture telling another culture that you're not speaking correctly."
Why the bias against non-native English speakers? As a study conducted by University of Chicago psychologists Shiri Lev-Ari and Boaz Keysar found, the answer lies with how our brains process new information. People inately prefer sensory information that is easy to understand. Listening to English spoken with a foreign accent demands more concentration from the listener than listening to English spoken with a familiar, regional American accent.
Sounds pretty logical, huh? Well what's surprising is that as their study has shown, not only do our brains prefer the familiar accent over the foreign, but we find it more credible as well.
The study, which was outlined in the Scientific American, found that when participants were asked to 'judge the truthfullness of a statement', the statements read aloud by native English speakers were ranked as more trustworthy than those read aloud by non-native English speakers.  Recordings of non-native speakers with slight to heavy foreign accents reciting trivia ("A giraffe can go without water longer than a camel can" was the example the article gave) were played for the participants.  And though the participants were told that all of the facts were written by the researchers and not the people reciting them, the results of the study showed that the participants were more likely to doubt the validity of the statements when they were recited in a foreign accent.
What's interesting is that while there is very much a right and wrong way to speak English where grammar and sentence structure are concerned, there are no hard and fast rules when it comes to pronunciation.  English accents vary from country to country and even from region to region within the same country.  If an English as a Second Language teacher with a Costa Rican accent, for instance, is deemed unfit to teach, what about an ESL teacher with a British accent?  Or an ESL teacher with a heavy Boston, Minnesotan or Cajun accent?
Recently, while teaching pronunciation to a class of college-aged exchange students, one of my Brazilian students commented that she didn't want to learn how to speak with an American accent.
"I like my accent," she asserted.  "People think it's cute and sexy."
Sexy indeed.  According to CNNGO, the Brazilian accent is the ninth sexiest accent in the world.
In the melting pot that is the US, where language is ever evolving and even the American accent we know today was once considered a butchered version of the Queen's English, is it fair for one dialect to be lauded as superior over another?