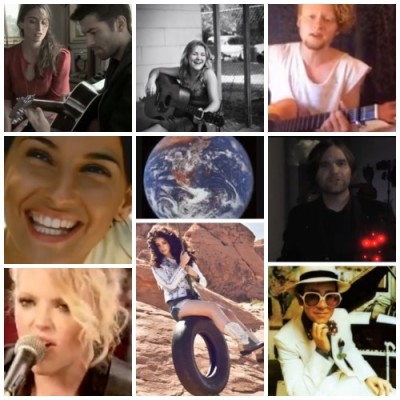 I've written about some of my favorite travel songs in the past, but it's been a few years so I thought I'd revisit this topic with an updated list. In trying to round up a list of songs that I felt spoke to the traveler personality type and what it means to be nomad, I realized two things:
1. There are a lot of travel songs
2. Most of those travel songs aren't any good
But I tried my best! Here are some of my favorites.
1. "Sittin' on the Dock of the Bay" (COVER) by Sara Bareilles
Great to listen to: While laying in a hammock on the beach, sipping a margarita
Sample lyrics: Sittin' here resting my bones/And this loneliness won't leave me alone/Two thousand miles I roam/Just to make this dock my home
Ottis Redding wrote this song while sitting on a houseboat in Sausalito, California in 1967. In the original version, you can hear the sound of waves and seagulls in the background. Although I love, love, LOVE the original, Sara's version is soulful and beautiful in it's own way too. Though both versions have a melancholy vibe to them, "sitting on the dock of the bay wasting time" is something every traveler can relate to. Feeling lonely and depressed when you're in a beautiful place (like an ocean harbor) is another thing many travelers can relate to.
2. "I'm Like a Bird" by Nelly Fertado
Great to listen to: While on a long, cross country bus ride
Sample lyrics: I'm like a bird, I'll only fly away/I don't know where my soul is/I don't know where my home is
Nelly Fertado has referred to this as her "freedom song" and that's a great description of it. Though the song is about a girl saying goodbye to a relationship, it has an upbeat melody and an 'embrace who you are' theme. Though we may love our friends and family, all of us nomads were born to fly and, eventually, that is exactly what we'll do: fly away to the next destination on the map.
3. "The Long Way Around" by The Dixie Chicks
Great to listen to: Before embarking on a road trip
Sample lyrics: I hit the highway in a pink RV with stars on the ceiling/I've been a long time gone now/Maybe someday someday I'm gonna settle down
I'm not the biggest country music fan, but this song's bohemian message is too good not to include it in the list. The song is about taking a different path in life, about not settling for the ordinary and about discovering yourself. Sometimes in order to find yourself you have to say goodbye to your high school friends, shun conformity and hit the highway on a solo road trip.
4. "Rocket Man" by Elton John
Great to listen to: When you're heading home after a long trip abroad
Sample lyrics: And I think it's gonna be a long, long time 'til touch down brings me round again to find I'm not the man they think I am at home
This song is about an astronaught who has to leave his family to venture in his space. He has mixed feelings about it but he's resigned. He can't say no. He's a rocket man. It's his job, it's who he is.
This song is great to listen to when you're leaving a place, homeward bound or headed to your next destination.
5.  "Wild World" by Cat Stevens
Great to listen to: Before departing on a post-breakup trip
Sample lyrics: You say you wanna start something new/And it's breakin' my heart you're leavin'/Baby, I'm grievin'/But if you wanna leave, take good care
Cat Stevens has said he wrote this song towards the end of a two year relationship. He's quoted to saying the song was part of "a recurring theme in my work- which is to do with leaving, the sadness of leaving, and the anticipation of what lies beyond." If you've ever traded in a relationship for the road or have been abandoned to someone who has moved away, you'll probably relate to this song.
6. Here I Go Again (COVER) by Audra Mae
Great to listen to: While walking through a foreign city alone.
Sample lyrics: An' here I go again on my own/Goin' down the only road I've ever known/Like a drifter I was born to walk alone.
This song was originally sung by Whitesnake but I like this cover version a lot as well. Whitesnake's lead signer wrote this song in 1981 while in Portugal. Although the song is supposedly about his divorce, with lyrics like "Well I don't know where I'm going" and "I'm looking for an answer but I never seem to find what I'm searching for", this song is practically a traveler's anthem. And it makes a great song to belt out at karaoke.
7. "Backpacker Song" by Kasper Raunholst
Great to listen to: When you're backpacking across Southeast Asia
Sample lyrics: When you are traveling in foreign countries/To find excitement, or to find peace/The promised land where adventures are hanging on the trees/And you do not what you blast, but what you pleased/Yeah then you know you are a Backpacker!/Who needs gold, when you are rich on life
This song is strangely funny. I don't know anything about the guy singing it other than he's from Denmark, but doesn't he look like the quintessential backpacker? I can so picture him lounging on a couch with his guitar in a youth hostel common room in Thailand somewhere.
8. "Ride" by Lana Del Rey
Great to listen to: While on a road trip through the desert
Sample lyrics: I hear the birds on the summer breeze/I drive fast, I am alone in the night
Been tryin' hard not to get into trouble
I love Lana Del Rey! Her voice is so dreamy and whimsical. While "Ride" isn't my favorite song of hers (I like "Blue Jeans" better), this song makes me want want to go on a road trip something fierce. The music video for this song shows Lana riding on a motorcycle through the desert, which is what I'd like to do every time I listen to it.
9. "Couch Surfing" by Darren Hanlon
Sample Lyrics: Well I haven't paid rent in a month or more…Everything I use fits in my backpack…
Like the title suggests, the song is about couch surfing (staying for free on people's couches instead of staying in a hotel or a hostel).
The song talks about blowing up the air mattress, reducing your life to the bare essentials and what it's like to be "one friend away from being a bum on the street". What's not to love?
10. "You are a Tourist" by Death Cab for Cutie
Great to listen to: When you've been home for too long and you're itching to get back onto the road again
Sample lyrics: And if you feel just like a tourist in the city you were born/Then it's time to go/And define your destination
There's so many different places to call home
Are you a traveler or a tourist? Who cares? "When there's a burning in your heart", sometimes you just need to pack up and leave town for a while. As the song goes, "there's so many different places to call home".
Got any to add?