Considering Las Vegas is a city that promotes living in excess and overindulgence, it really shouldn't have surprised me to see this sign hanging above a restaurant doorway: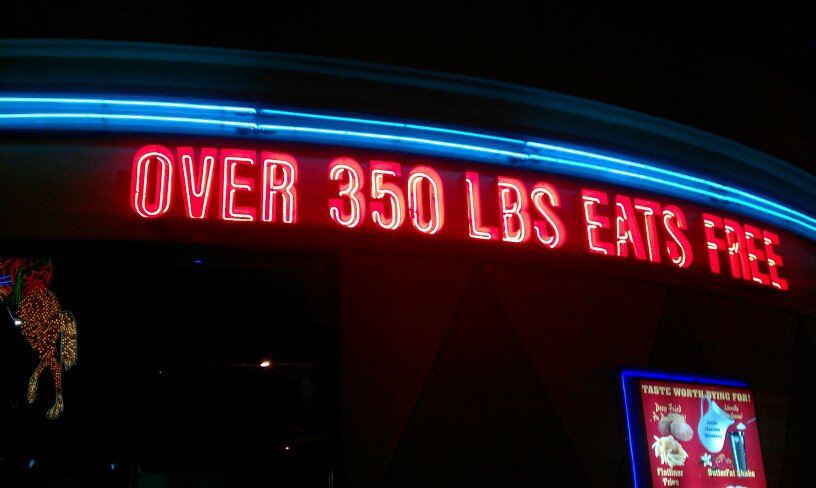 But it did. In fact, it stopped me in my tracks. It was a sign for the newly-opened 'Heart Attack Grill', which my friend and I came across while walking down Fremont street in downtown Las Vegas.
"They have got to be joking," I said  as we gaped outside the restaurant's large, floor-to-ceiling windows.  The restaurant looked like a hospital cafeteria; bright, florescent lighting, counter-top seating and waitstaff dressed in skimpy nurse uniforms. The patrons wore identical hospital gowns and plastic ID bracelets.
But it wasn't a joke. The Heart Attack Grill, which is also located in Arizona and Texas, does in fact serve free burgers to anyone over 350 pounds. In fact, until recently, the grill's spokesperson and regular 'eat free' customer at The Heart Attack Grill in Phoenix, was nearly 600 pounds. The Heart Attack Grill is need of a new replacement, however, because last March, in an ironic twist of fate, their spokesperson had a heart attack and died. He was 29.
But to be fair, he was warned. According to an article in the Las Vegas Review Journal, The Heart Attack Grill tells its patrons that the side effects of dining at their establishment, "…may include sudden weight gain, repeated increase in wardrobe size, back pain, male breast growth, loss of sexual partners, lung cancer, liver sclerosis, stroke and….In some cases, mild death may occur."
"It's not for everyone," the restaurant further states. Considering the menu's signature item is the 8,000-calorie Quadruple Bypass Burger (for the record, that's enough calories to sustain the average adult for four days), I'd say that the restaurant isn't for anyone.
What do you think?  Do you see this restaurant being a hit overseas? Would you eat there?