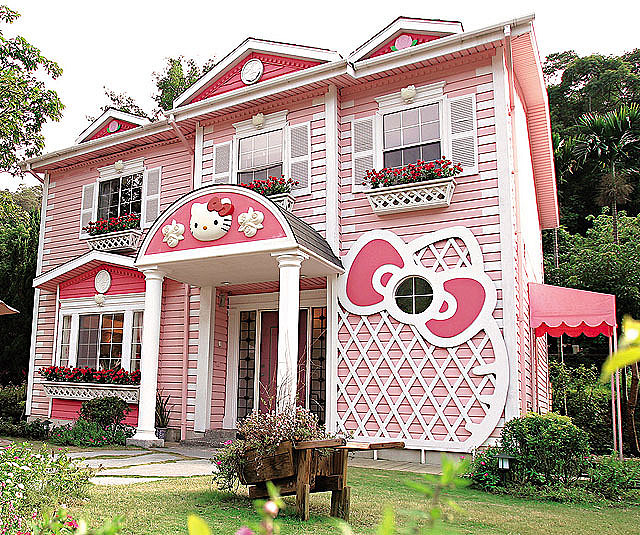 If my eyes could talk, they'd be saying:  "Holy HELL.  Turn it off!"  Talk about an eye-sore.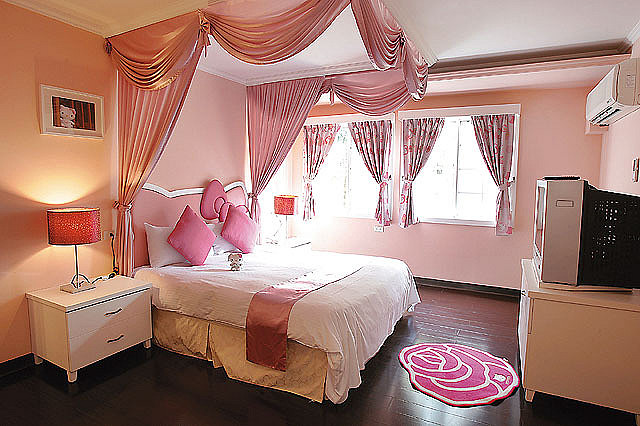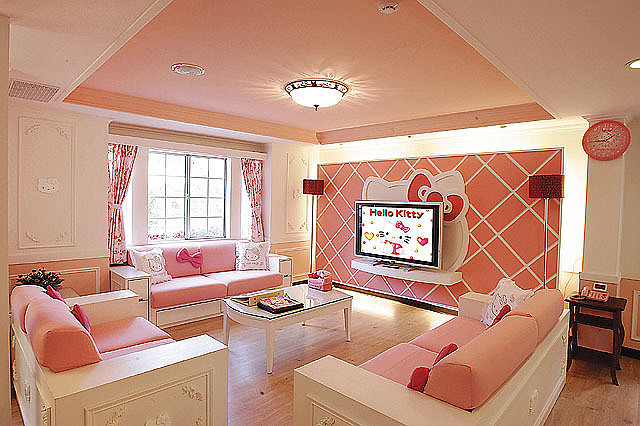 If you're wondering where on Earth I found these photos, I discovered them while searching in the recesses of Flickr for images to use for a piece I wrote for The Flying Fugu.  If you're interested, there's more Hello Kitty photos (plus info on some crazy cafes) in the article (Bean Around the World:  12 Quirky Coffeehouses to Go to Get your Caffeine On).
Anyway, while researching I learned a few completely useless facts about Hello Kitty that you may or may not be interested in:
From Wikipedia:
Her real name is Kitty White and she was born in the suburbs of London, England on November 1. Her height is described as five apples and her weight as three apples. She is portrayed as a bright and kind-hearted girl, very close to her twin sister Mimmy. She is good at baking cookies and loves Mama's homemade apple pie. She likes to collect cute things.
But wait!  There's more…
Hello Kitty is portrayed surrounded by a large family who all go by the last name White. Her twin sister Mimmy is described as "shy and very girly," interested in sewing and dreaming of marriage. While Hello Kitty wears a bow on her left ear, Mimmy wears hers on the right. Their Papa, George, is described as dependable, humorous but also absent-minded. Mama, Mary, is portrayed as a good cook who loves doing housework.
Now I know Hello Kitty was invented in the 70s and in JAPAN but still…Her only talent is baking and her mother enjoys housework?!  Gross.  She's worse than Barbie.
I'd like to invent a new role-model for little girls.  I'd call her 'Travel Girl' and her profile sketch on Wikipedia would go something like this:
Travel Girl is a brave, adventurous free-spirit whose favorite subjects in school are geography, political science and quantum physics.  She enjoys traveling the world in her magical rainbow-colored suitcase and battling archaic gender stereotypes…
Okay, whatever.  It's a work in progress…But maybe when I'm finished writing my young adult novel, I'll write a children's book.  Anyone interested in illustrating it?