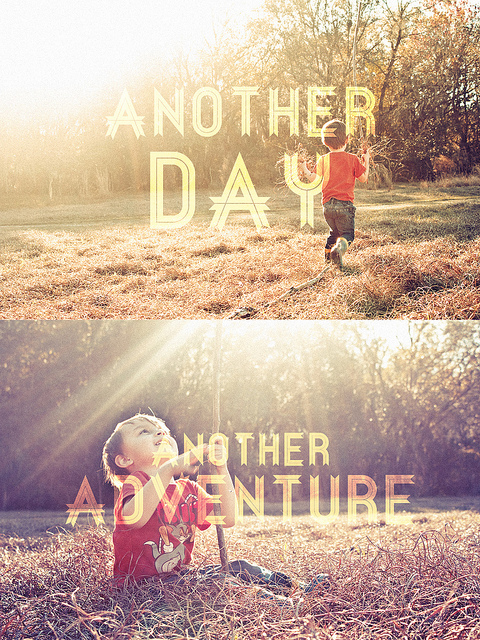 photo credit:
Conor Keller | fortysixtyphoto.com
via
photopin
cc
I'm on Tripbase again! Here's my post: 10 Awesome Places to Re-Capture Your Lost Youth. Click, read and share! Thank you. Gracias. Danke, Arigato. Merci.
Well, with that shameless self-promotion out of the way, here are 13 awesome quotes about childhood and how much being a little kid rocked.
1. "I'd like to be a kid again but only because naps were insisted, twirling in circles was acceptable, and the only password I had to remember was open sesame." – Adar Burks
2. You will find more happiness growing down than up.  ~Author Unknown
3. "Every child is an artist.  The problem is how to remain an artist once he grows up."
~Pablo Picasso
4. The purpose of life is to fight maturity. – Dick Werthimer
5. "The end of childhood is when things cease to astonish us.  When the world seems familiar, when one has got used to existence, one has become an adult."  ~Eugene Ionesco
6. "Some things can only be understood when you're in a tree house.  With a pile of warm chocolate chip cookies.  And a book."  ~Dr. SunWolf, professorsunwolf.com
7. "A child who does not play is not a child, but the man who does not play has lost forever the child who lived in him."  ~Pablo Neruda
8. "I am often accused of being childish.  I prefer to interpret that as child-like.  I still get wildly enthusiastic about little things.  I tend to exaggerate and fantasize and embellish.  I still listen to instinctual urges.  I play with leaves.  I skip down the street and run against the wind.  I never water my garden without soaking myself.  It has been after such times of joy that I have achieved my greatest creativity and produced my best work." ~Leo F. Buscaglia, Bus 9 to Paradise
9. "One of the virtues of being very young is that you don't let the facts get in the way of your imagination."  ~Sam Levenson
10. "Think what a better world it would be if we all – the whole world – had cookies and milk about three o'clock every afternoon and then lay down with our blankies for a nap. " ~Robert Fulghum
11. "A child's world is fresh and new and beautiful, full of wonder and excitement.  It is our misfortune that for most of us that clear-eyed vision, that true instinct for what is beautiful and awe-inspiring, is dimmed and even lost before we reach adulthood."  ~Rachel Carson
12. "Children have neither past nor future; they enjoy the present, which very few of us do." ~Jean de la Bruyere
13. "Adults are just obsolete children and the hell with them."
― Dr. Seuss