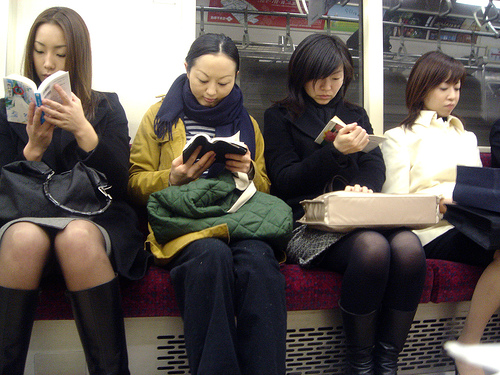 Two months ago, a mentally-unstable man that I met on the train in Saitama, took one look at me and announced in a loud, prophetic voice: "You are too young to be in Japan."
Once I got over the shock of being addressed in this manner (in English!) I laughed it off, saying "Buddy, I'm a quarter of a century old!" And most days, that's exactly how I feel; old and incredibly jaded.
But then there are other days (like today) where I feel like I'm just an insecure kid playing pretend at being this competent and capable adult. I feel like I'm at the emotional level of a 14-year -ld and that 14-ear-old is horrified at the thought that she alone is responsible for making so many important life choices.  Right now, she's staring numbly at the the myriad of flight itineraries looming on the screen before her and saying, "You want me to do WHAT? Make a decision that could potentially ruin my life? Shouldn't you be asking a grown-up this? Why don't you just call the guidance counselor?"
Japan seems to have a funny way of bringing that painfully self-conscious, frightened teenager out in me.
I think it's because I feel like I'm being judged here for not conforming and for not being perfect, or even close to it. There are just so many unspoken rules. Don't eat while walking, don't put on makeup on the train, don't speak what's on your mind, don't jaywalk, (even when it's 3am and there isn't a car in sight).
Everything must be done the correct way, the proper way, "the Japanese Way". There's a proper way to write, a proper way to hold your chopsticks, a proper way sip tea and stand in line. There's a proper way to clean, eat, cook, arrange flowers, take a bath and even walk.

It's like high school all over again. If your behavior doesn't fit in with what "all the cool kids doing" you're an ostracized freak of nature. And sometimes I feel like the biggest freak of them all.
I'm especially conscious of this fact when I'm running late to work, which happens, like, every day. I'll be tearing down the sidewalk towards the train station, bumping into people and bicycles and construction workers as they all travel in neatly ordered rows, like giant schools of fish, all completely in sync. Then I'll reach the station, a sweaty, disheveled mess, only to find that I've once again misplaced my train pass. So I'll dump out the contents of my bag onto the ground in front of the turnstile and bouncy balls, pieces of chalk, 50 dollars worth of coins and tiny animal magnets will scatter everywhere. People will slow down to watch as I frantically search for that tiny plastic card and I'll feel the magnitude of their negative, critical thoughts which radiate off of them, like, "Ha. What's that girl doing? What a Frrrreeeeaaak."
Then I'll get on the train and I'll get these side-long glances. Quick, yet assessing. And I'll do an appearance check: How do I look from a Japanese person's perspective? And I'll notice the mis-matched socks, the white-out and glue stains on my black pants, and the scuffed shoes with the holes in the souls which are taped up with masking tape.
And then I'll look around at the other women, dressed in perfectly pressed designer label suits with faces made-up like runway models, and every exquisitely highlighted strand of hair neatly styled into place. And I'm reminded once again of just how much I don't belong here.
My friends insist that this is all in my head. That if people do look at me, it's only out of a passing curiosity. They aren't critiquing or criticizing me. While they're probably right, this feeling of self-consciousness, of not measuring up to their standards, is a hard one shake. Especially when most days I feel like a mildly-retarded illiterate with a permanent seat on the "short bus".
Take today, for example. I got into a dramatic, drawn-out, hysterical cat fight with a photo-copy machine. It stubornly refused to cut me any slack for not being able to read kanji. So I cursed it out, pushing all of it's buttons until it completely shut down and refused to talk to me.
I felt guilty afterwards so I tried to reach some sort of mutual compromise. I brought out my
kanji book and spent the next hour peering over the little screen and carefully counting each of the microscopic, intersecting lines that made up each Chinese character. I then patiently scanned the index of my kanji book, searching for something that even slightly resembled one of the scribble-scrabble hieroglyphics on the screen, but had no such luck.
I cried, cursing the evil bastards who decided to make the copy machine gaijin-proof and the Chinese person responsible for bringing his impossibly difficult written language to this island in the first place.
Later, the owner of the cram school gave me the polite, Japanese version of "What the Hell did you do to my copy machine?" And like a 14-year- old caught cutting gym class, I mumbled, red-faced: "Um. Well. You see…There were a bunch of buttons…and the Kanji…Well."

As I type this, I'm sitting in my icebox of an apartment, shivering in a coat, gloves, ski hat and scarf, because I can't figure out how to work the heater. My roommate has gone AWOL and I've tried to google the kanji character for 'heat', 'heater' and 'hot' but can't find anything that matches the symbols on the remote.

I explained some of these frustrations to my mom the other day over the phone. "Reannon, why do you continually do this to yourself?" was her exasperated response. "Why do you have to make your life so hard?"

Hmm…good question. I have no idea. I just consulted the 14-year-old on that but she just rolled her eyes and said that my mom doesn't know what she's talking about.