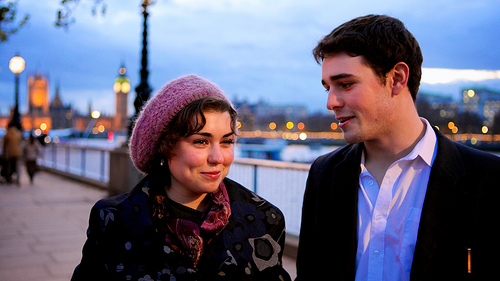 I don't write about my dating life on this blog much (or at all, really).  When you write about your life on the Internet, you gotta draw the line somewhere and I guess that line for me is discussing details of Relationships Past, Present or Future.  I think it's important to respect people's privacy, which is why I don't write about my friends or family much either (other than the occasional, casual mention).  That, and most people I know aren't as comfortable sharing their lives with faceless strangers from the Internet.
Fair enough.  Sometimes I'm not even sure I'm comfortable with it, especially when I'm applying for jobs and some of my most personal thoughts and feelings are only a Google-search away from a prospective employer's eyes.  It's an odd feeling to walk into a job interview and wonder if the manager seated before you has read about that time you set off the fire alarm in the shower or the time James Franco almost fell in love with you. It's situations like that that make me wonder if I'd be better off blogging anonymously.
Especially when I get concerned phone calls from my parents that begin with:  "I read your blog today…about how you got into a fight with the photocopy machine again…." And end with:  "Reannon, are you sure you're okay?"
Recently I broke my vow of silence though and submitted a piece to Vagabondish about how tough it was being single in Tokyo.  I actually wrote the piece over a year ago, while I was still living in Japan and submitted it to a few Japan-based magazines and webzines and was told (and I quote) "We get pitched this idea too often."  While it was reassuring to know that I wasn't the only one who found the dating prospects in Japan to be well, limited to say the least, it was also perplexing.  If there were other women writing about how they had trouble finding a date in Tokyo, why wasn't anyone publishing anything about it?
Well, if you were like I was a year ago, a single girl in Japan suffering through both Valentine's Day (and the equally offensive White Day) with only your boyfriend pillow for company, well you can rest assured that at least there were – and still are – others suffering along side you.
Like one of my favorite bloggers, Sarah Marchildon of The Hollywood North Report, for example.  She writes about her dating pitfalls in Japan far better than I ever could (they're equal parts hilarious and depressing) and provides details that I'd be far too embarrassed to have splashed on the Internet.  I'm grateful that she had the courage to include them.  My favorite posts of hers were Man Hunt and Man Hunt: Part II.
And then there's my article:  No Sex in the City:  What it's like to be Female and Foreign in Japan.
It's ironic that some of the qualities that make it possible for western women to move to a foreign country by themselves to begin with (their strength and independence, for instance) are the same qualities that damn them to lives of celibacy once they get there.  My male friends have claimed that I'm stereotyping men everywhere with this theory, so you'll have to let me know what you think.  But it's my opinion that the reason women have trouble dating (locals and foreigners alike) while abroad is that men (in general) are intimidated and threatened by women who are independent and emotionally strong enough to pack up and ship off half way across the world alone.
I could be wrong (and I seriously hope I am, because being right would mean that I'm never going to find a boyfriend ever again) but this article about which sports men find sexiest, certainly suggests that I could be onto something.  According to a poll of 6,000 people, which was conducted by Sam Murphy and Richard Wiseman (a fitness expert and a professor from the UK), men ranked aerobics, pilates, 'going to the gym' and running as the sexiest female sports.  Women, on the other hand, found rock-climbing to be the physical activity they found most attractive on men (an activity that unlike 'going to the gym' is an actual sport).  Professor Wiseman's theory for the difference in gender-preferences was this:
"Women's choices appear to reflect the type of psychological qualities that they find attractive – such as bravery and a willingness to take on challenges – whilst men are more shallow, looking for a woman who is physically fit but not challenging their ego by being overly strong."
So brave men who read this blog, what do you think?  Do you find women who live (or have lived) abroad 'challenging to your ego' or is this all a bunch of feminist BS?