I'm flying to Hawaii tomorrow.  I could be staying there anywhere from a week to the rest of my life.  Which course my life takes is entirely contingent on whether or not I find a job within the next six days.  If I do, then I'll stay in Honolulu and if I don't, I'll either move back to California or to Las Vegas, Chicago or Portland.  My life is at a major crossroads and the number of directions it could go in are endless.  It's overwhelming to say the least.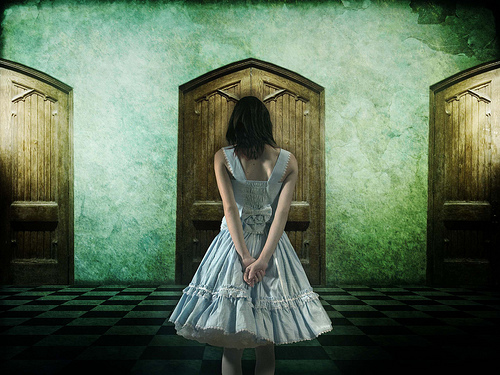 Eat, Pray, Love author Elizabeth Gilbert describes this nicely in her book Committed:  A Skeptic Makes Peace with Marriage.  After spending time in a Vietnamese village where people's paths in life are chosen for them by the circumstances in which they were born, she wonders if perhaps one of the problems of modern, western society is that people have too many choices.   She suggests that this may be what's behind why modern society has become a 'neurosis-generating machine'.  In the face of so many seemingly equally wonderful opportunities, we're terrified that we'll chose the wrong one.  And we therefore spend much of our lives second-guessing ourselves and comparing our lives with one another's and with what our lives could have been, had we chosen differently.
Here's an exert, taken from pages 45 and 46 in the hard-cover edition.
"The problem, simply put, is that we cannot choose everything simultaneously. So we live in danger of becoming paralyzed by indecision, terrified that every choice might be the wrong choice…Equally disquieting are the times when we do make a choice, only to later feel as though we have murdered some other aspect of our being by settling on one single concrete decision.  By choosing Door Number Three, we fear we have killed off a different – but equally critical – piece of our soul that could only have been made manifest by walking through Door Number One or Door Number Two…
…Now imagine a life in which every day a person is presented with not two or even three but dozens of choices, and you can begin to grasp why the modern world has become, even with all its advantages, a neurosis-generating machine of the highest order.  In a world of such abundant possibility, many of us simply go limp from indecision.  Or we derail our life's journey again and again, backing up to try the doors we neglected on the first round, desperate to get it right this time…
…All these choices and all this longing can create a weird kind of haunting in our lives – as though the ghosts of all our other unchosen, possibilities linger forever in a shadow world around us, continuously asking, 'Are you certain this is what you really wanted?'"