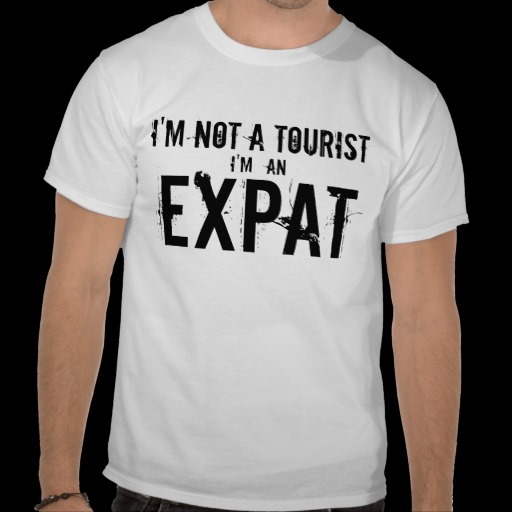 "No one should take themselves so seriously
With many years ahead to fall in line
Why would you wish that on me?
I never want to act my age
What's my age again?
What's my age again?"
– Blink 182
I've never deluded myself into believing that I'd one day be fantastically wealthy. As a sometimes English teacher / Au Pair / World Traveler (capital W, capital T), I sort of always figured that I'd be tight-rope walking the poverty line for life.
And most days, I'm okay with that.
But every once in a while, I'll get a glimpse into the way the Other Half lives. The Half who don't have to eat PP&J for breakfast, lunch and dinner or safety pin their jeans together. The Half who don't have to resort to teaching English in order to live abroad. The Half who live in the land of rent-free apartments, company cars and weekly living allowances. In other words, the non-teacher expats with 'real jobs'.
Last Saturday morning, I woke up on a sofa belonging to one such expat. The sofa sat next to a flat screen TV and a piano, in a living room with floor to ceiling windows (complete with a view of Tokyo Tower), a wrap-around balcony and a built-in bar. It was like I'd woken up in the presidential suite of the Hilton or perhaps Teacher Barbie's Tokyo Dream House.
The Dream House belonged to a friend from Naples who works for an Italian tire manufacturer. What he does for the company exactly, I'm not sure. But it involves "logistics" (Yeah, I don't know either) monthly trips to Singapore, and road trips around Japan in a Ferrari (he has two).
He's in Japan on a sort of 'package deal', which basically translates into "Living Like A Rock Star". As far as I understand, this is how the package deals work:
A foreigner agrees to work for their company's Tokyo-based office for a year or two and in exchange, the company will set them up with a rent-free McMansion-sized apartment, pay their travel costs and their children's private school tuition, and (if you're like my friend) provide them with their own personal maid.
And to think that I paid (correction, went into credit card debt) for the opportunity to come to this country and live in an apartment the size of their master bathroom with a housemate who smokes cigars and blasts News Radio all day long and a view of some old dude's underwear that's hangs year-round from a strand of Christmas lights.
These foreigners (with their MBA's) on the other hand, have to be convinced (no, bought) by wise men who come baring gifts of 'food allowance' and 'round-trip airfare' and 'FREE JAPANESE LESSONS'. I've spent nearly 2,000 dollars on Japanese lessons over the last nine months while meanwhile, some of my friends were paid to take lessons. Yes, paid. For three months, Monday through Friday, they were paid to learn Japanese.
If I sound bitter, well, I'm not. Sometimes I'm jealous, but I honestly wouldn't trade their work schedules for all of the McMansions in Tokyo. They work very hard. 10 hour days and sometimes they work weekends, too. I would never want to do that. I enjoy my free time way too much.
It's hard sometimes not to feel depressed when I compare my life with theirs, though. I have friends my age who are doctors, consultants and bankers. Or else they're dating or married to a doctor, consultant or banker. And they live like princesses in their castle tower apartments with their 'adult' relationships and 'adult' jobs and they do 'adult' things like eat balanced breakfasts and throw cocktail parties.
And it's like, hold on, when did this all happen? Where was I the day all of my carefree "Beer Olympics" and "Spring Break in Miami" college friends decided to morph into grown-ups with graduate degrees and babies and Roth IRA's? I feel like I've been asleep, off in LaLa land with Sleeping Beauty, while everyone around me has been busy establishing a life for themselves in the Real World. It's like I missed the memo instructing everyone to "Proceed Directly to Adulthood", because they're all at the finish line and I'm still…lost.
The worst part is when I go to these dinner parties the Grown-Ups throw and have to mumble an embarrassed "English Teacher" every time someone here asks me what I do for a living. Being an English teacher in Tokyo is akin to living in New York and telling people you're in 'actor'. It's so common it's almost cliched. And people will nod politely and respond with an "Oh, really?" followed by a "So what are your career goals?" which is just a nice way of saying…"So when are you going to get a 'real job'?
Photo (and t-shirt) available here.