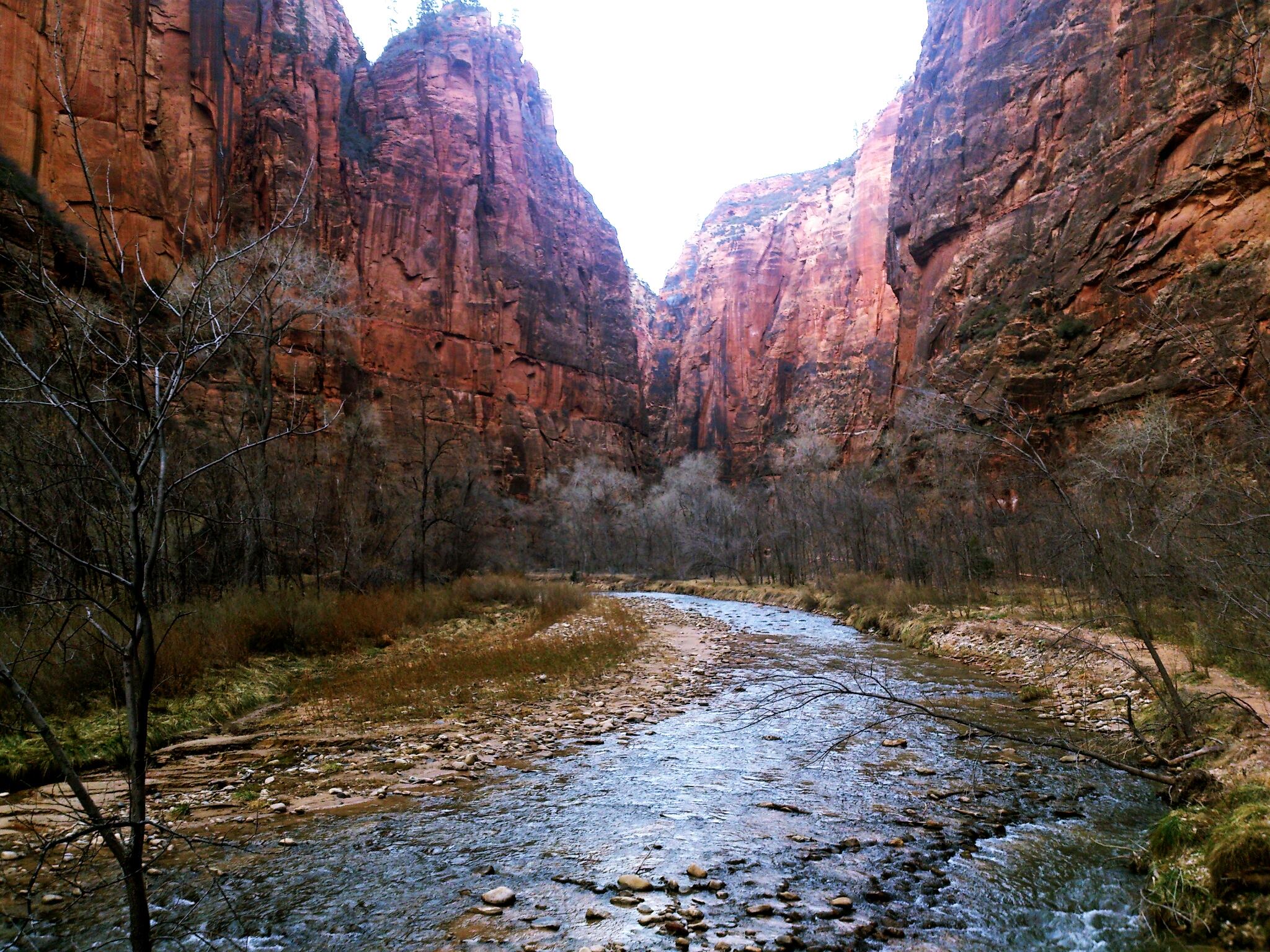 I was supposed to go to New Orleans last weekend but my trip was canceled at the last minute, so I decided to go to Zion National Park in Southern Utah instead. I went by myself, which proved to be a rather emotional and lonely experience (more about that later) but the park itself was gorgeous. I highly recommend going there. I stayed the night in a motel and spent two days hiking and wandering through the park. Here's a photo recap of my stay.
I woke up at 5:30 on Saturday morning with the plan to leave Las Vegas for Zion at 6:30am. I was on the road by 8:30am (Ha ha.).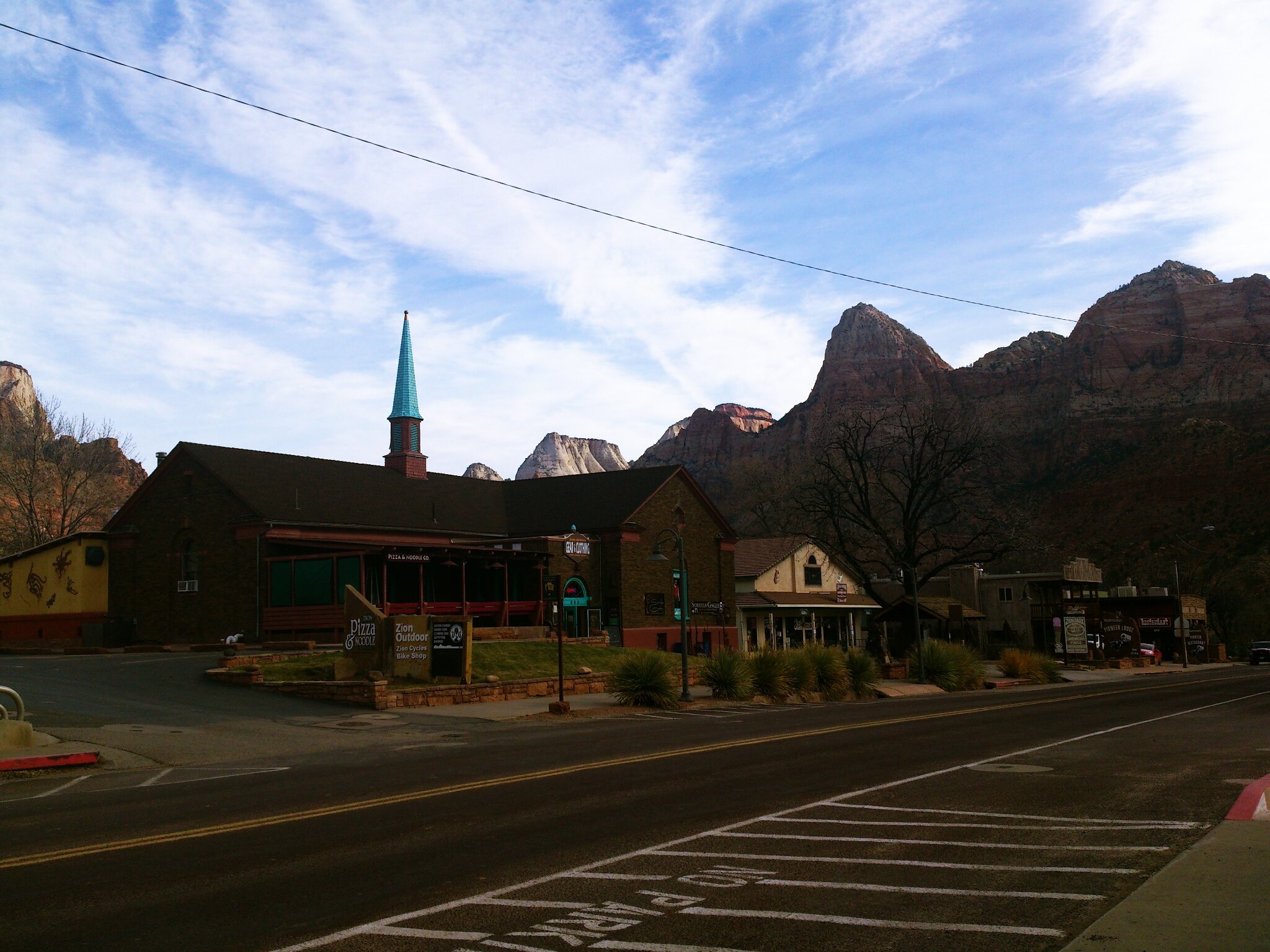 Because this trip was so last minute Because I'm lazy, I hadn't booked a hotel, so I wasted my first couple of hours there trying to find a cheap hotel room.
In honor of President's Day weekend, the park had waived the entrance fee, which naturally meant there were tons of people in town.
By the time I had checked in and made it into the park, it was getting dark. I went hiking anyway though. It was spooky.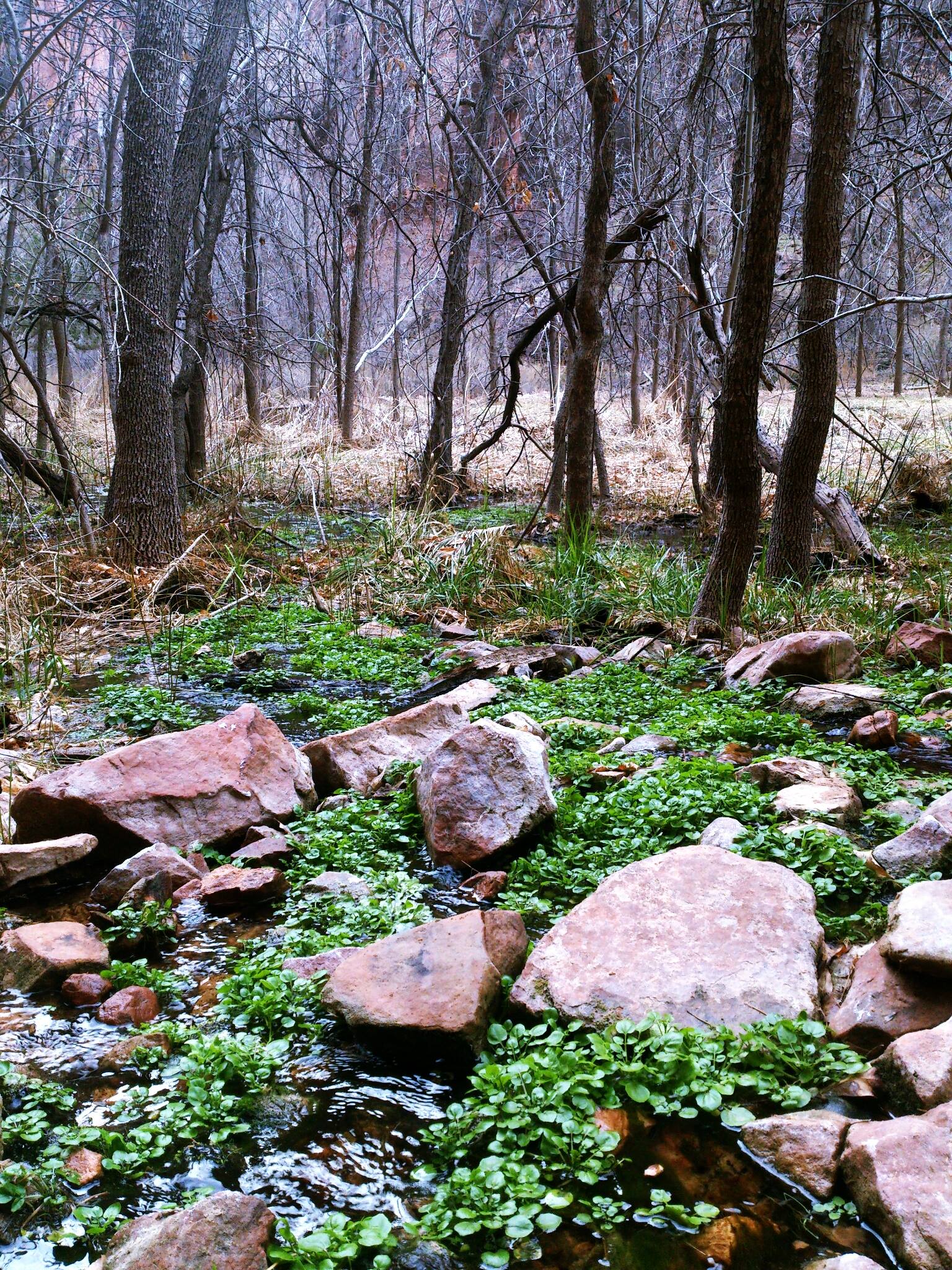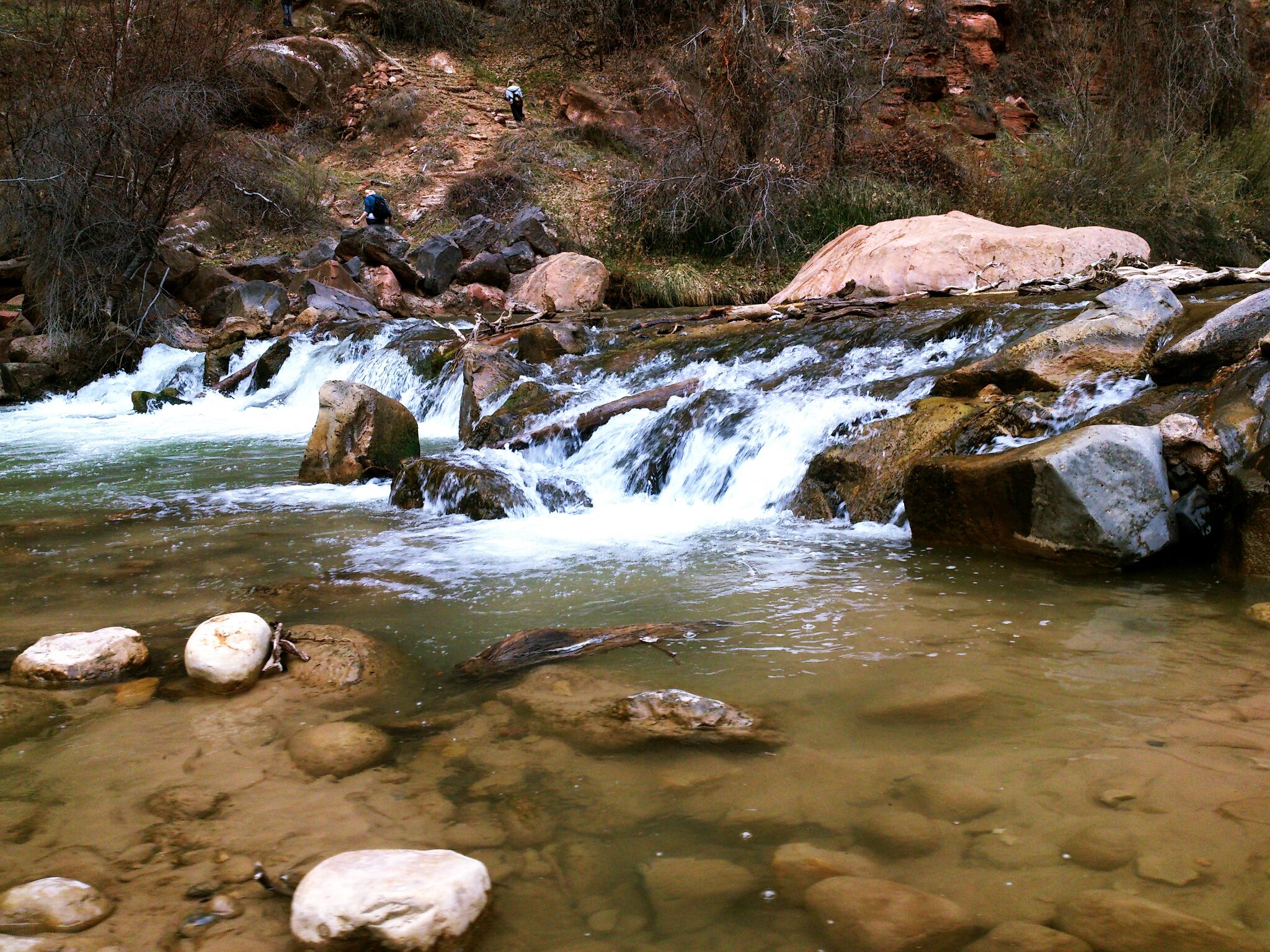 The next morning, I woke up early early-ish and drove up the mountain.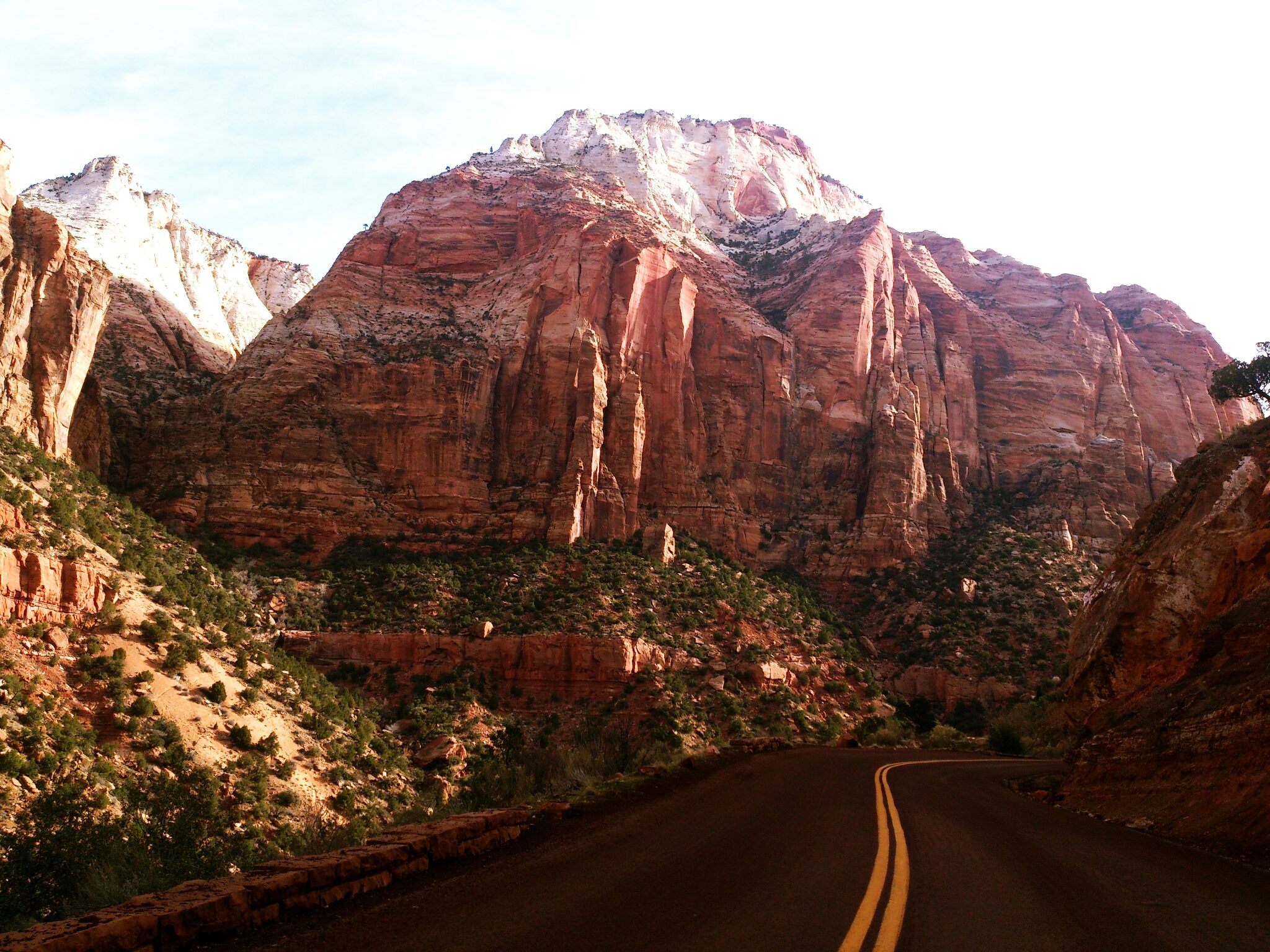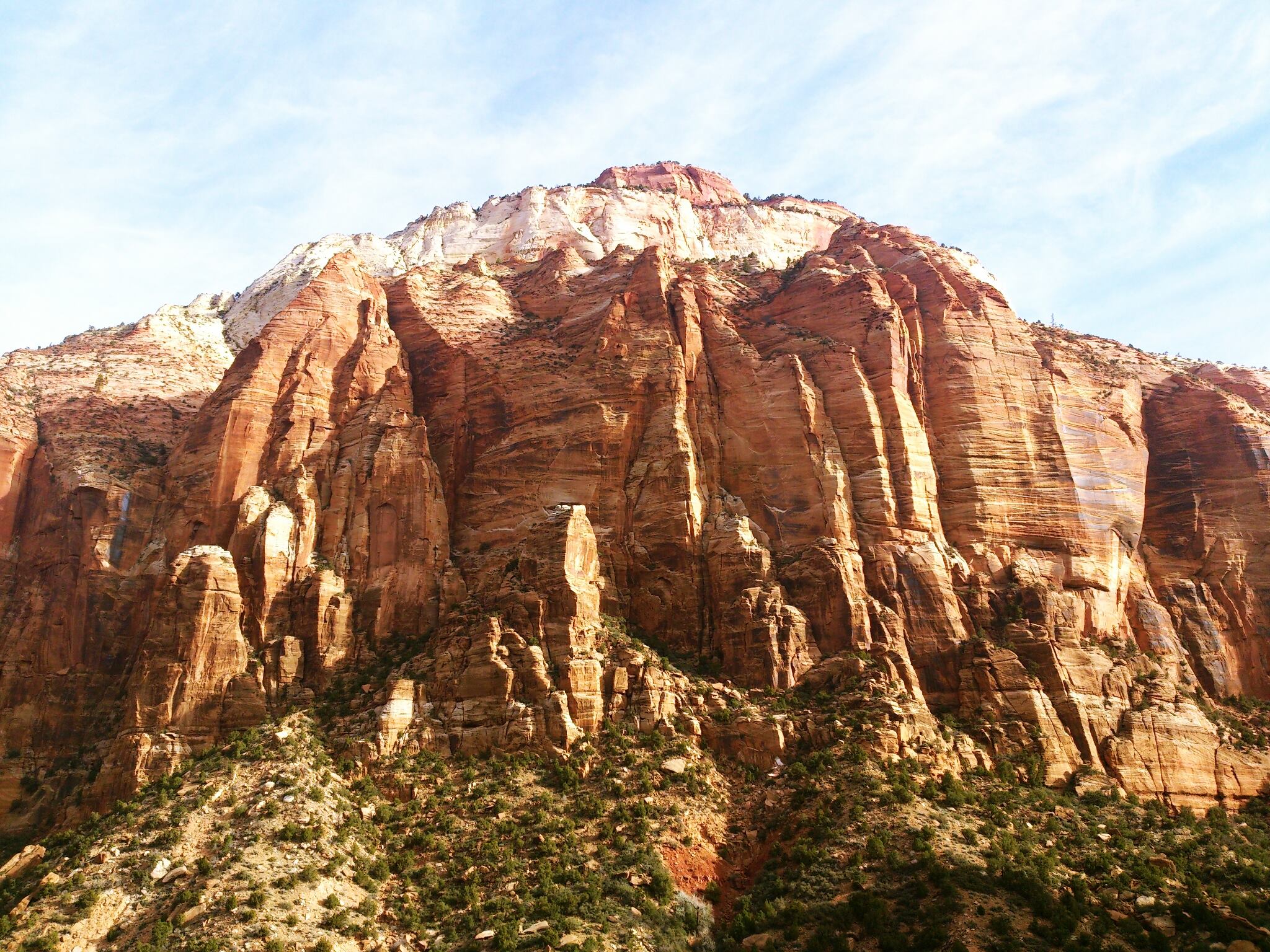 20 minutes and a large cup of coffee later, nature called.
I pulled over to the side of the road in search of a bush I could use as a potty. Because I was paranoid of running into hikers or park rangers, I wound up walking really far away from the highway. Afterwards, I hiked around these cool checkered mountains.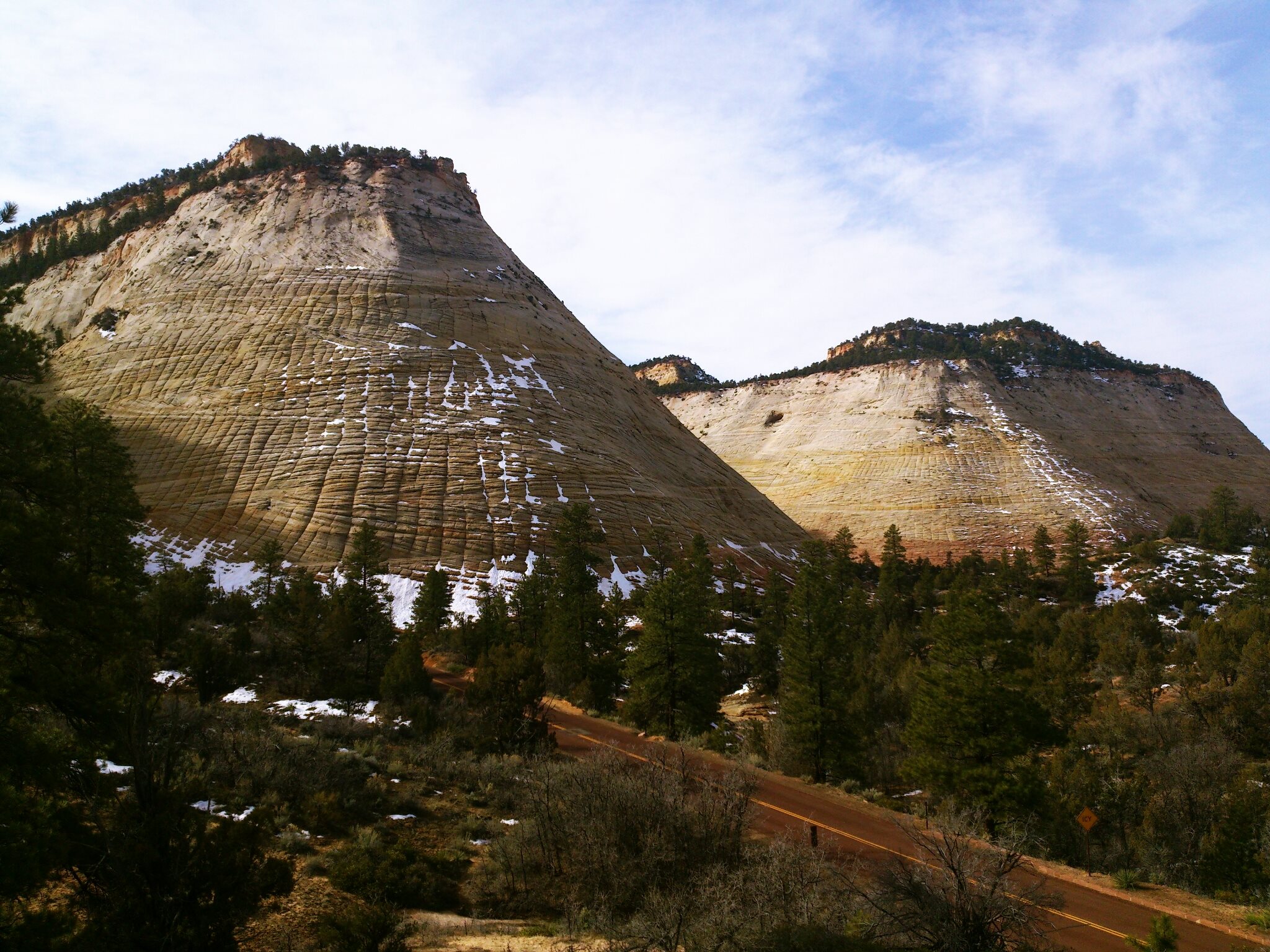 I was feelin' pretty adventurous, so I took a selfie in an attempt to capture the moment.
I was going for "mysterious adventurer" but I think I just wound up just looking ridiculous. Oh well.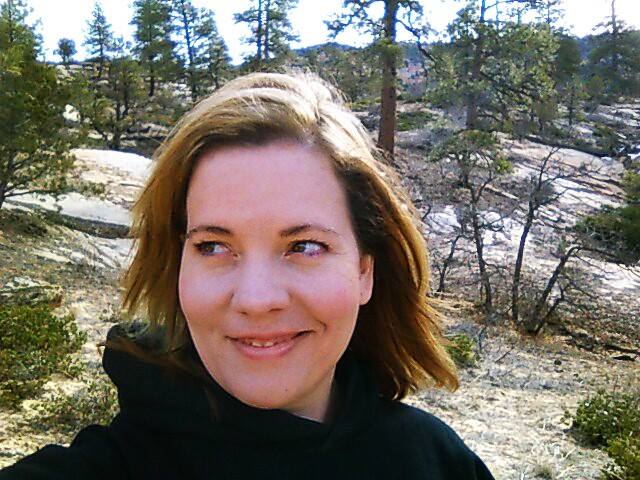 Next, I hiked a mile along The Overlook Trail.
The path takes you through a cave, across a rickety wooden "bridge" and along the edge of a cliff. I was patting myself on the back for being a daredevil until I saw some two-year-olds on the trail. Hmpf.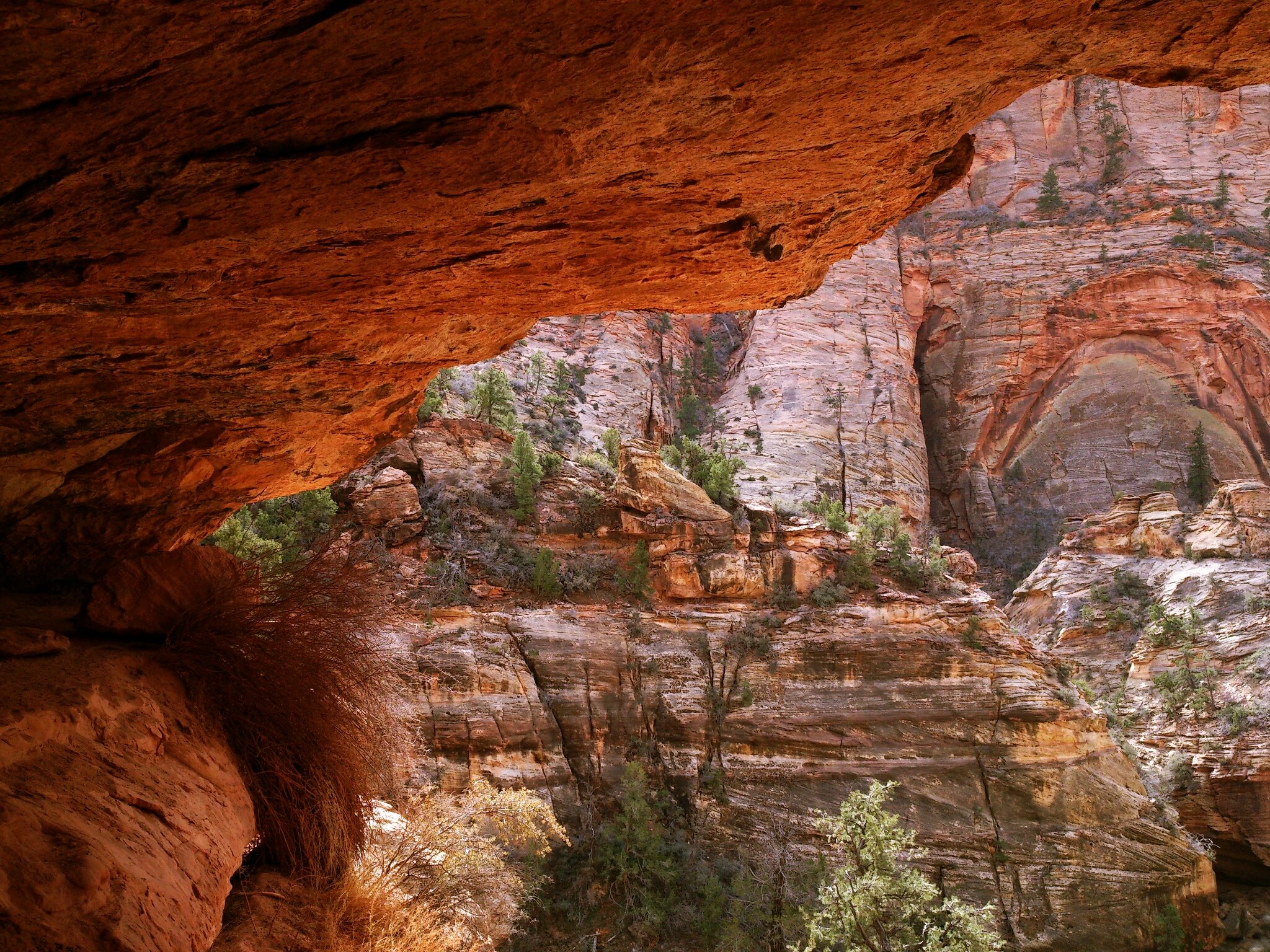 It was really windy at the lookout point.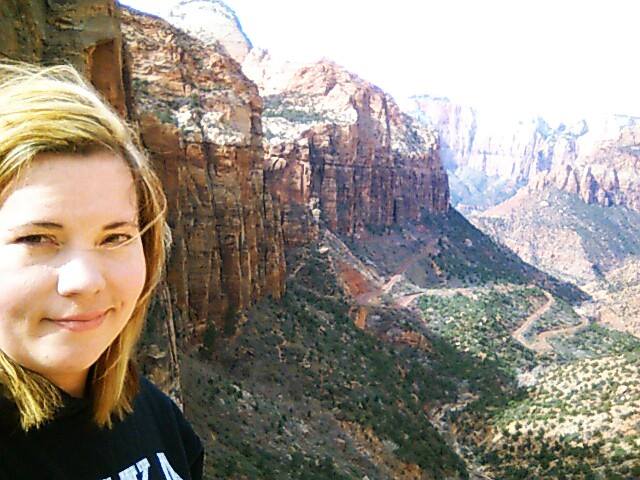 Really, REALLY windy.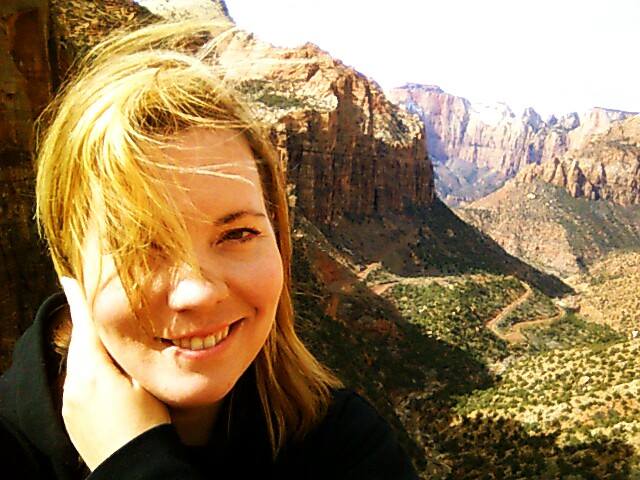 Also, my cell phone camera sucks. The view was stunningly beautiful. I guess you'll just have to trust me about that. Or google it. This was the best I could do: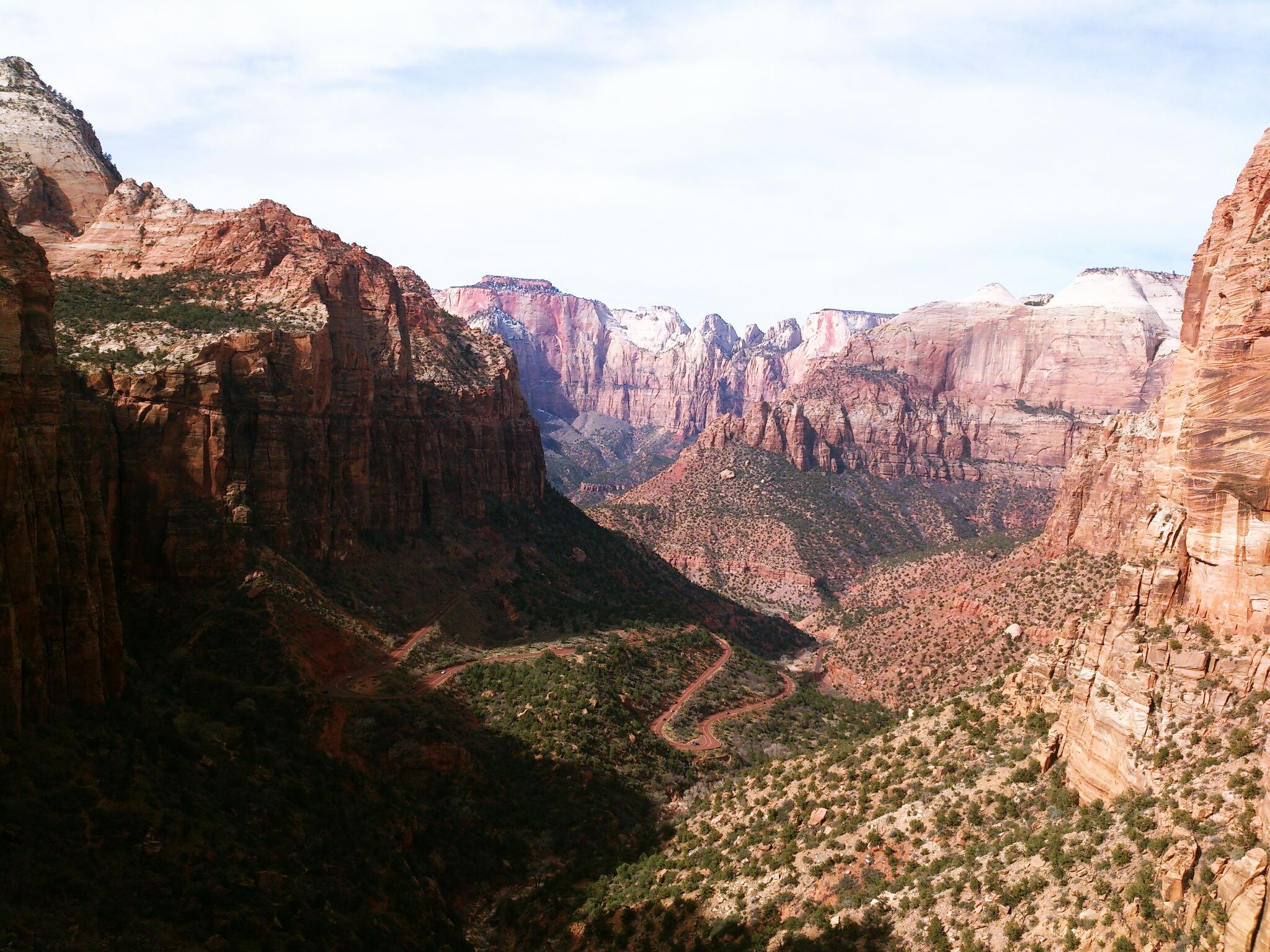 I was feeling great after my successful summit to the lookout, so I decided to take on a trail called "Angels Landing".
The sign said it was only 2.5 miles. I thought: "How hard can it be?"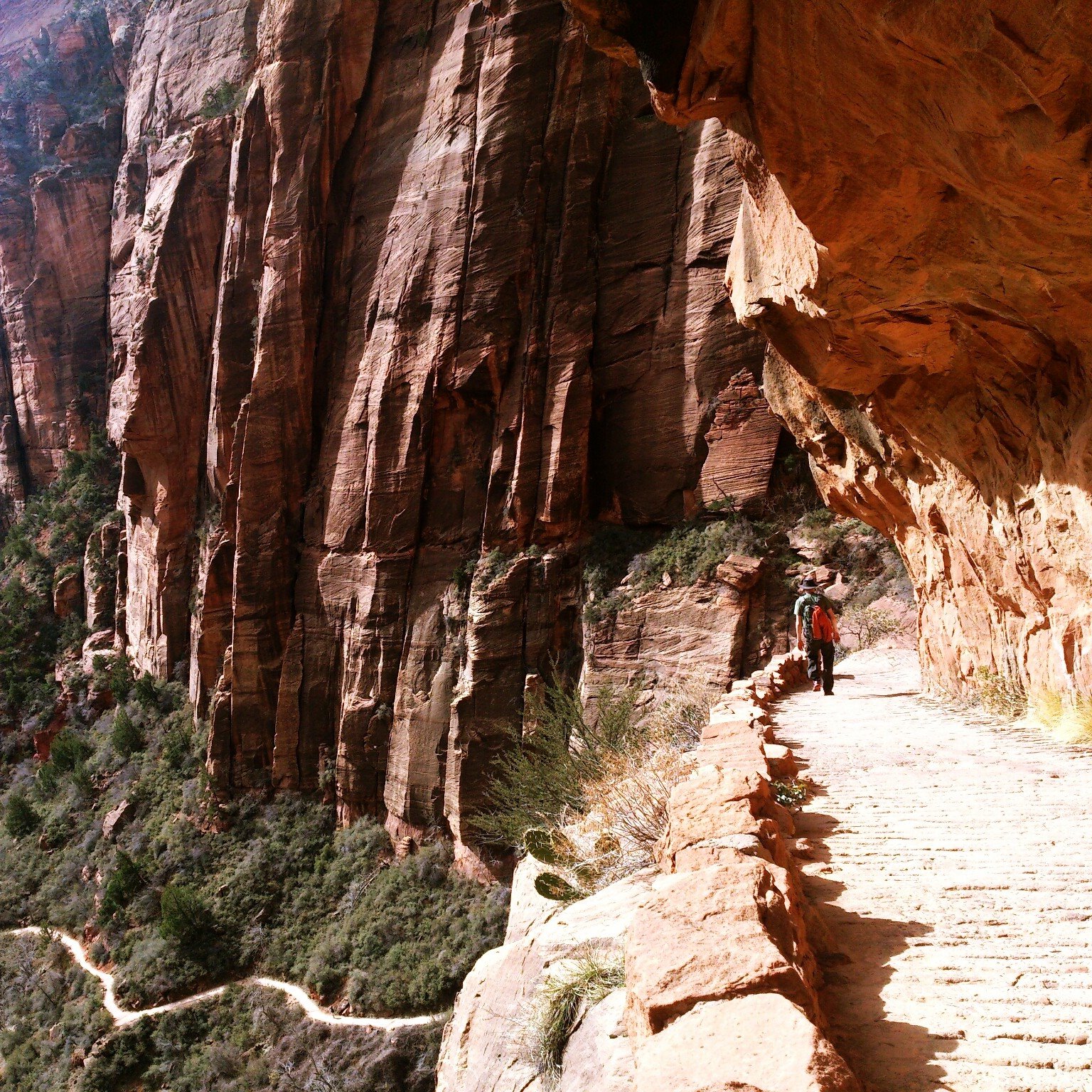 Turns out, the hike was pretty intense! See that winding trail? I hiked up that. This photo was taken at the half way point.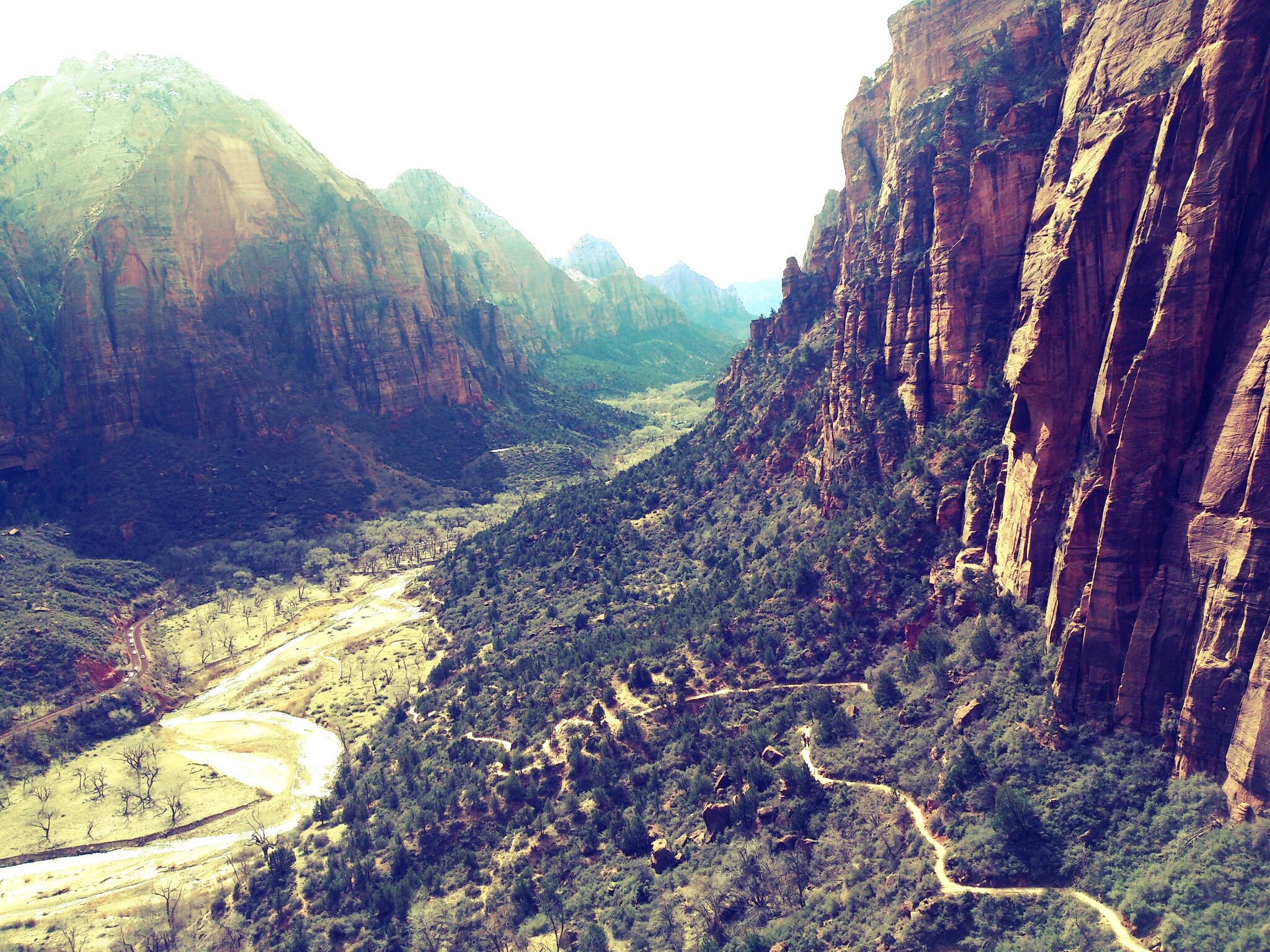 You can't tell, but that's a cliff.
Would you think I was cool if I told you I stood right at the edge and looked down? No? Okay, great. Cause I was too chicken.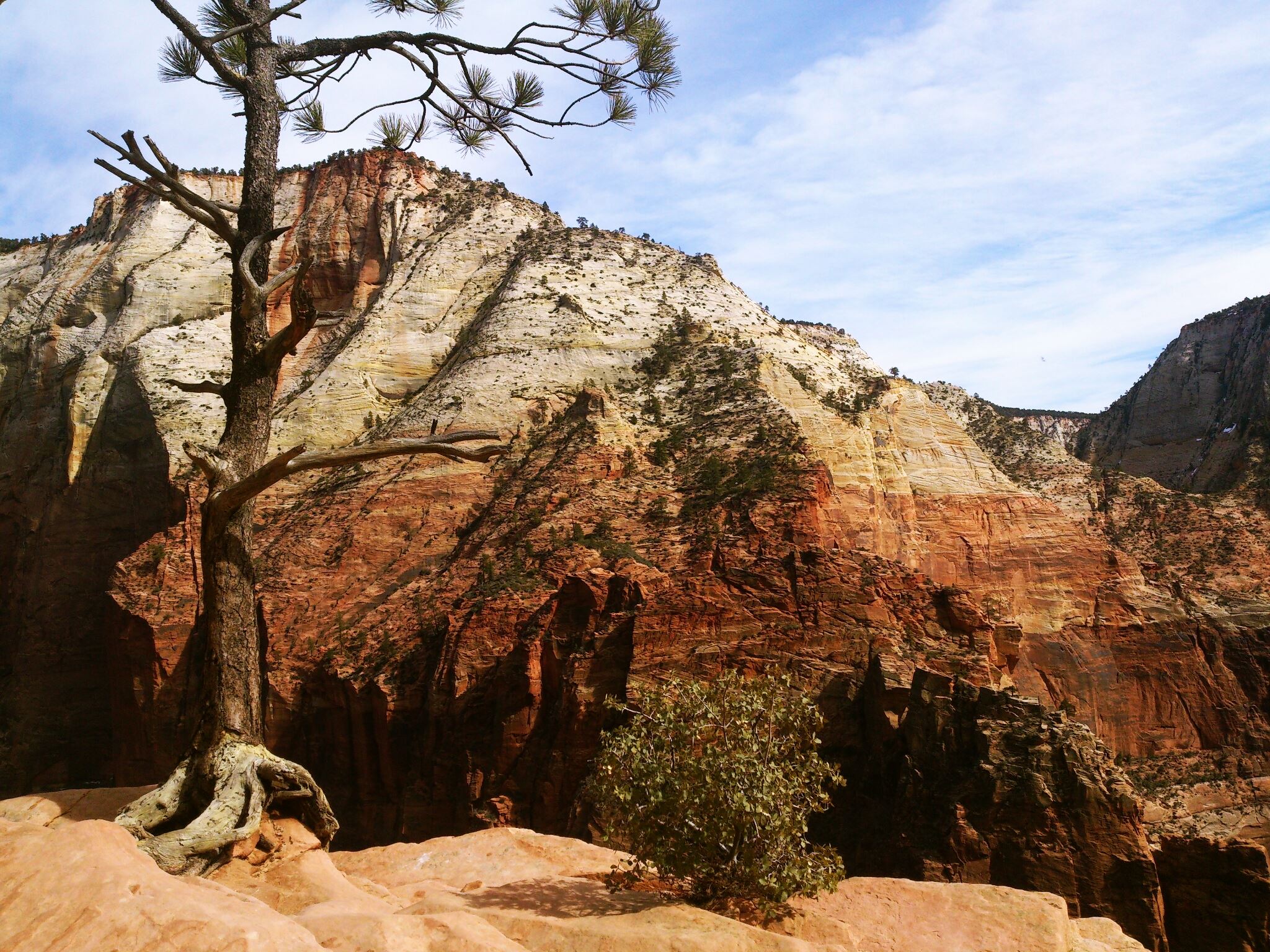 Here's a photo of the view from near the top.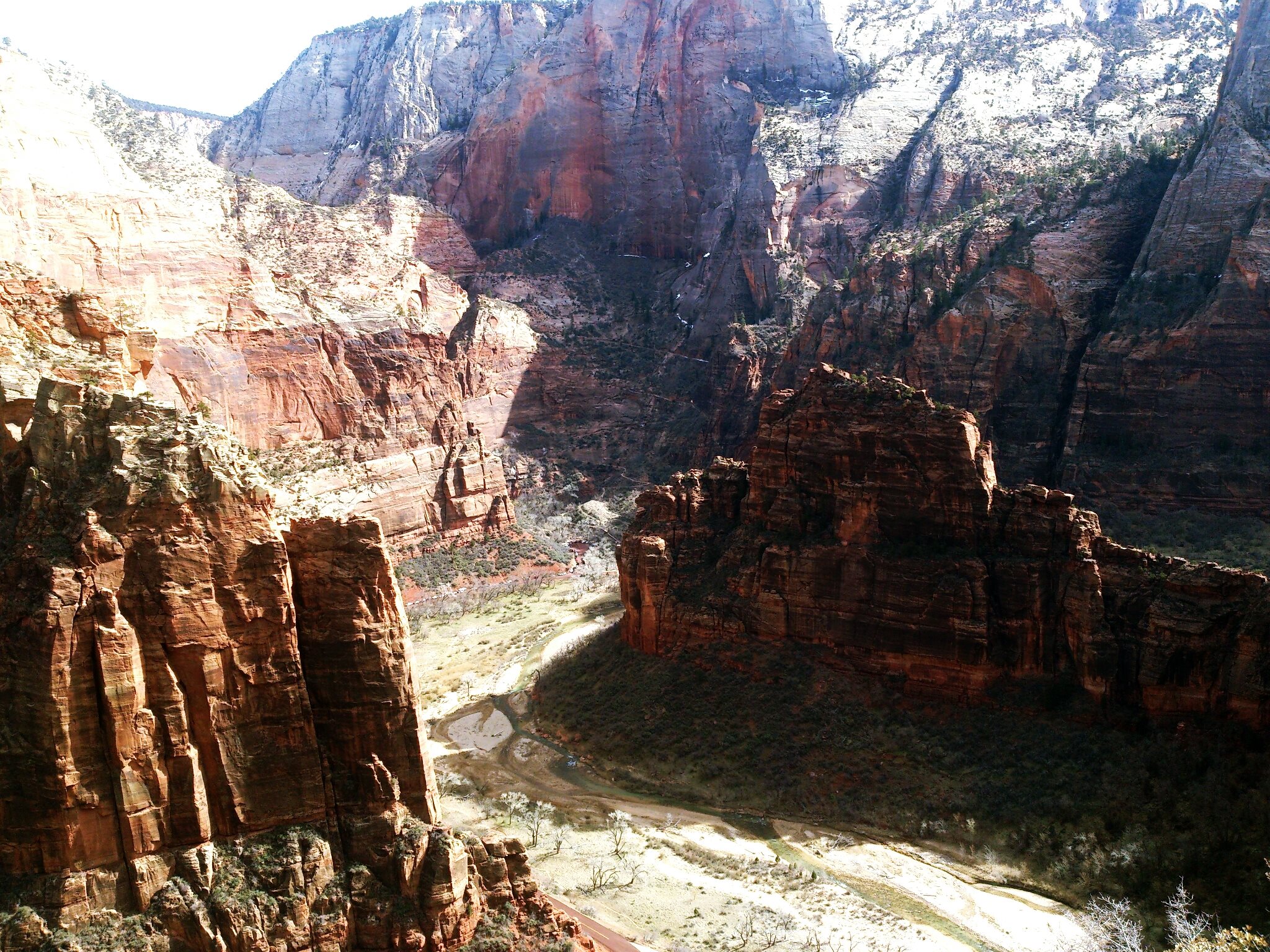 And there you have it. I survived the hike. I did not fall off a cliff. I did not plummet into a canyon and have to cut off my arm. The scariest animal I saw all weekend was a crow. As far as adventures into the wild go, this one was pretty tame. But I'll get another chance in a few months when I go back for a camping trip. Stay tuned for Round 2!
Tips if you're planning on going to Zion:
* Zion is only 2 1/2 hours away from Las Vegas, so it is possible to go just for the day. But I wouldn't do that if I were you! Lodging isn't too expensive (my hotel room was just 50 dollars), plus there's a lot to see. It makes more sense to go for at least two days if you have the time.
* There's a $25.00 charge per vehicle to enter the park
* Even if you don't like  hiking, you should still go! You can drive through the park if you're feeling lazy and there are a lot of easy, flat trails you can try.