Public Radio International's "This American Life" did an excellent 40-minute radio segment called "Americans in Paris". In the show, host Ira Glass interviews American expats about their experiences living in Paris and about their thoughts on American's curious obsession with the City of Lights and all things French. You can listen to the entire show on This American Life's website. I encourage you to do so! Especially if you're an American or a Francophile or both.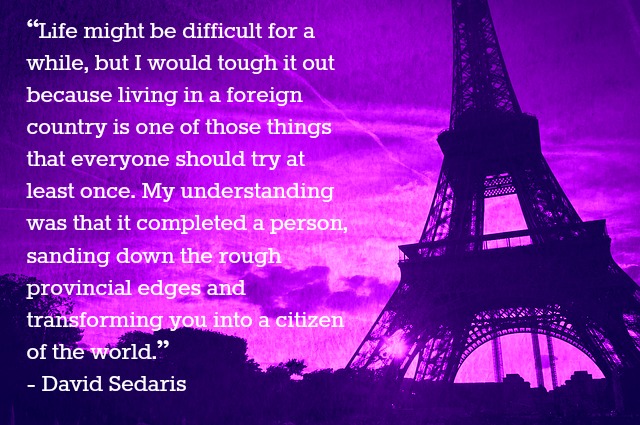 One of the people interviewed was expat and American author David Sedaris, who mentioned enjoying "the daily stage fright" he experiences when trying to speak French to shopkeepers in Paris. Although he's constantly worrying about what to say and "anxious and straining to understand the words around him", he finds that feeling to be oddly invigorating.
"It's that thinking that makes me feel alive. And it makes me notice everything around me. When I become complacent like I was in the United States, you just get used to things so you don't think about them. You think, I'll get a cab. I'll go to the airport. I'll have a patty melt. You don't think about it. Whereas now with me, the anxiety starts early on. And I'm always afraid that somebody's going to throw me a curve ball and ask me a question like, what sign are you? Just ask me a question like that out of nowhere. And I'll appear foolish. So it keeps me on edge. But really, that edginess has always made me feel alive."
He also goes on to say that when his French improves, the daily anxiety will probably go away and he won't be interested in living there anymore. Eventually, life in Paris will become too easy, too familiar and too similar to life back home. When that happens, he says, he'll probably go home or move elsewhere.
I can completely relate to that. That craving for a challenge, that obsession with that bittersweet edgy feeling. Living in a foreign county where you don't speak the language can be stressful, but that stress is what keeps you on your toes. It's what keeps you engaged. You're never bored. I think that's what I miss most about living abroad.
What about you?