My trip to Goldfield, Nevada to visit the famed "International Car Forest of the Last Church" (seriously. That's the official name of the place) was quite the adventure. My friends and I got lost trying to find  the turnoff and later found out it was because someone had stolen the street sign. Ha. Once we figured that out, we doubled back and turned down a dirt road that lead us to a car junkyard. Only problem was that it wasn't the car junkyard we were looking for. Apparently the Mojave desert is a popular place to toss your broken cars and kitchen appliances. And as my friends and I drove in circles, peering at the scattering of rusted cars, abandoned refrigerators and sand-filled bathtubs, we looked at one another and wondered: Is this the right place?
I'd first read about the car forest several weeks prior in Las Vegas Weekly. It'd sounded pretty neat…dozens of painted cars partially submerged into the ground in the middle of desert? What's not to love about that? I knew immediately I had to see it.
"Guys," I said as I tried to maneuver around a rusted car engine. "This isn't the car forest…It's just someone's backyard."
"Well, what about over there?" My friend asked, pointing to a neighboring field. "Could that be it?" We looked at the dilapidated sheds and trailors she was pointing at.
"I dunno…" I was beginning to feel nervous. What if we never found it? We'd driven for three hours into the middle of nowhere. I didn't want to disappoint everyone by having to turn around and head back without seeing the 'World's Largest Car Graveyard.' We were so close! "Should we ask for directions?"
"People are going to think we're crazy if we ask them if the car junkfield behind their house is a tourist attraction," another friend pointed out. "What are we going to do when they say 'No, that's just my yard'?"
"You're right…Ugh. Where IS it?"
That's when we saw this ominous-looking sign: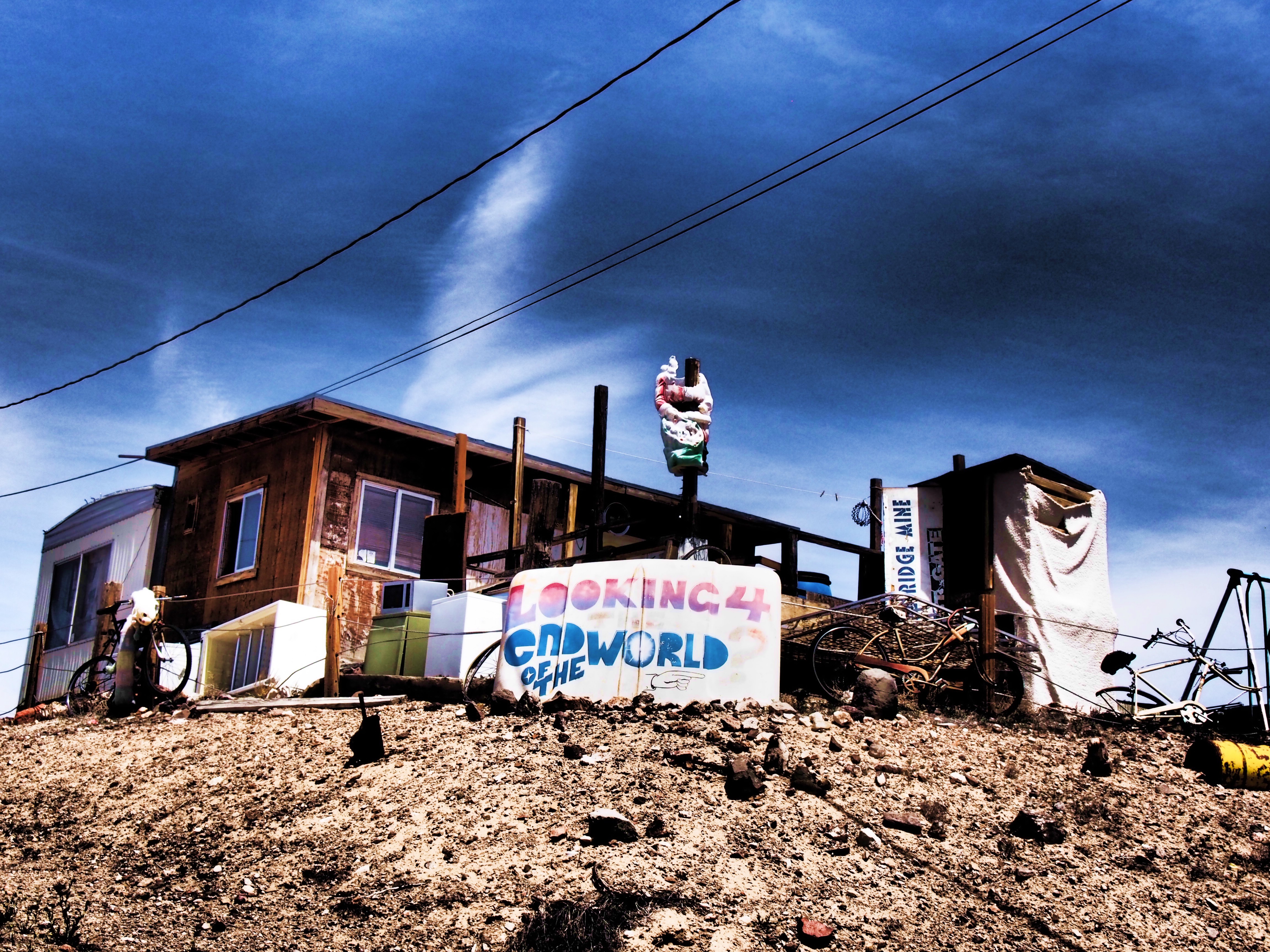 The sign was in front of someone's house. "Look! The end of the world is that way!" I exclaimed. "They must be talking about the car forest. Oh my God, that is so creepy."  Sure enough, after driving down a winding dirt road, we finally reached it.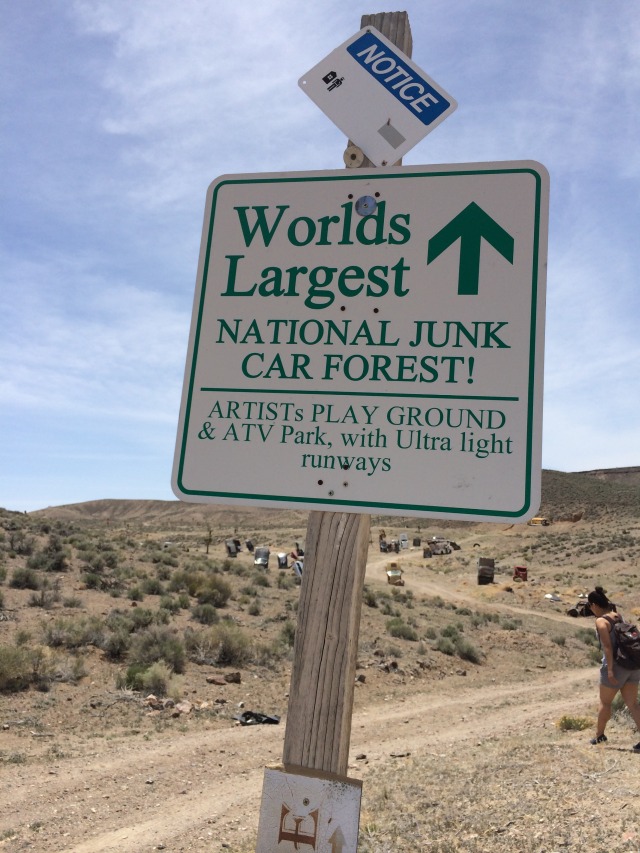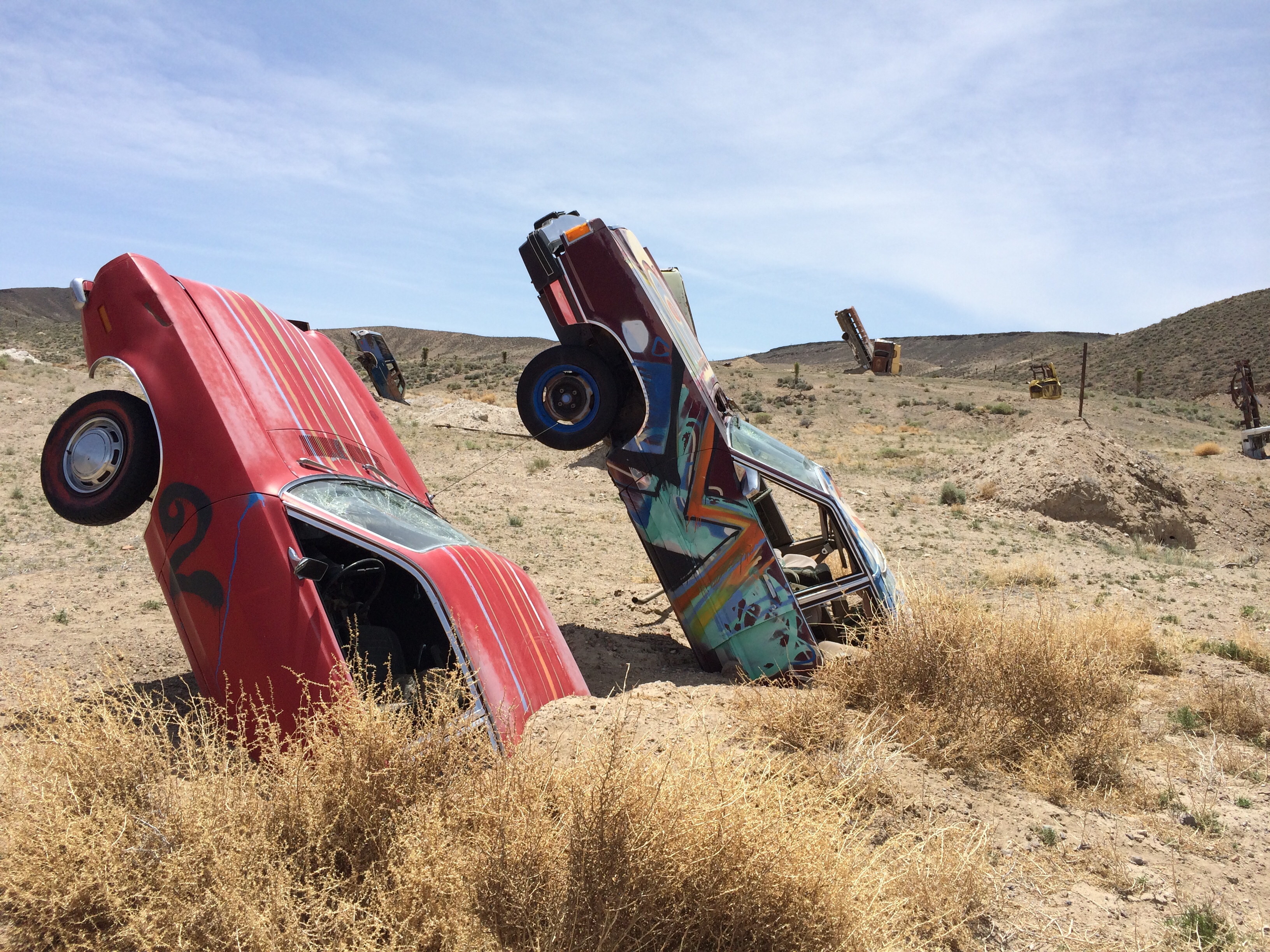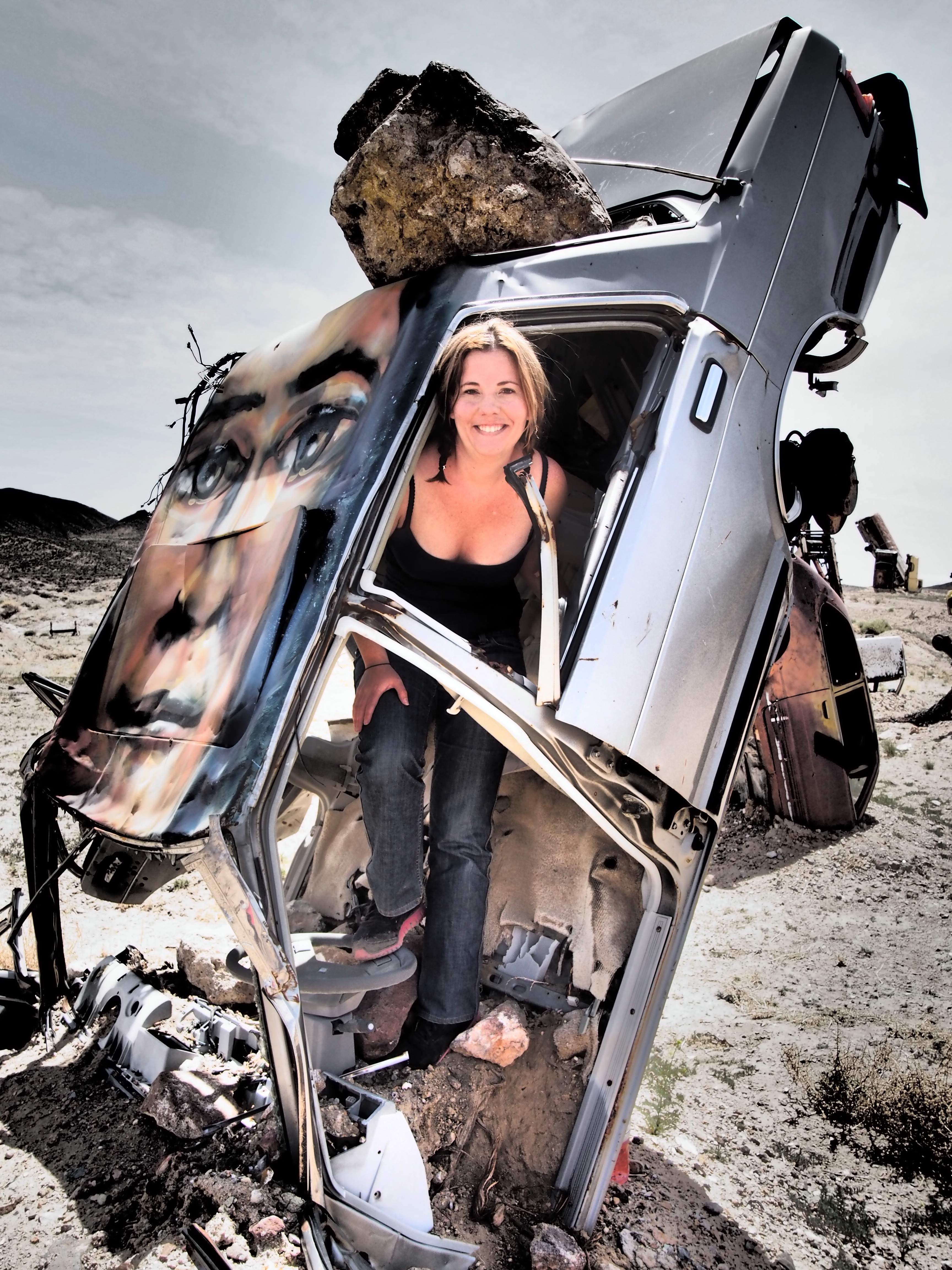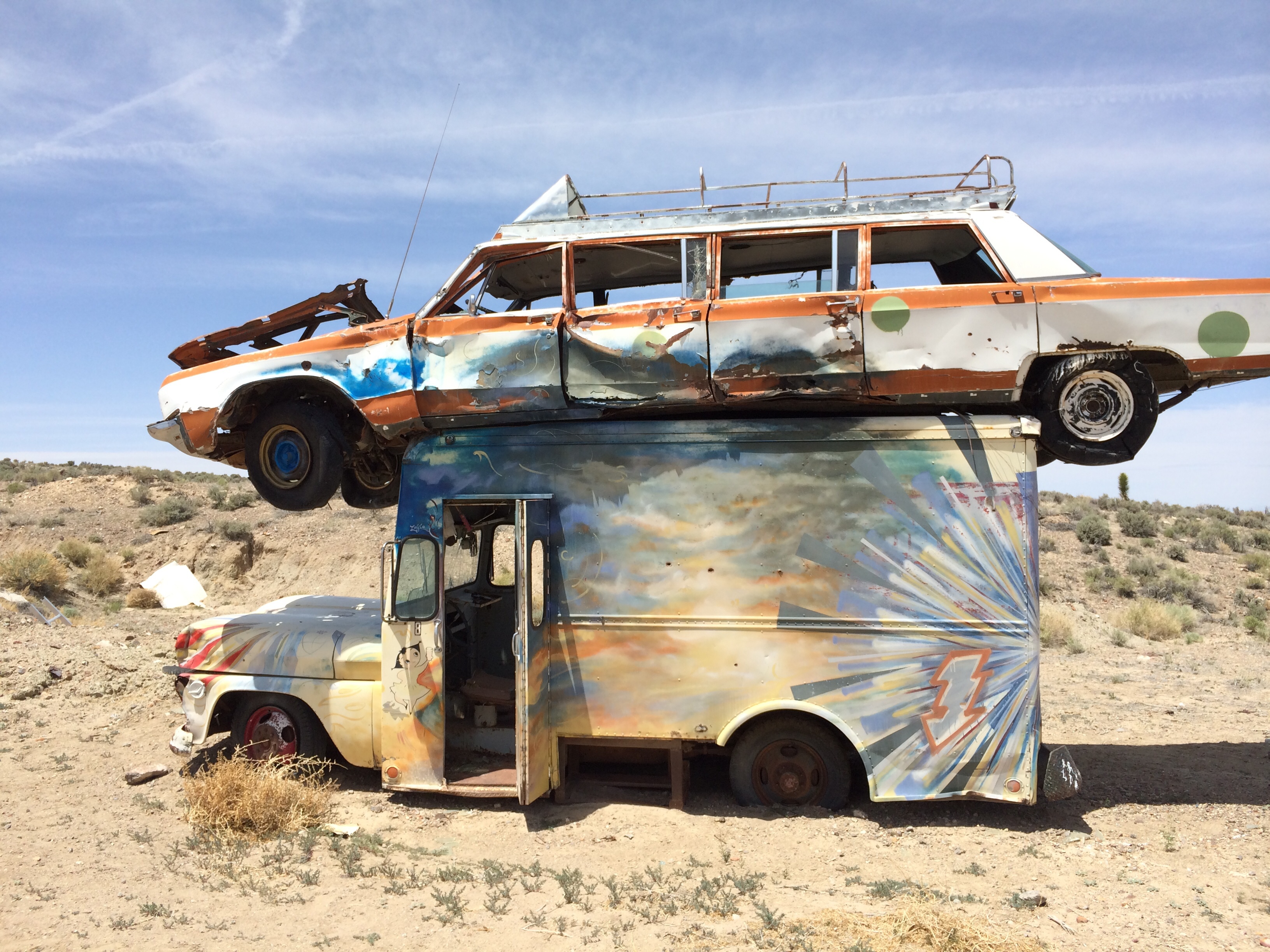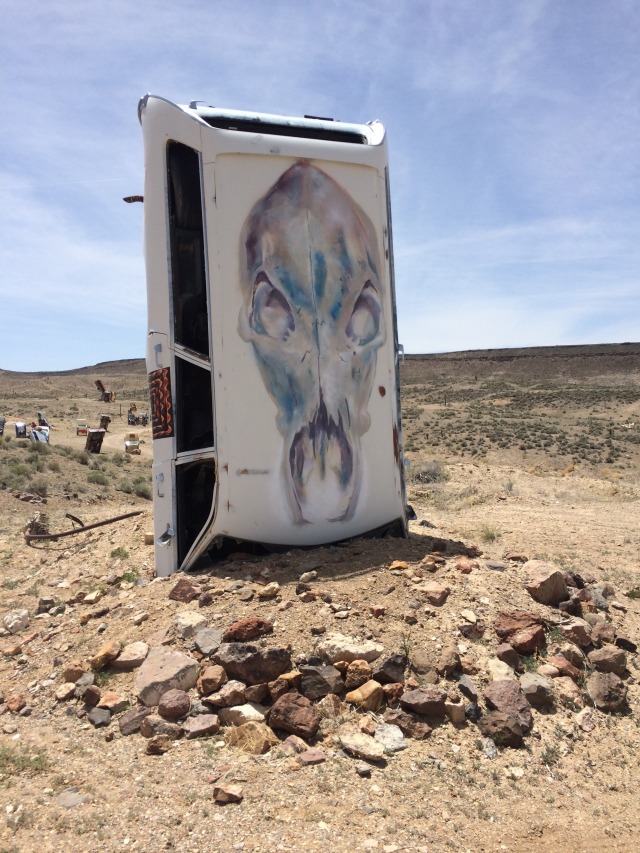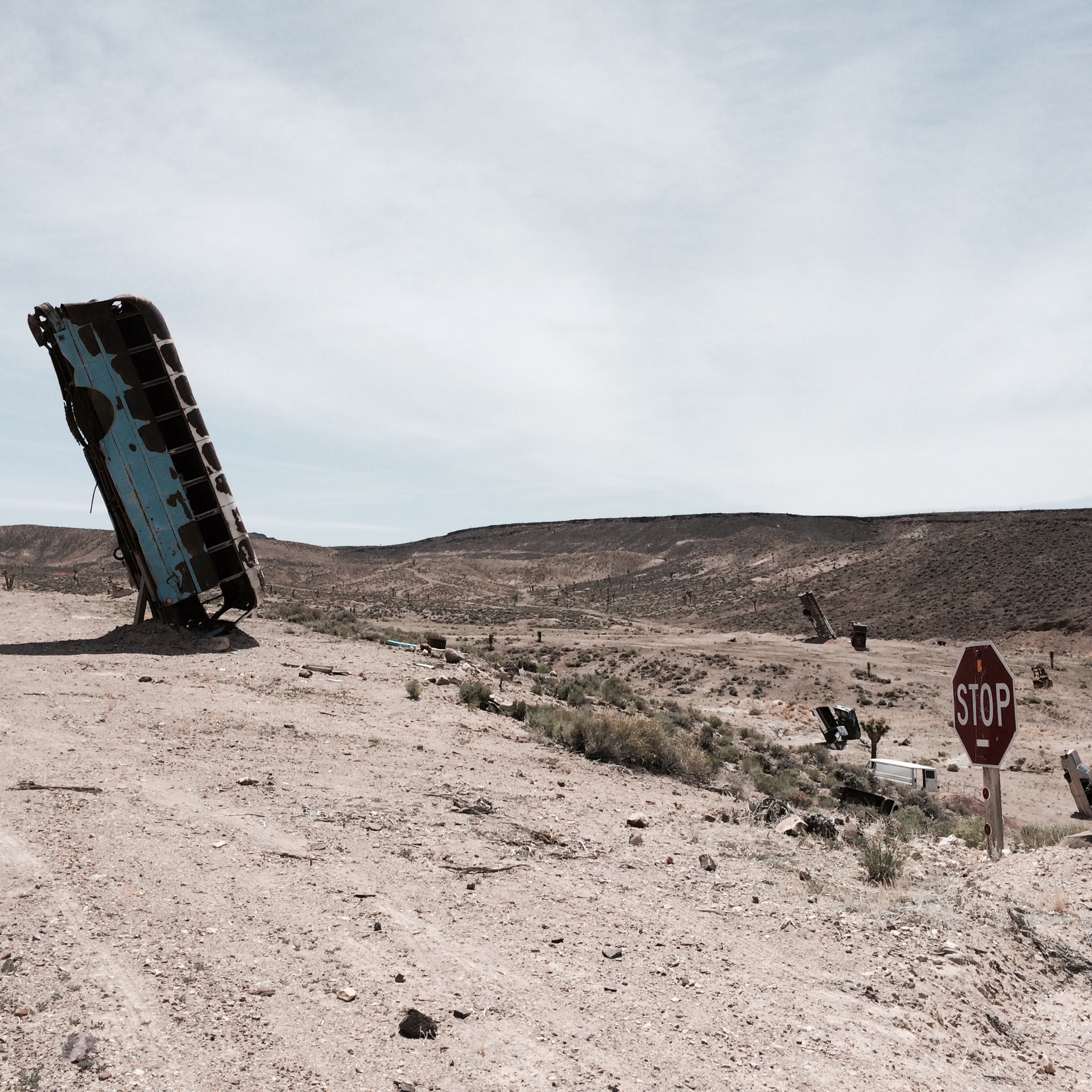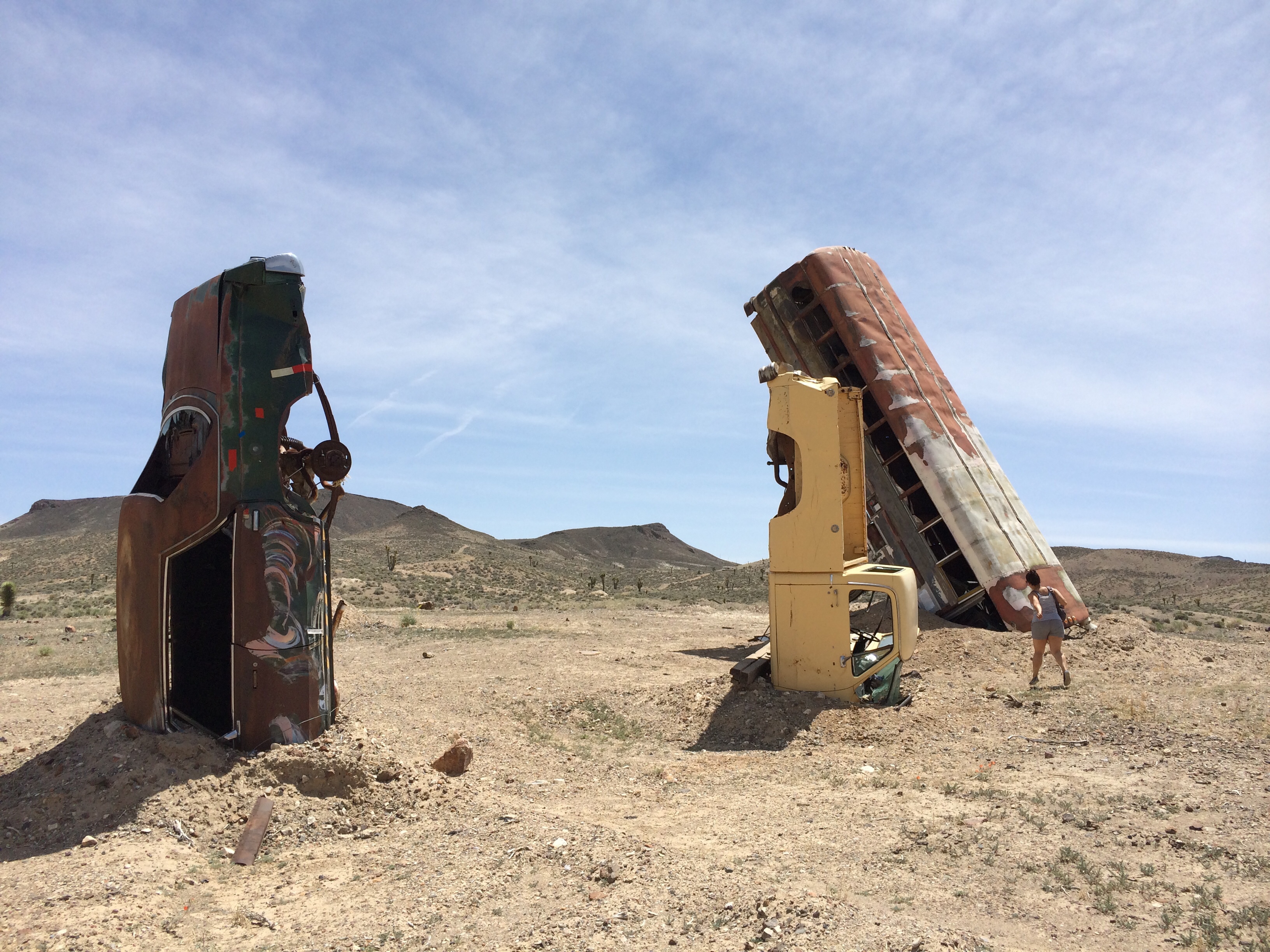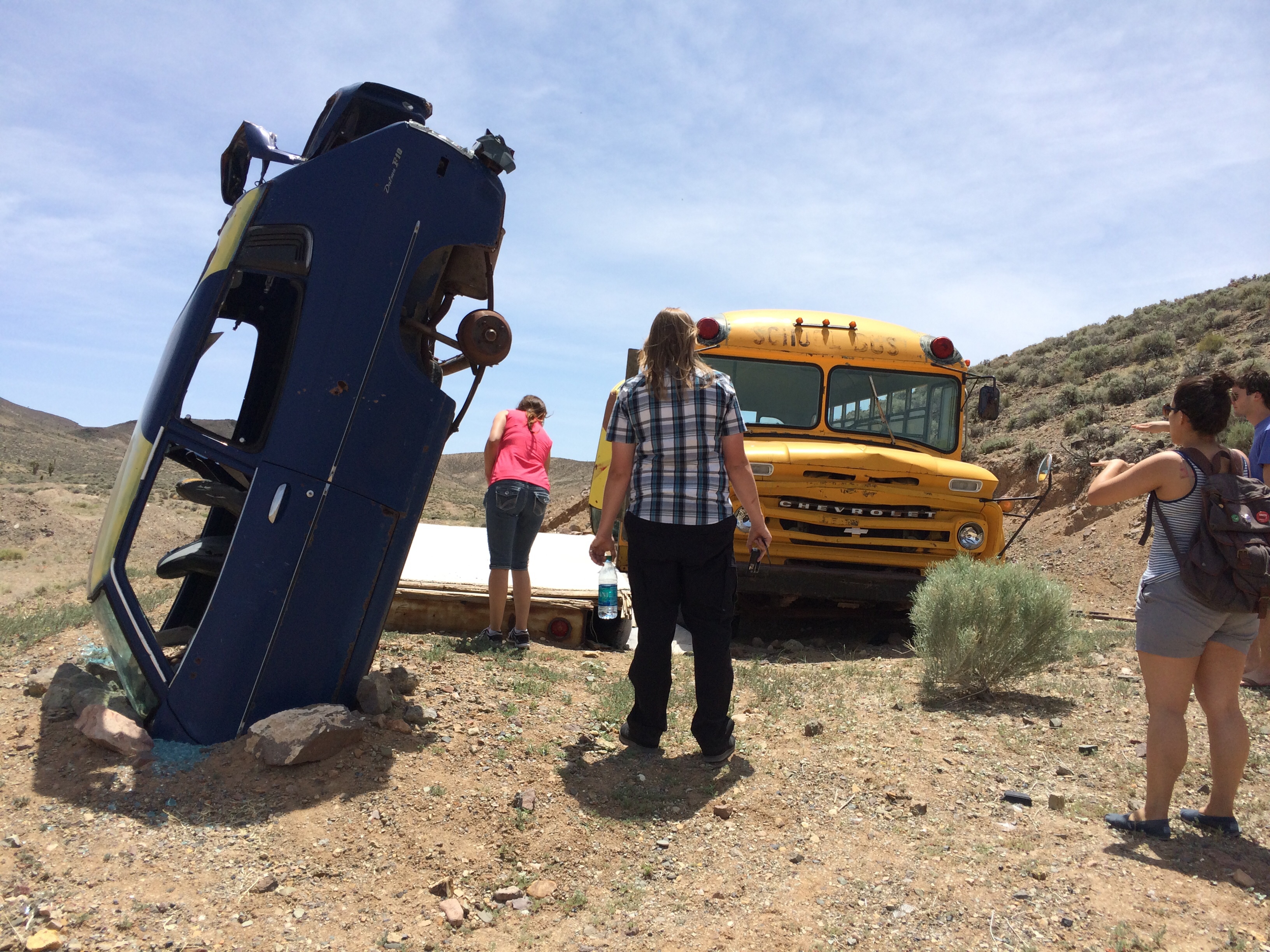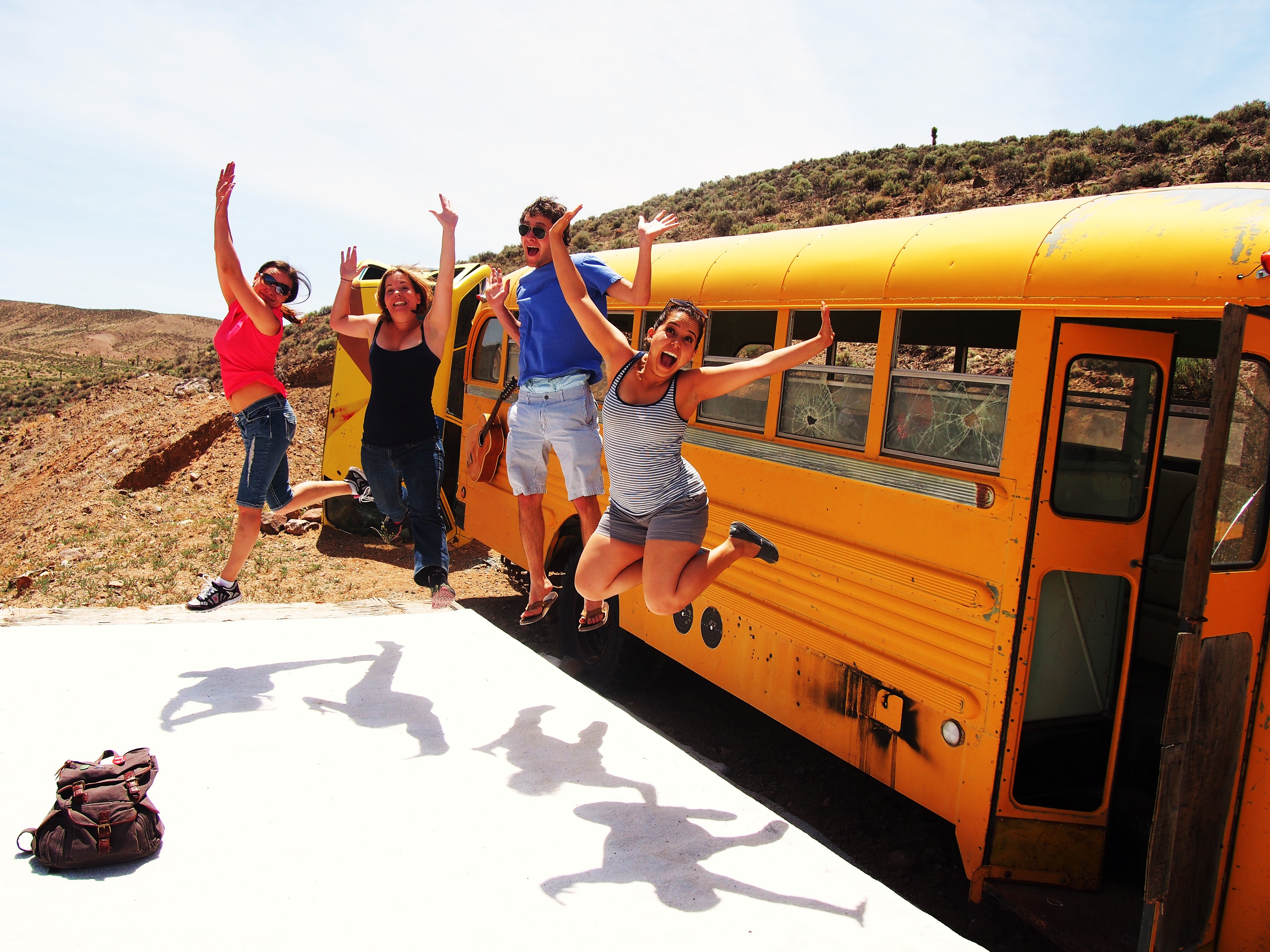 After wandering around the forest, we headed into the village. Goldfield was once a city but most of the buildings were wiped out in a massive flood at the turn of the last century. Now it's basically a one-street town, rundown and depressing. The locals were really nice though. And it had some pretty funky-cool street art. Like these decorated cars (they weren't part of the car forest…they were parked on the main street).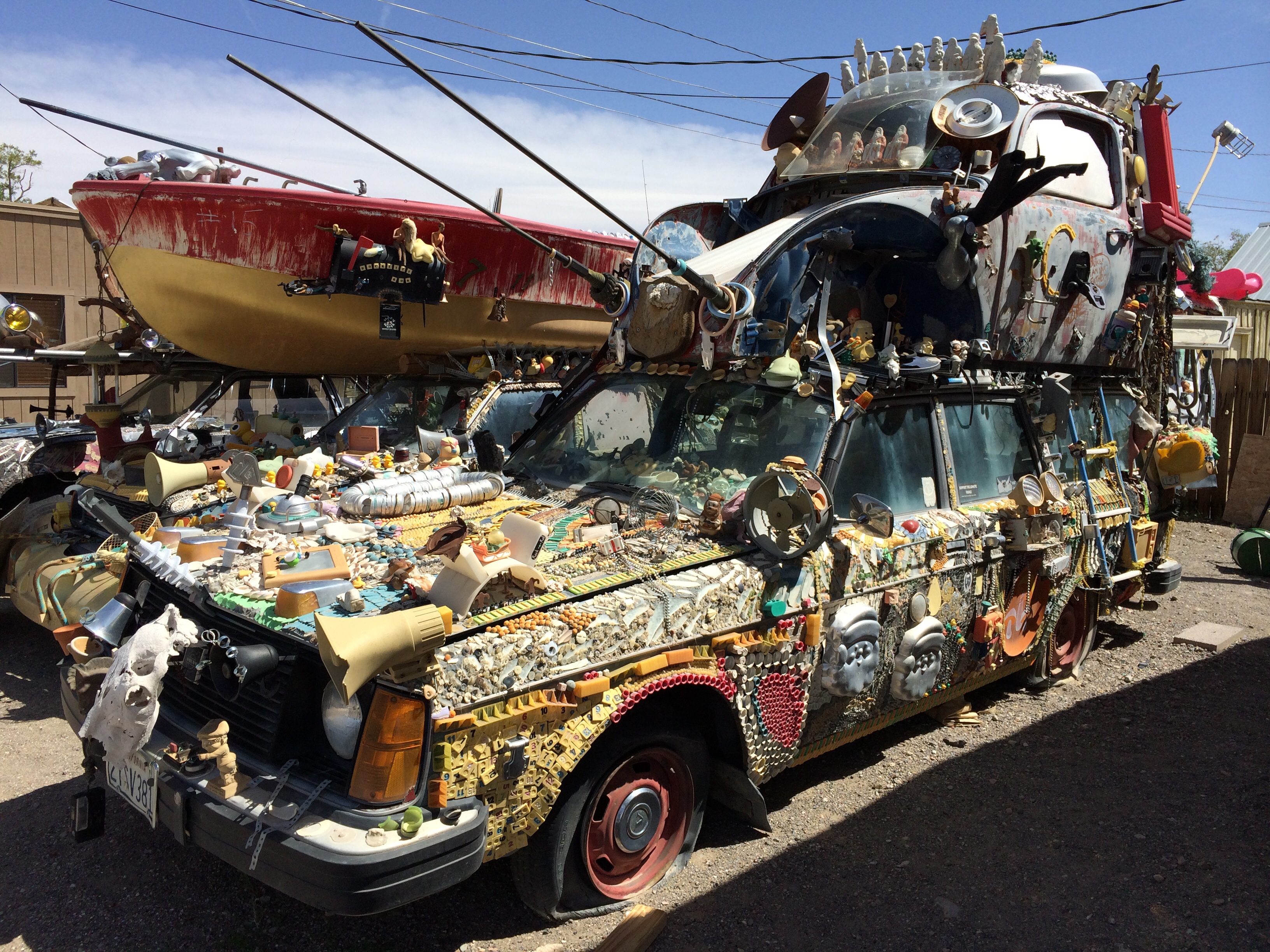 There was also this dilapidated house made out of glass bottles. I'm 75% sure someone lived in there and I felt pretty weird about taking a picture of it.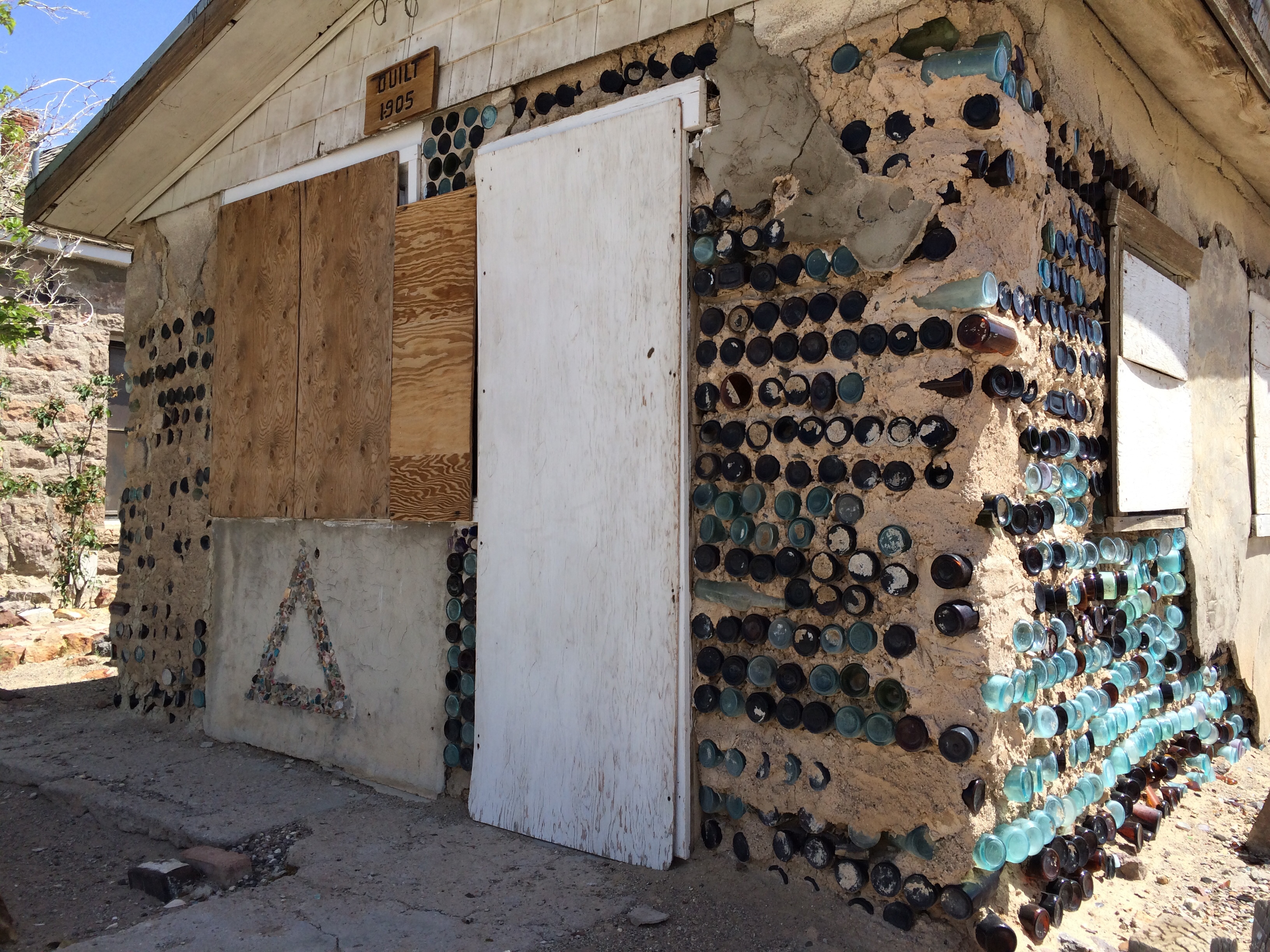 We ate at the Rinky Dink Diner…It was the only restaurant in the town. This shouldn't have been surprising, I guess. The town didn't even have a working gas station (they'd all closed down). The food was surprisingly good, all things considered!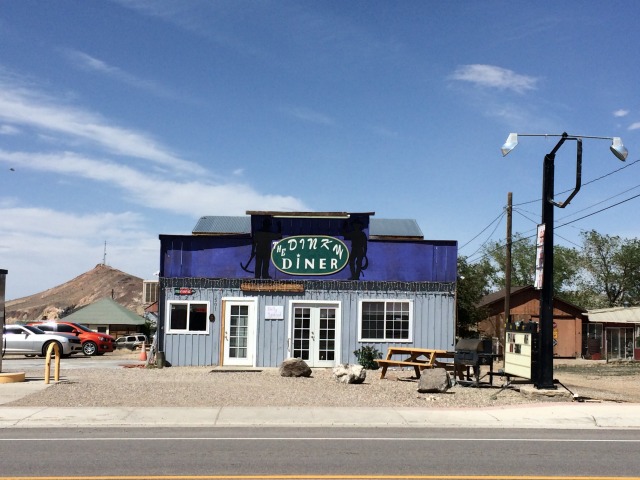 Afterwards we wandered the town and visited an old saloon, home of "Nevada's Meanest Bartender". She was actually pretty rude and I don't think she was trying to be ironic about it. She scolded me for forgetting to close the door behind me and then told me I had to leave because I didn't have an ID on me. "All I want to do is look! I'm not going to drink." She wasn't having any of that though. She kicked me out!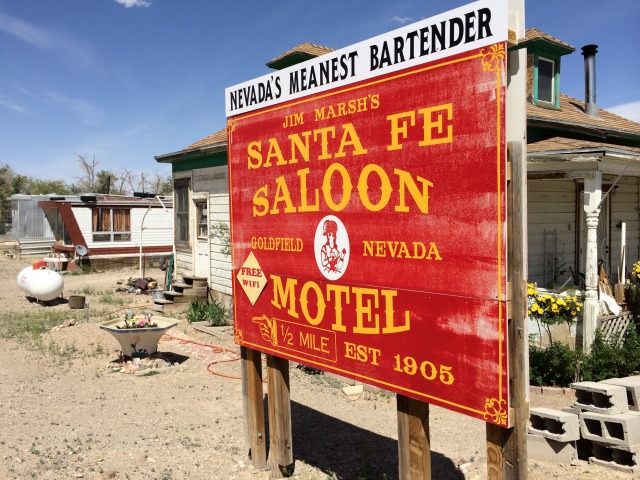 On our way back to Las Vegas, we pulled over to take photos with a crashed airplane. Yep, it was totally random, but that's Nevada for ya.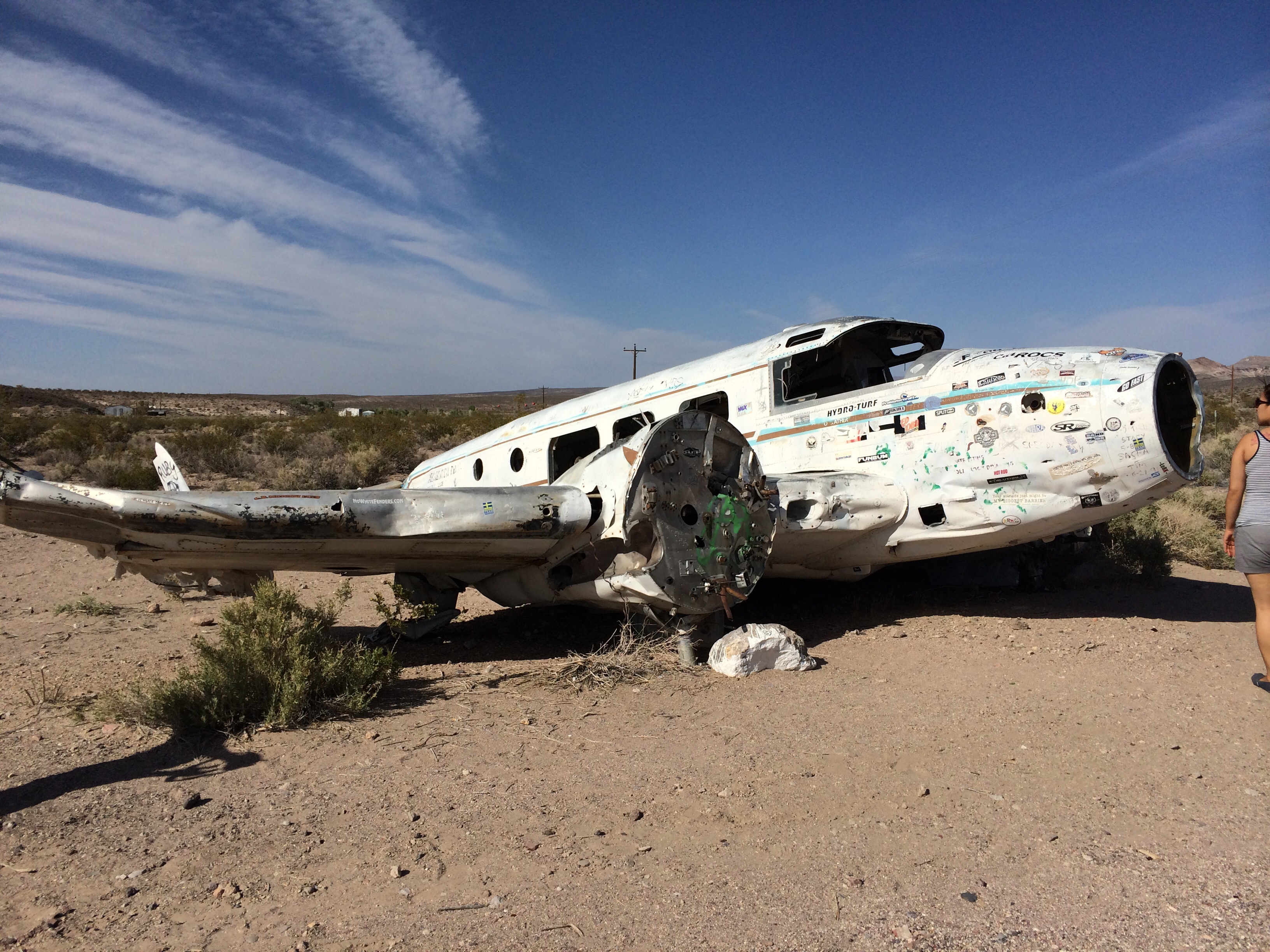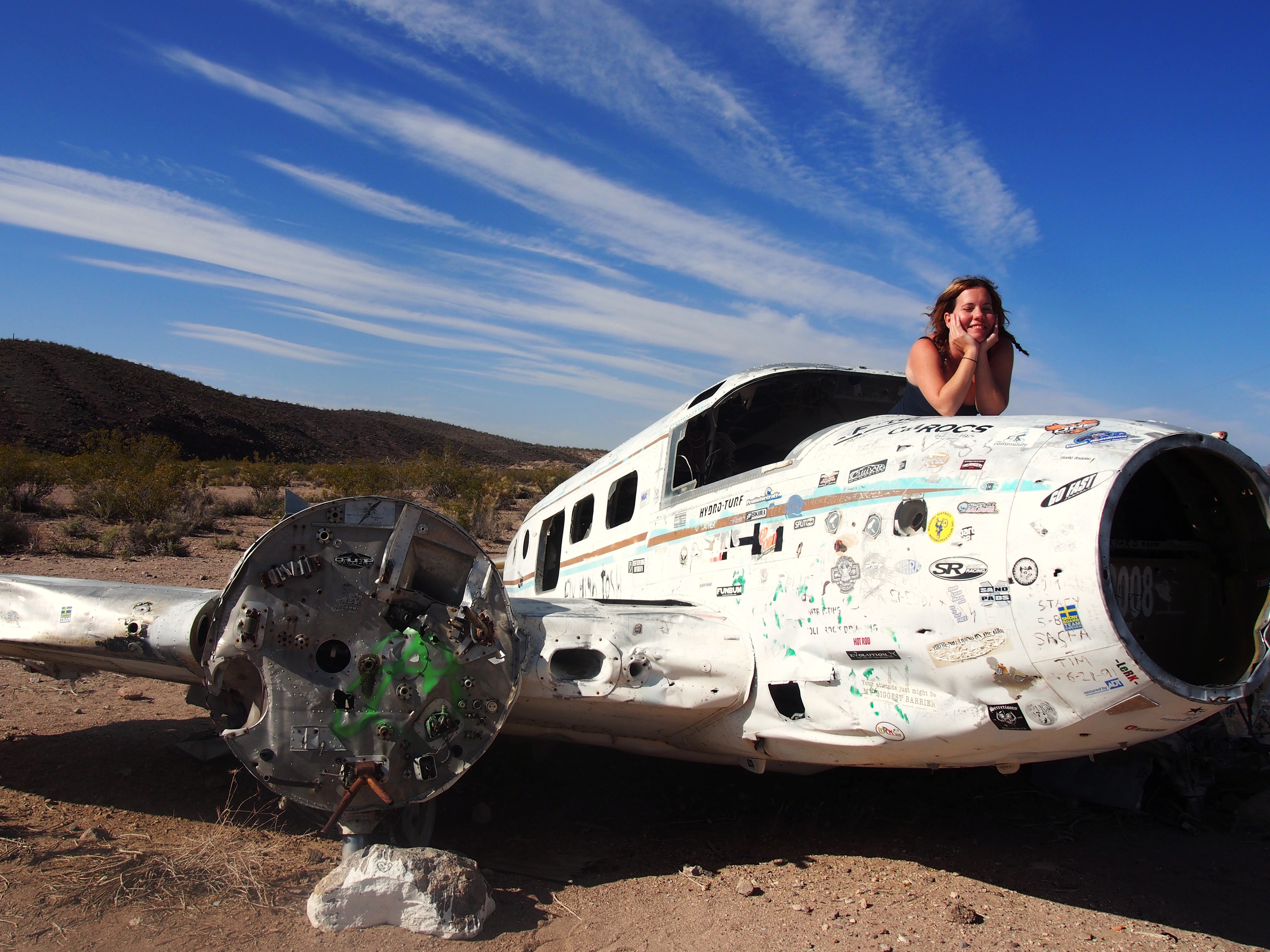 Funnily enough, the airplane was parked in front of a brothel that was offering, among other things, free coffee. Now that's my kind of brothel (Kidding! We didn't go inside).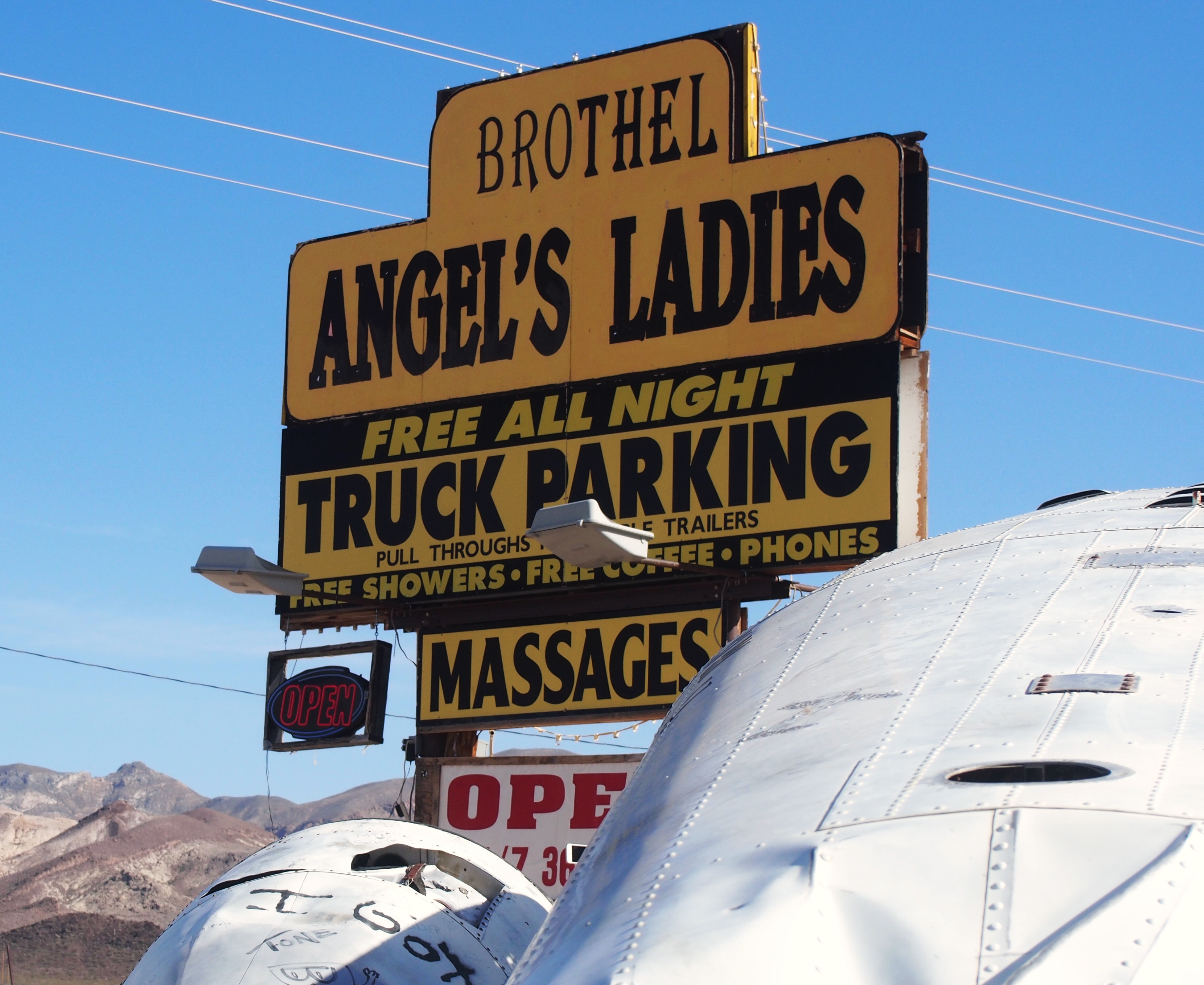 In case you're thinking of visiting the car forest, it's located just past Death Valley on the 95. If you're coming from Vegas, you have to drive past Beatty, past Death Valley and right as you hit Goldfield, you'll see it on the left side of the highway (you'll have to be looking closely for it). It's a great place to visit if you're driving to Reno or Tonapah, but it's over three hours away from Las Vegas so I wouldn't necessarily recommend venturing there unless you're either A. Super adventurous or B. Really bored. I love road trips, so I didn't mind the drive, but I could see how some people might think it's a little far for a day trip.
If you go, make sure to stop by the open-air art museum outside of Beatty! It's on the way. You'll drive right past it!
The International Car Forest of the Last Church
Website:
https://www.facebook.com/carforest/
Address:
37° 42′ 4.29″ N 117° 13′ 49.82″ W