Las Vegas gets a lot of flack for being materialistic, superficial and tacky. To those who've never been or who have gone but have only visited the touristy areas (I.e, The Strip or The Fremont Street Experience), Vegas might seem overwhelming and over the top; phony even. And I get it. I used to hate living in Las Vegas. It took me a while to see that there was more to Sin City than what you see in the Hangover films.
I've recently partnered with Expedia.com to present you with a list of ways you can have a more authentic travel experience in Las Vegas. Think of this list as the Vegas bucket list for people who aren't big fans of Las Vegas.
1. Skip The Fremont Street Experience…

Photo courtesy of 
Thomas Hawk
.
When tourists say "Fremont Street", they are usually referring to the section of the street known as the "Fremont Street Experience". This is where you'll find a giant zipline, a light-up canopy, live music, costumed characters, street performers and, of course, casinos. It's seedy, strange and worth seeing at least once, if for no other reason than to gawk at some of the bizarre "performers" (it's similar to the acts you see in Times Square in NewYork, only more risqué. Keep your eyes peeled for the man in a diaper and the three nearly naked old ladies in thong bikinis). The casinos also have cheaper-than-average table games and alcohol (Mermaids Casino sells $2.00 beers around the clock). But this place is extremely touristy and most locals tend to avoid it unless they have friends in town.
…and Go to East Fremont Street Instead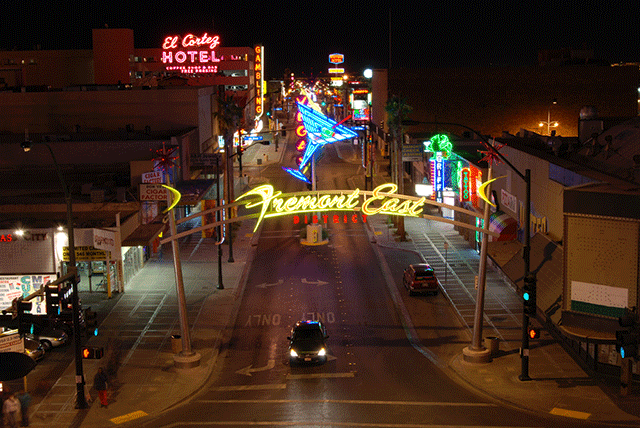 The vintage neon signs that line the street make for fun photo ops! 
Photo courtesy of
Allen
.
East Fremont Street (not to be confused with The Fremont Street Experience! They are two very different places) is a hipster-y area of downtown Las Vegas. There are a dozen or so trendy bars, lounges, concert halls and night clubs. There are also several great restaurants and something called "The Container Park", which is a shopping and restaurant area made entirely of upcycled shipping containers. Though the place is a little kitschy for my tastes, they often have free concerts and the Mexican restaurant there, Pinches Tacos, is pretty decent.
My Favorite Bars on East Fremont Street:
The Griffin—This place gets extremely crowded on the weekends, especially after 11pm when the backroom is converted into a dance floor, but it's a great place to go for a drink earlier in the evening. The inside of the bar looks like a medieval dungeon or European castle (in a good way!) and there are fire pits. It has a decidedly "un-Vegas" vibe to it.
Atomic Liquors—This is one of the oldest bars in Vegas (The Rat Pack used to hang out here) and it's extremely popular with college students and young professionals. Drinks are cheap and parking is convenient. It's a great place to go for a laid back, dive bar-y vibe.
My Favorite Restaurants on East Fremont Street:
Le Thai—The thai food isn't my favorite in Vegas but it's pretty good! I like sitting on the back patio. It's another good place to go if you want to forget you're in Vegas. It sort of reminds me of restaurants I used to visit when I lived in New York.
Park on Fremont—This restaurant/bar is super hipster-y (there's a "secret garden" with a seesaw! Ha. And the drinks are served in Mason jars) but the outdoor garden is pretty, the cheeseburgers are tasty and I like all of the weird art.

Everyone loves taking selfies in front of Park on Fremont's quirky neon sign!
2. Skip The Gondola Ride at the Venetian…

For reasons I will never fully understand, tourists seem to love the Gondola Ride at The Venetian. To me, the idea of being paddled around a resort pool while someone who's probably from Cleveland and would be hard-pressed to locate Venice on a map serenades me in Italian sounds cheesy, not to mention expensive (it costs $21 per person for a 10 minute ride!), but I guess I'm just not a big fan of kitsch. The ride has a lot of positive reviews on Trip Advisor and Yelp though (apparently people think the ride is romantic?!).
….And Kayak Lake Mead Instead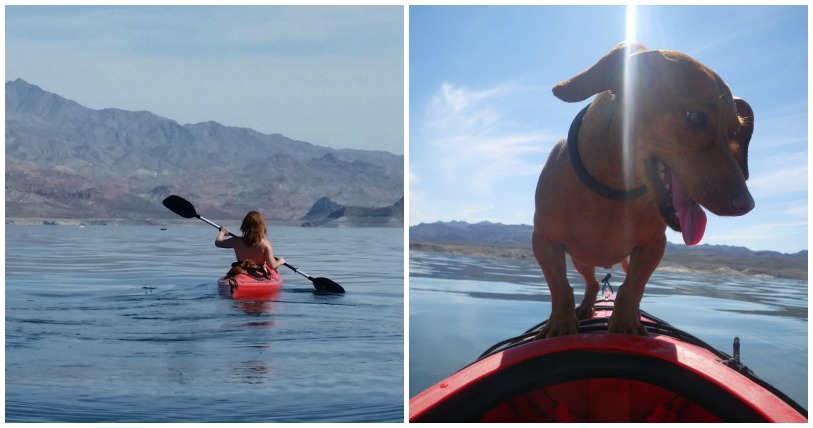 Here's me and my dog, Frankie!
I recommend Lake Mead instead! Lake Mead is the world's largest man-made reservoir and a great place to kayak, swim or go boating (especially when it's hot out). A number of tour companies offer boat or kayak tours on the lake and along the Colorado River. If you go on a kayaking tour on the river, be sure to make a pit stop at one of the hot springs! There are two: The Arizona Hot Springs and The Gold Strike Hot Springs).
 3. Skip Walking the Strip…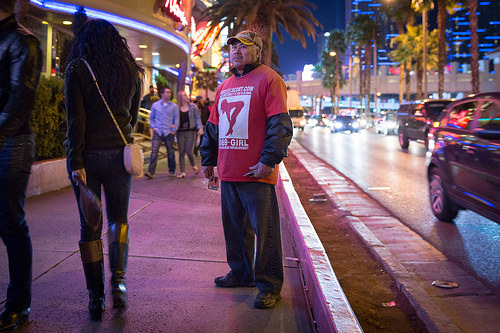 Not that walking the Strip isn't fun (it can be quite the people watching experience), but it can be overwhelming and over-stimulating as well. Although it's a misnomer that locals do not visit the Strip (we go there for shows, clubs and to check out new restaurants), fighting through the crowds of intoxicated tourists so that we can be harassed by prostitutes, card snappers, costumed characters and homeless people isn't something we generally do unless we have friends in town.
…And Walk Mt Charleston Instead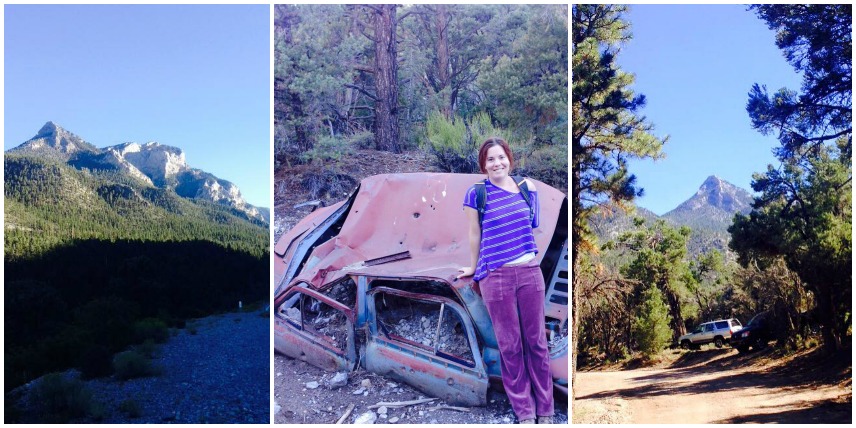 Mount Charleston has 51 miles of great hiking trails! They even have a few abandoned old cars you can take pictures next to. 
Mount Charleston is only a 45-minute drive outside of Vegas and is a great place to go if you want to go hiking, camping, skiing or sleigh riding, or if you're just tired of the desert and miss seeing trees and greenery. It's also one of the only places in the area you can go to escape the summer heat. It's generally 20 – 30 degrees cooler on Mount Charleston than in the rest of the valley. This means that when it's 110 on the Strip, it'll be 80 degrees on the trails. If you go in the fall or spring, you can even hike to a waterfall.
4. Skip Zip-Lining on Fremont Street…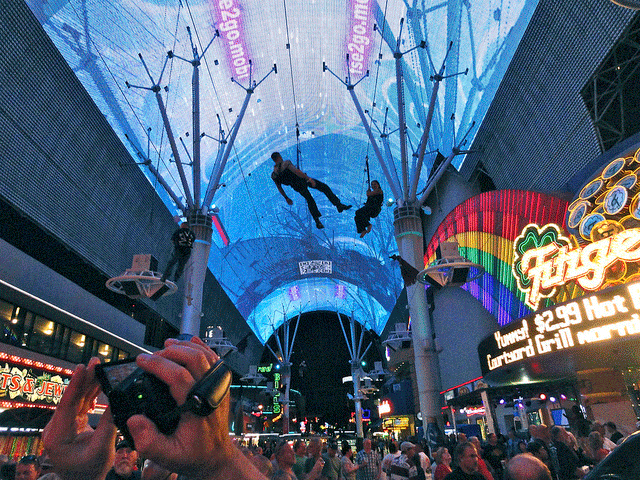 Photo courtesy of
Phil Guest
.
I guess it's because I've gone zip-lining off cliffs in the Guatemalan jungle, but the idea of paying $20 to zoom across a crowd of tourists on Fremont Street seems, well, lame. Though I suppose if you've never been zip lining before, this might be fun.
…And Get Your Thrills Rock Climbing at Red Rock Instead


If it's an adrenaline rush you're seeking, I recommend going rock climbing at Red Rock Canyon instead. It's only 30 minutes from the Strip and Red Rock is considered to be one of the best places in the country to go rock climbing. People from all over the world come to Vegas specifically for a chance to scale the cliffs of red sandstone. I even have a friend who relocated to Vegas from Canada just for the rock climbing—it's that good. If you have your own equipment, you can just walk right up to the rocks and start climbing, but there are also tour companies who can show you, er, the ropes. Ha.
If you don't want to hassle with climbing, you can just go hiking or scrambling instead. Red Rock Canyon National Conservation Area is worth seeing even if all you do is wander around. Make sure to go at sunset for the best views.
4. Skip the Breakfast Buffets…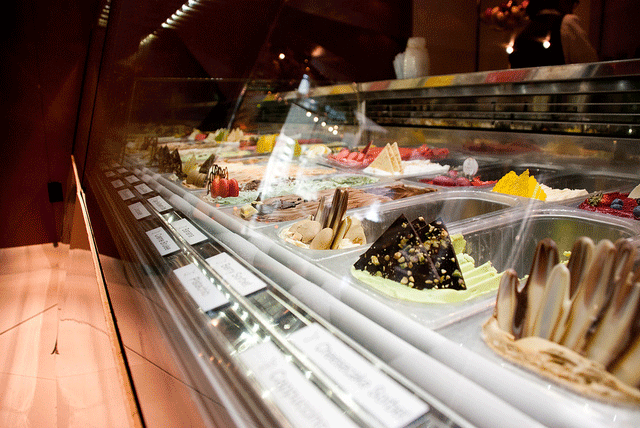 Photo courtesy of
Keith Reed
.
While I love me a good buffet, most of the best ones are located on The Strip and unfortunately, they're no longer cheap (long-gone are the days of the $5.99 all-you-can-eat buffet). So if you're trying to avoid the crowds or the tourist scene, then I recommend leaving Las Vegas Boulevard.
…And Eat at One of the Locally-Owned Restaurants Off The Strip

There are so many great places to get breakfast in Vegas, but three of my favorite breakfast places are:
Eat—The menu items have the weirdest combinations of ingredients and flavors! But somehow they all work well together. Make sure to try the huevos motulenos and the cinnamon biscuits.
Crepe Expectations—They have the best crepes in Las Vegas! The Frisco and The Rosarito crepes are really good.
The Omelet House—The decor in this restaurant is super hokey, and I'm not a fan of the hash browns…But the stuffed French toast? And the banana nut bread? Yum!
5. Skip Taking a Selfie In Front of the "Welcome to Las Vegas" Sign…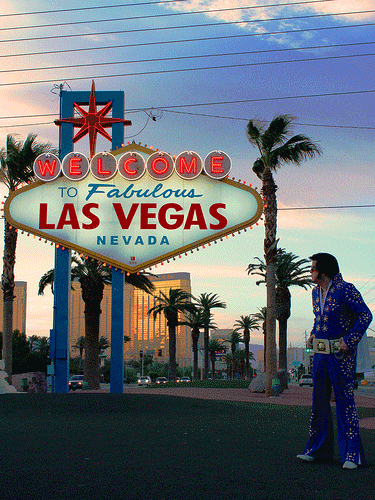 If I'm being entirely honest here, I'll have to admit that I've taken a picture in front of this sign! And while I think Vegas Sign selfies are totally cheesy and cliché, I recognize it's a right of passage for any first time visitor to Vegas. So go ahead and take picture in front of it! Go on. I won't tell. But when you're done, you can take your cornball self downtown.
…And Take a Selfie in Front of the Cool Public Art Downtown

In downtown Las Vegas, you can take a photo in front of a giant cat statue, a massive slot machine and dozens of fun and funky graffitti art.
Downtown Vegas is incredibly photogenic! Every year, a music and art festival called "Life is Beautiful" is held downtown, which attracts several well-known graffiti artists. A large number of the buildings are covered in strange but cool-looking murals.
Here are the top places to take a selfie (or a fun photo):
The 10-Foot Tall Cat Statue—Its name is "Snowball" and it's located on First Street in the Arts District.
The peeing statue—Yep, it's just like what it sounds. It's a replica of the famous Belgium statue "Manneken Pis" and it's located in front of The D hotel downtown.
The vintage Vegas signs at the Neon Boneyard—You have to pay to see these signs but if you're into Vegas history, it's worth the $15.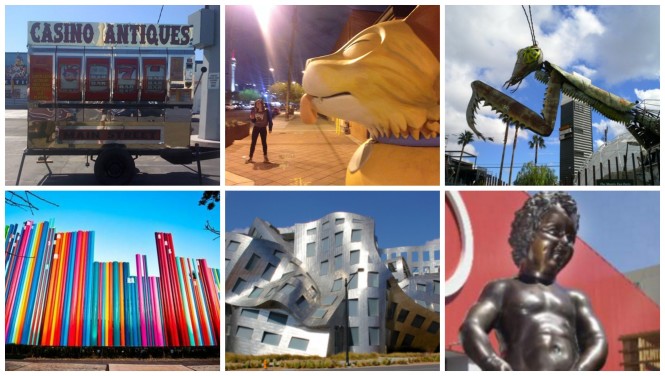 The Lou Ruvo Center for Brain Health is located in a weirdly-shaped building downtown that's cool to photography (pictured above, bottom far left and bottom middle).
6. Skip Playing the Slots…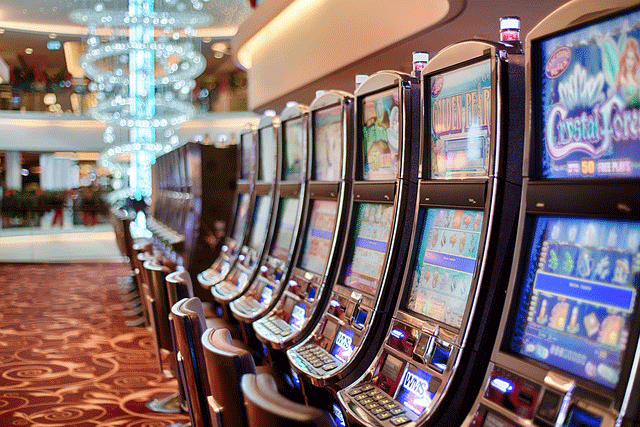 So despite the fact that I've lived in gambler's paradise for going on five years now, I can count the number of times I've gambled (slot machines or otherwise) on one hand! Perhaps it's because I've never won anything, but I find gambling to be boring and a waste of money. I guess that's a good thing though. If I lived in Las Vegas and loved to gamble, then I might have a problem!
…And Play Giant Jenga, Chess and Beer Pong at Gold Spike Instead

Gold Spike is one of my favorite bars downtown. It's located inside a converted hotel/casino and while it has a bed, an airstream trailer and comfy outdoor couches, what makes this bar unique is the games! There are giant, human-sized versions of Jenga, chess and beer pong, as well as cornhole, hopscotch, darts and shuffle board. The best part is that unlike slot machines, all the games are free!
Okay, now it's your turn! What's your favorite "off-the-beaten-trail" thing to do in Vegas? Leave a comment and let me know!