Being too broke to travel has meant that I've been stuck in Las Vegas the past few weekends (I guess there are worse places to be stuck though, huh? Ha) But I've been keeping busy. Believe it or not, there are more things to do in Las Vegas than guzzle Long Islands and hang out with strippers (though those are fun activities, too). You may not know this, but Southern Nevada has wild donkeys, neon sign graveyards, gold mines and even zombies (well, a store that will help you learn how to fight one, anyway).
And Southern Nevada also has some beautiful nature, as well. I know. Who'd a thunk it?! Here are three places to go if you want to get away from the tourists and see another – prettier and quieter – side of sin city.
1. The Cliffs at Nelson's Landing
Nelson's Landing is a beach on Lake Mojave and is a great place to swim, kayak or cliff jump. There's also a spot where you can barbecue or sunbathe. Unlike Lake Mead, there's no charge to visit Nelson's Landing (bonus!)
It's about 25 miles outside of Boulder City (take route 95 and then turn left on route 165 and go eight miles down a winding road; you'll run into it).
Note:
No glass or alcohol is allowed on the beach and park rangers do stop by periodically and will ticket you if they catch you…so don't get caught! 🙂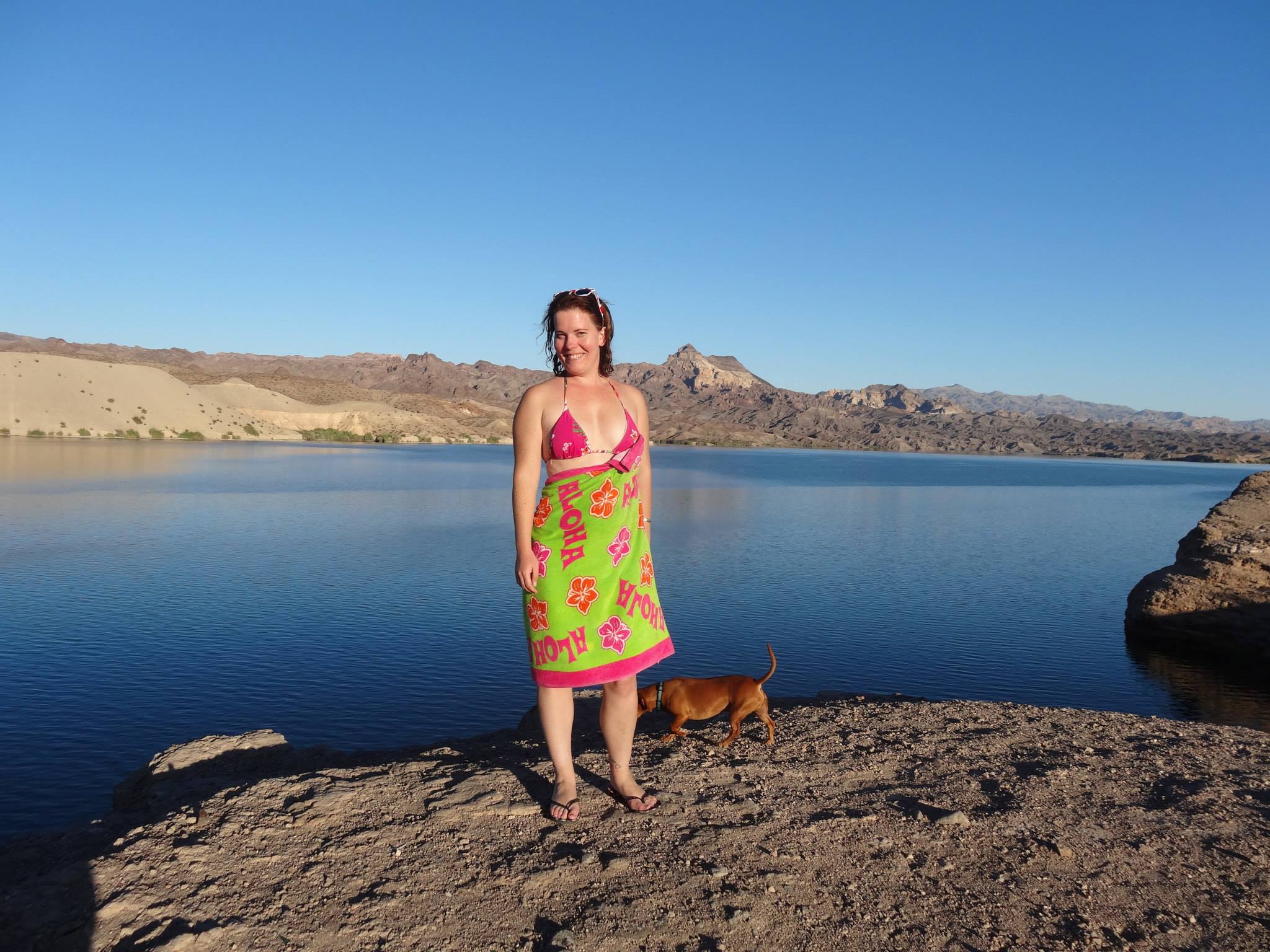 Here's me and my dog, Frankie, standing on one of the cliffs.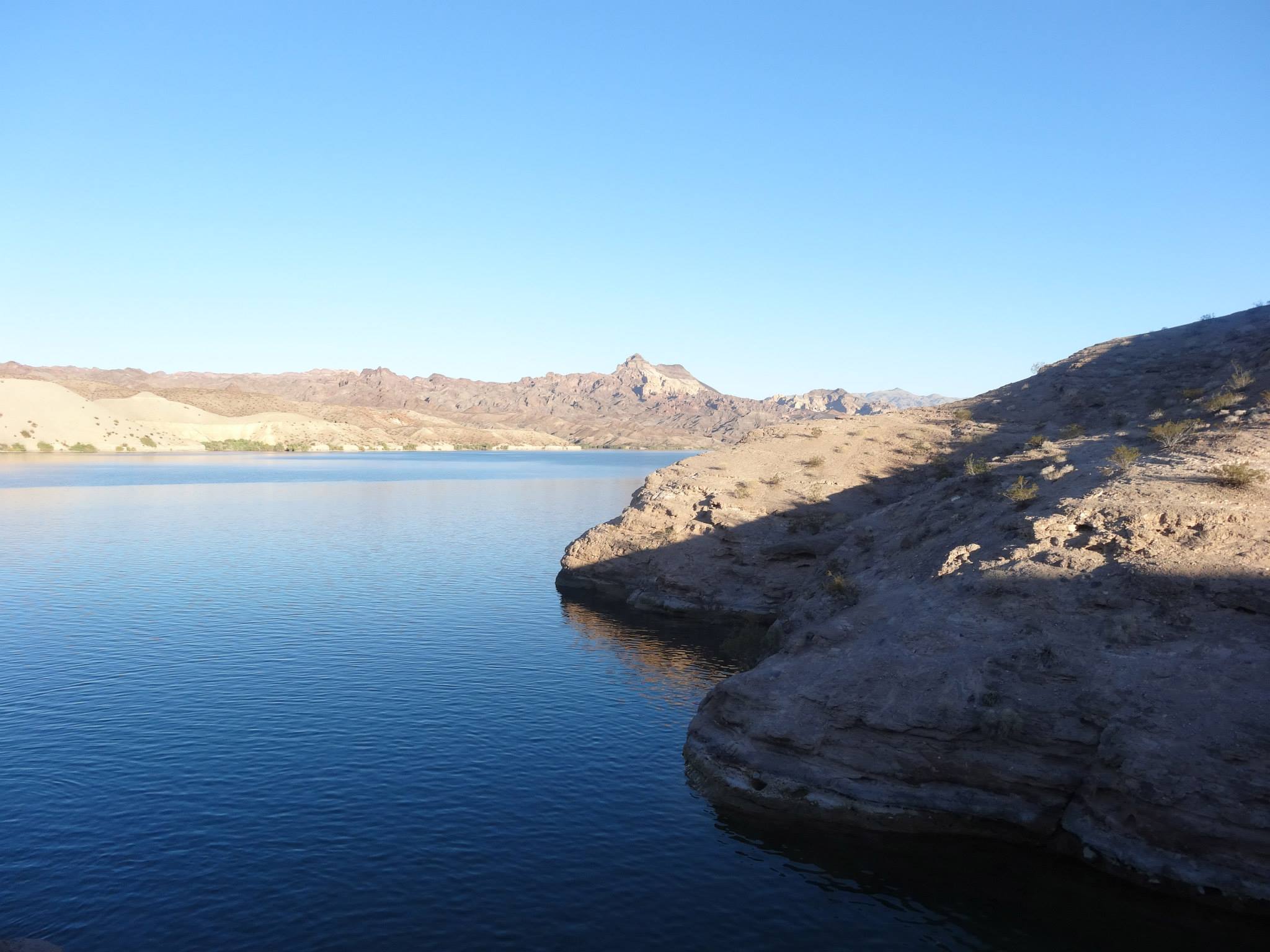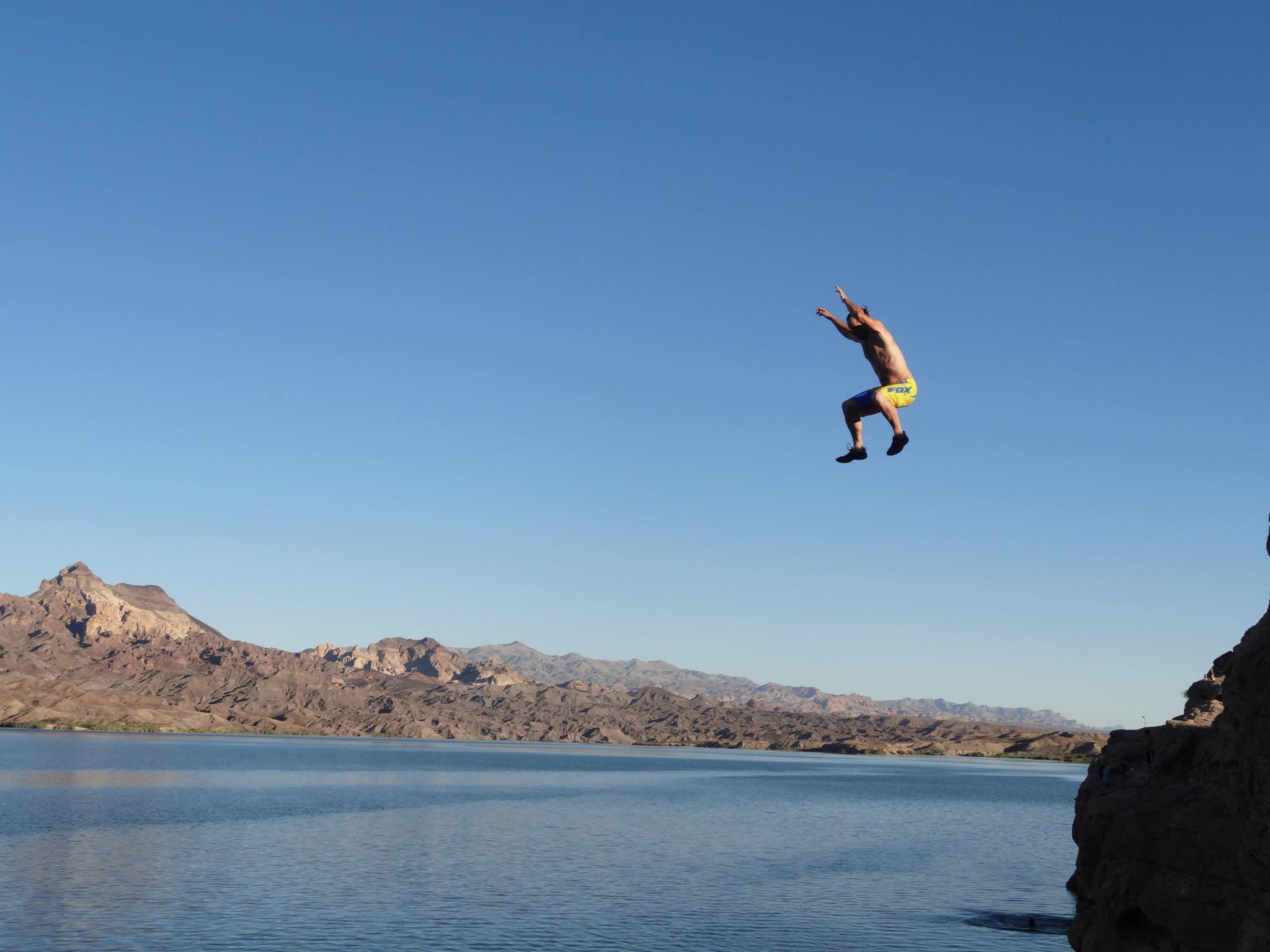 My friend, jumping off the 50-foot jump (that's the highest jump)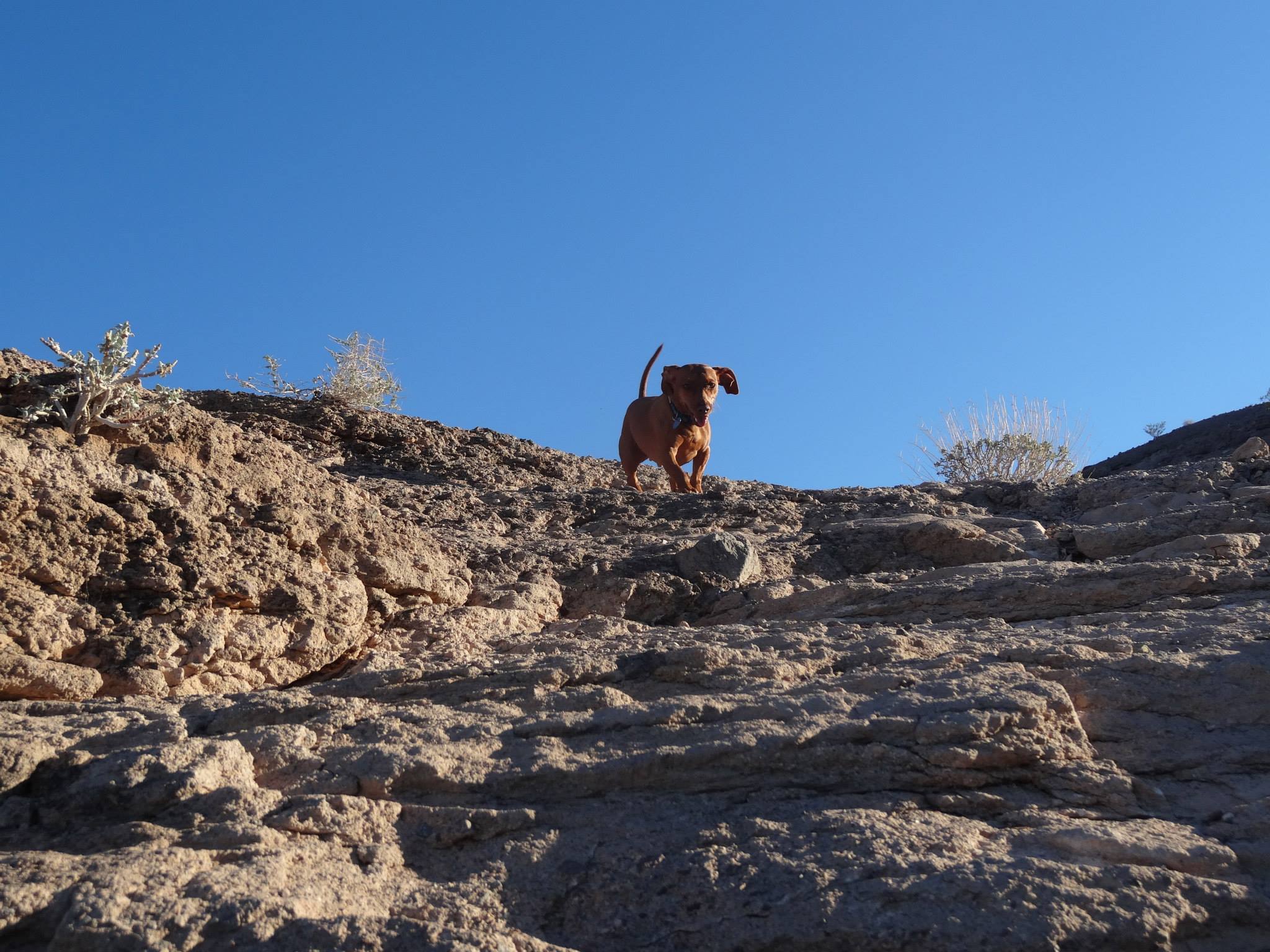 Frankie, being his usual adventurous self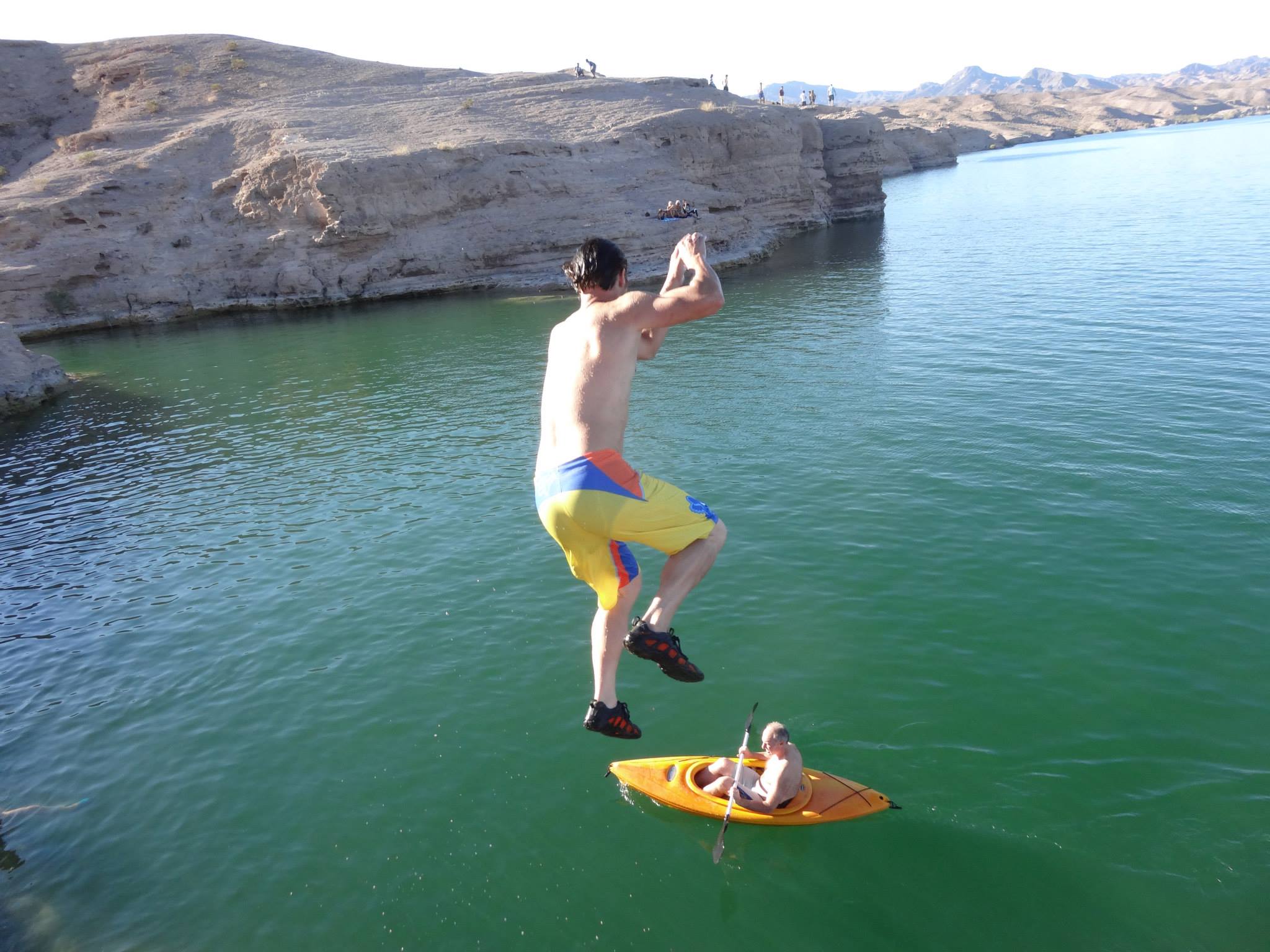 My friend was trying to scare the guy in the kayak. This was the real color of the water. None of these photos were photoshopped.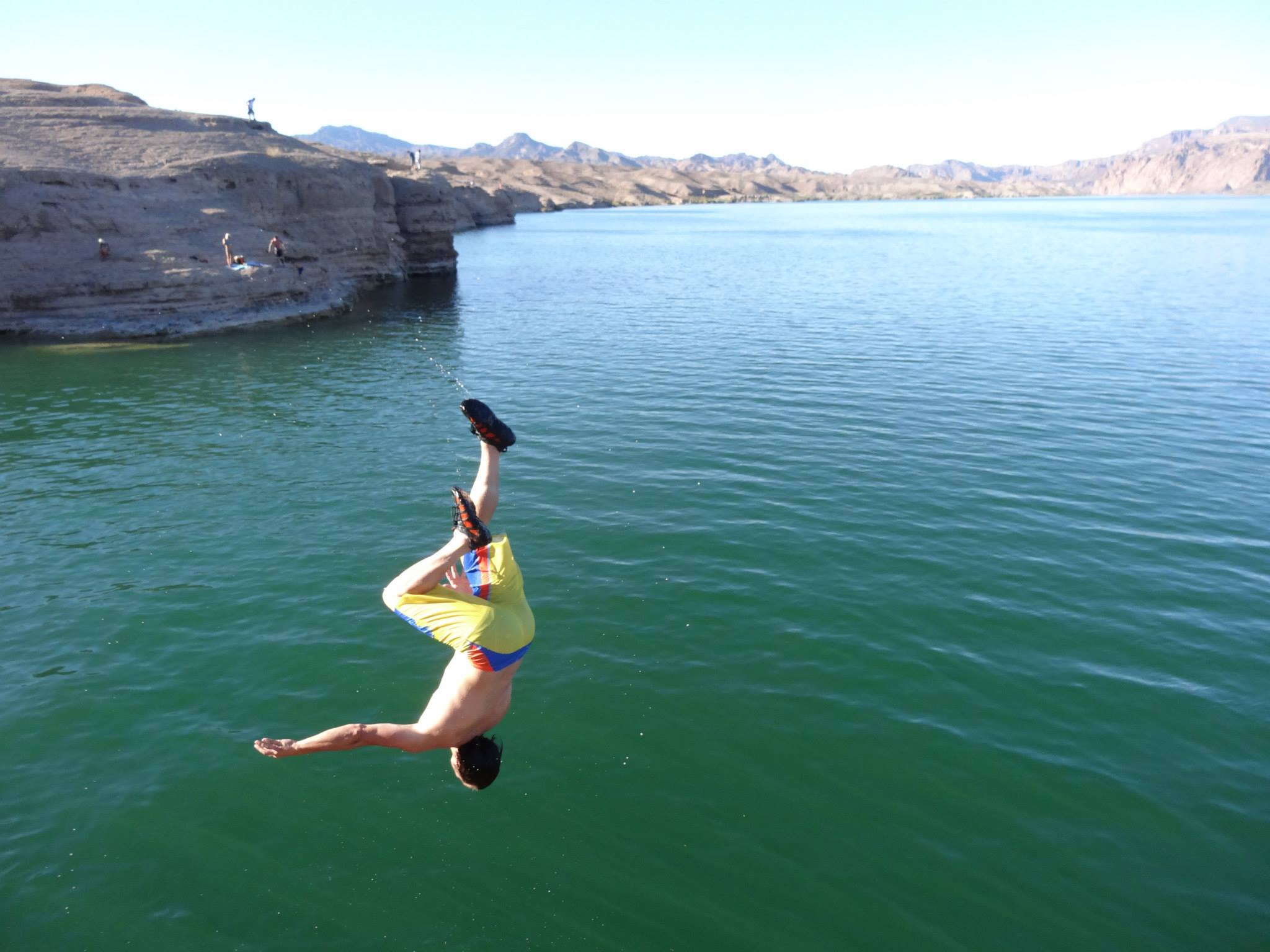 There were smaller jumps, too (as low as 10 or 15 feet).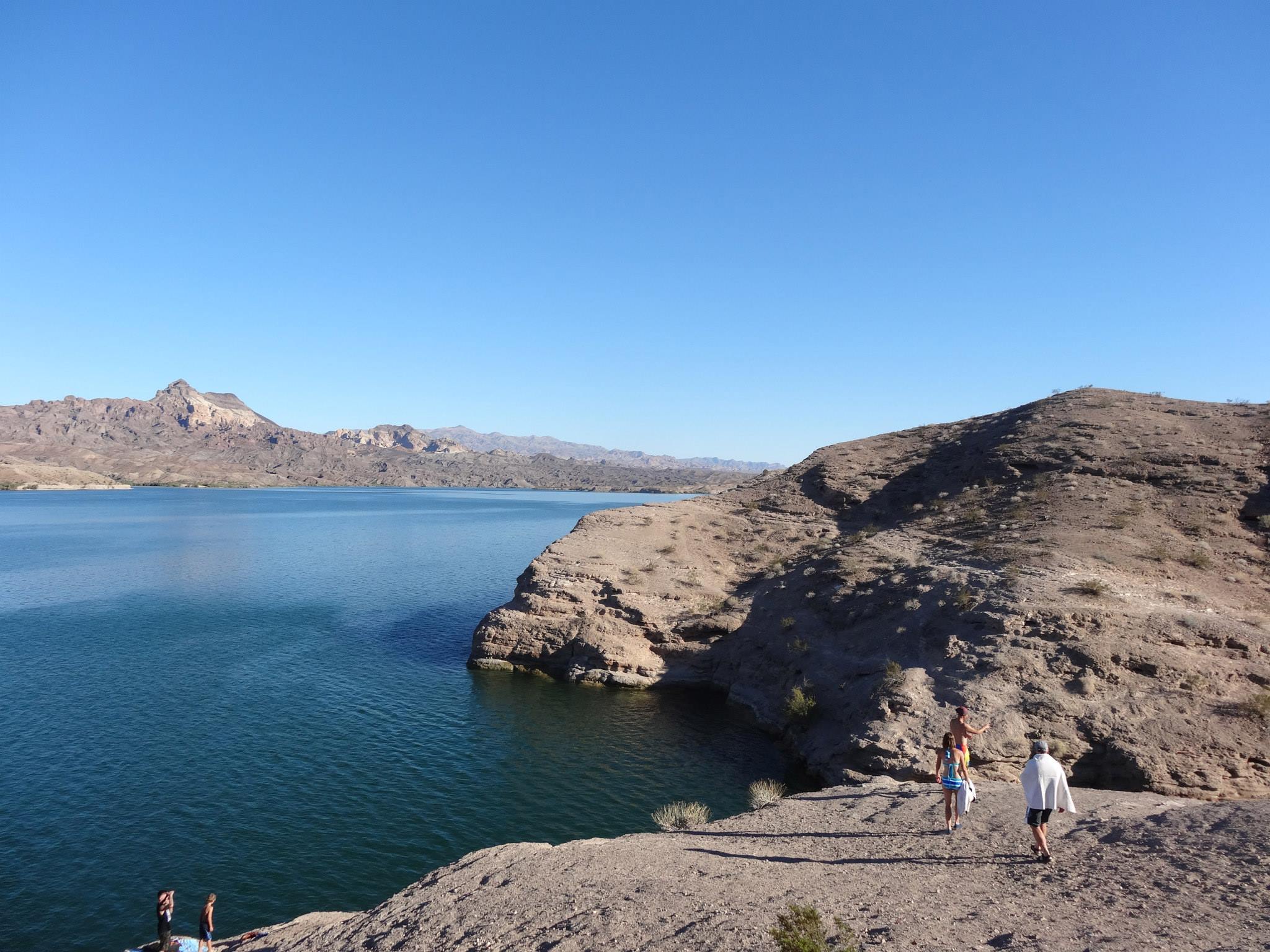 If you don't want to cliff jump, there's also a beach where you can wade into the water.
2. The Valley of Fire
Everyone always visits Red Rock when they visit Las Vegas, but personally, I think the Valley of Fire is prettier. It's a little further away, however (about an hour North of Las Vegas), which I think is what deters a lot of people (Red Rock is only 30 minutes away).  It's especially pretty at sunset, when the rocks glow red and look like they're on fire (hence the name). Couples often get their engagement or wedding photos taken there.
Personally, I think the whole landscape looks a lot like Mars, but it's a great place to go star gazing if you go at night (you can camp there overnight for just 20 dollars).
Note:
The Valley of Fire is part of a state park, so it isn't free (at the time of writing, it cost 8 dollars per vehicle if you have Las Vegas plates…more if you're from out of state).
BUT because it's part of a state park, there are all sorts of useful things like public restrooms, garbage cans, well-marked hiking trails and a visitor's center that hands out free maps.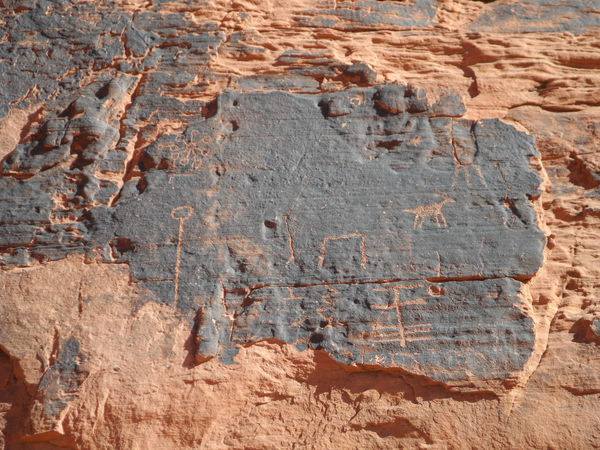 The Valley of Fire has some cool hieroglyphics that were carved into the rocks by visiting martians (just kidding).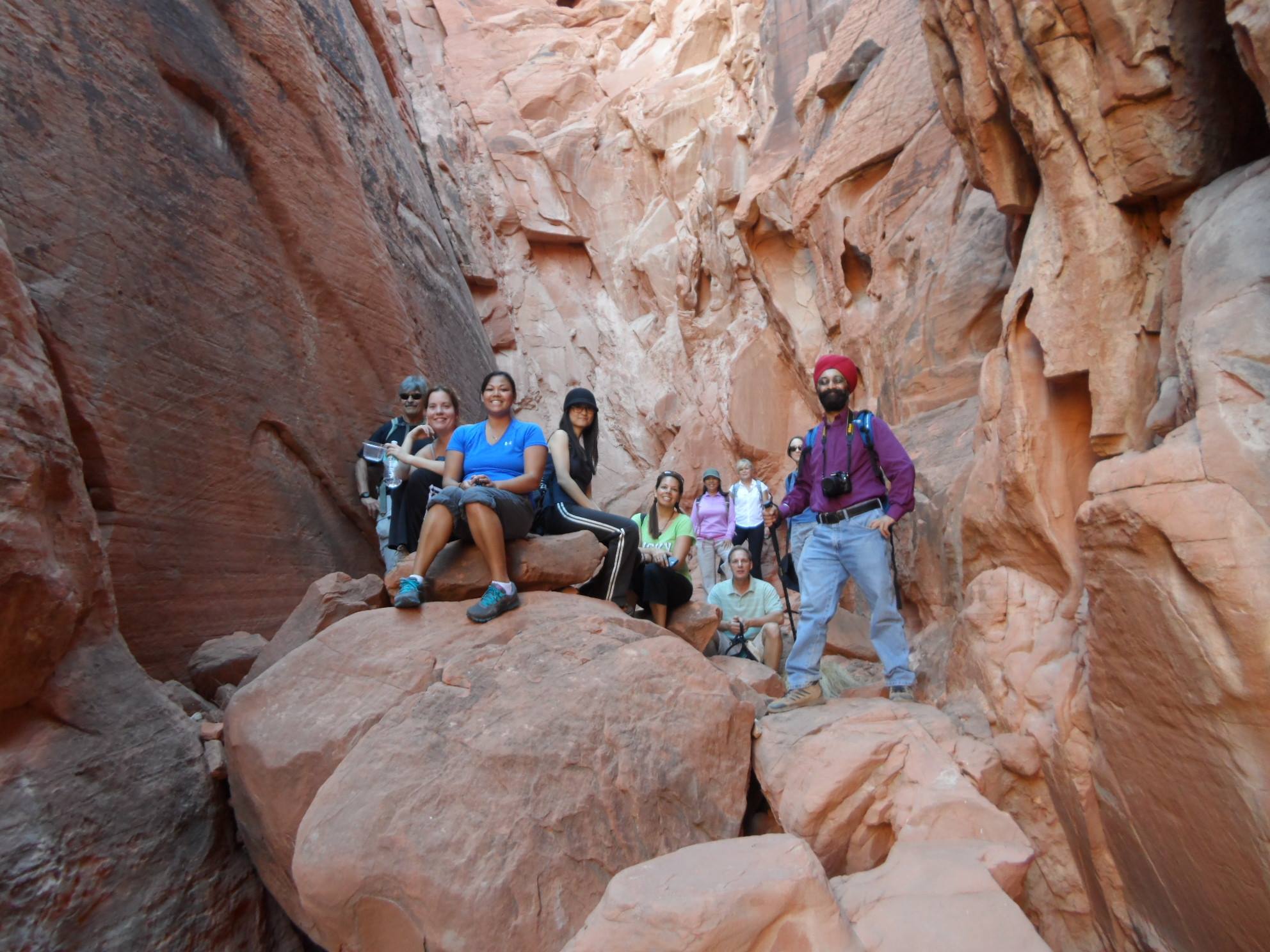 It also has some cool canyons.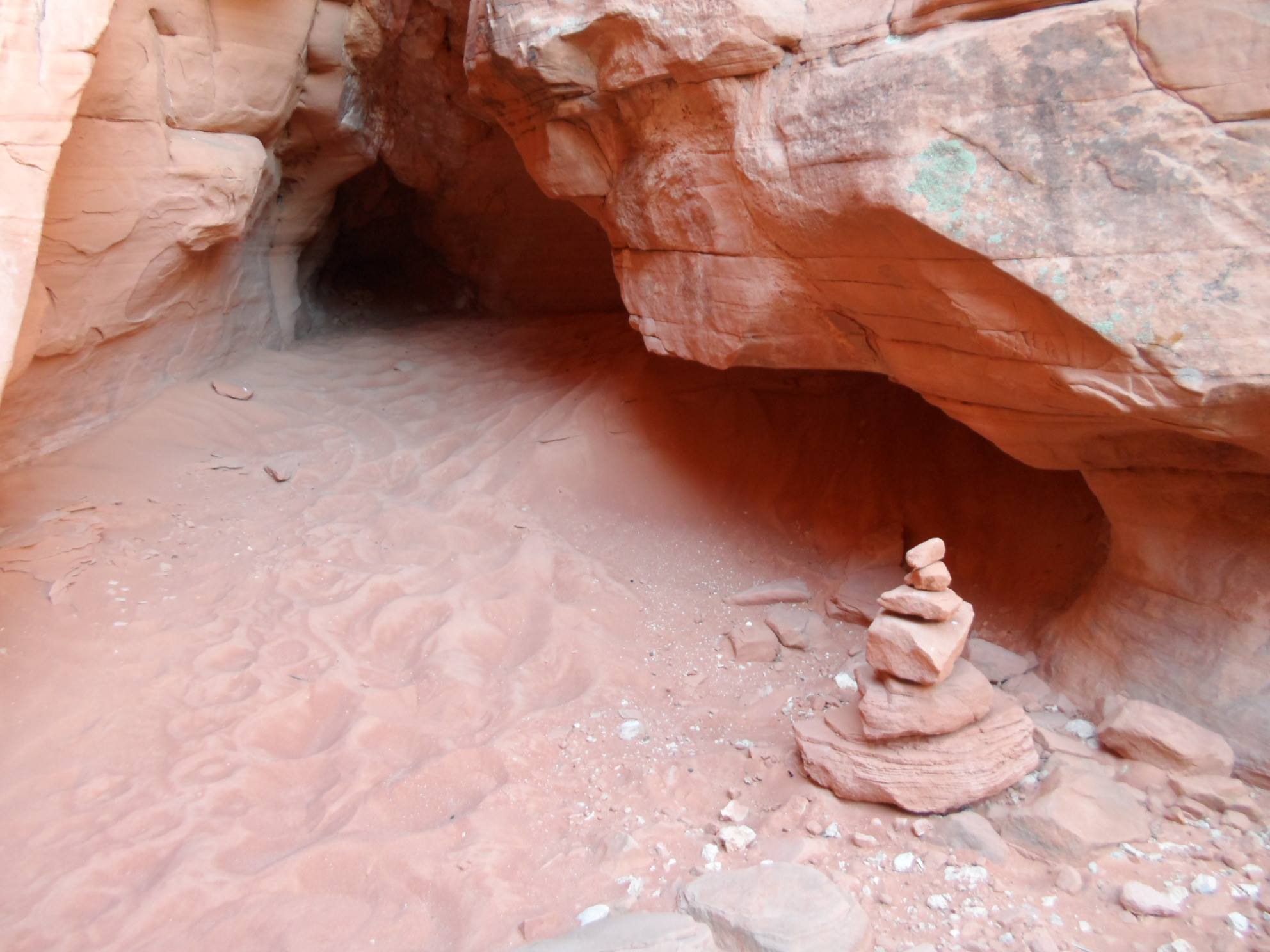 And caves!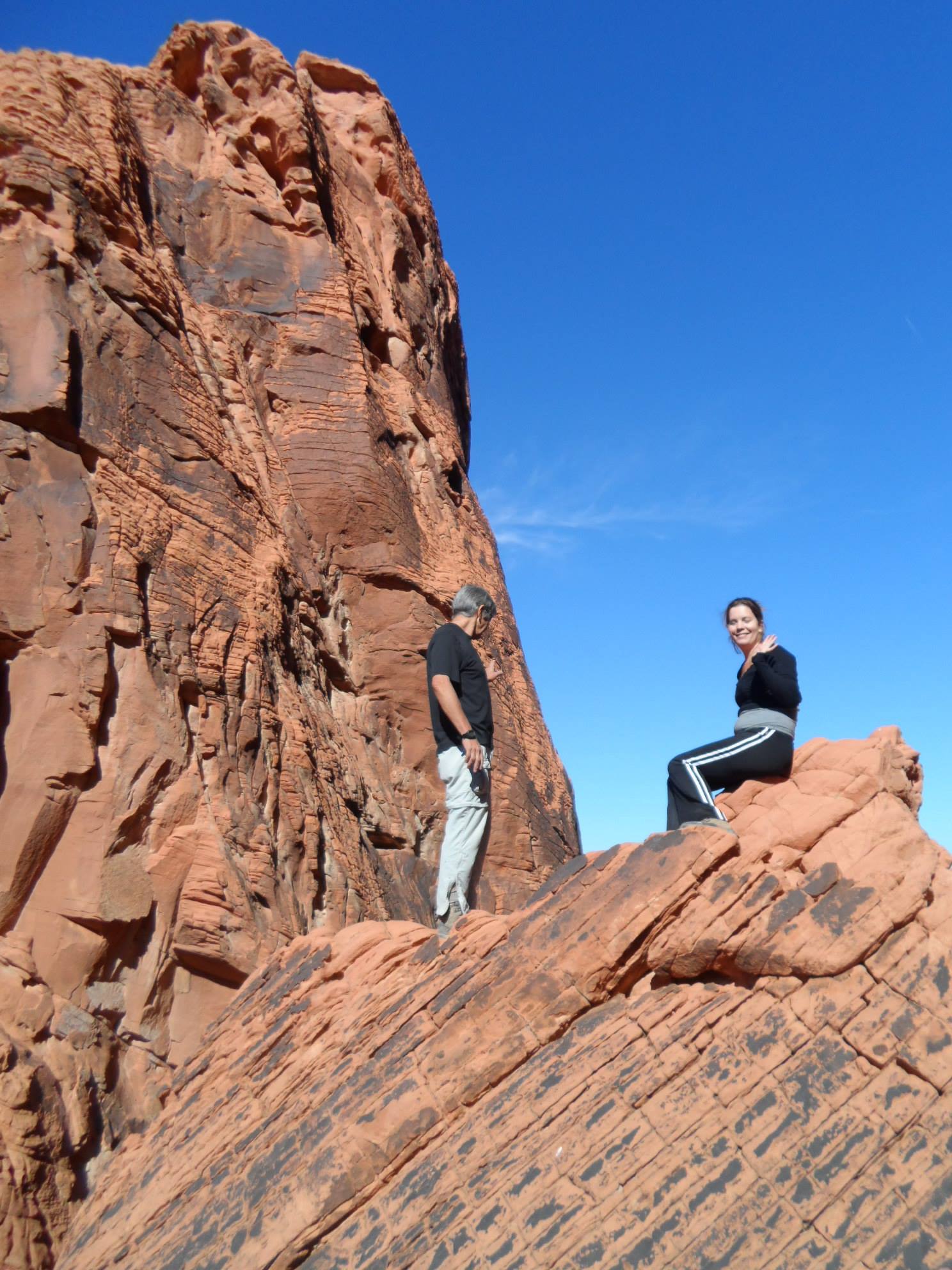 There are places where you can rock climb (there's me, chilling on top of a rocky hillside).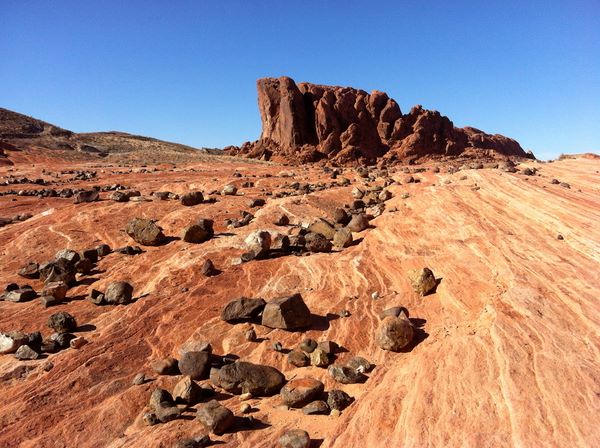 If you go, check out "Wave Rock". The hike is just 20 minutes and takes you to some rocks that look like, well, waves.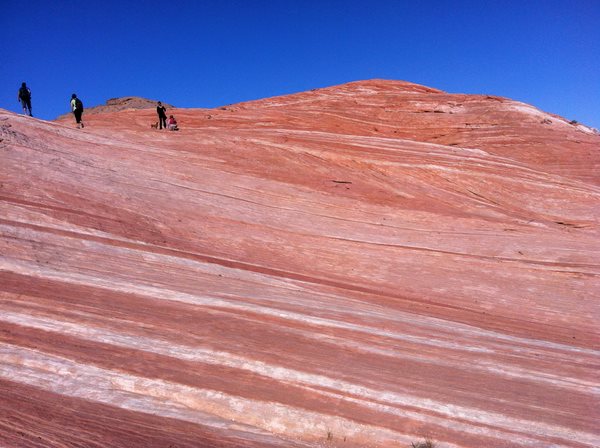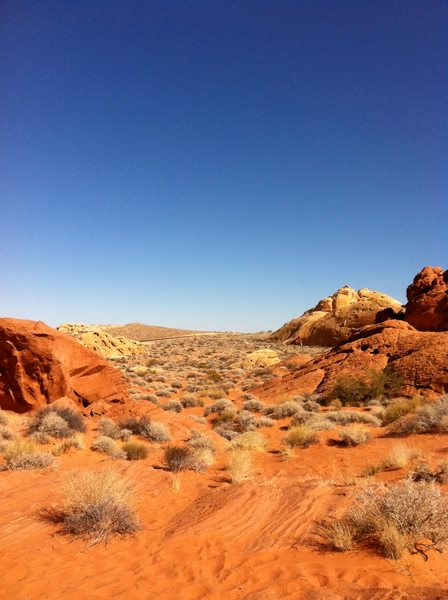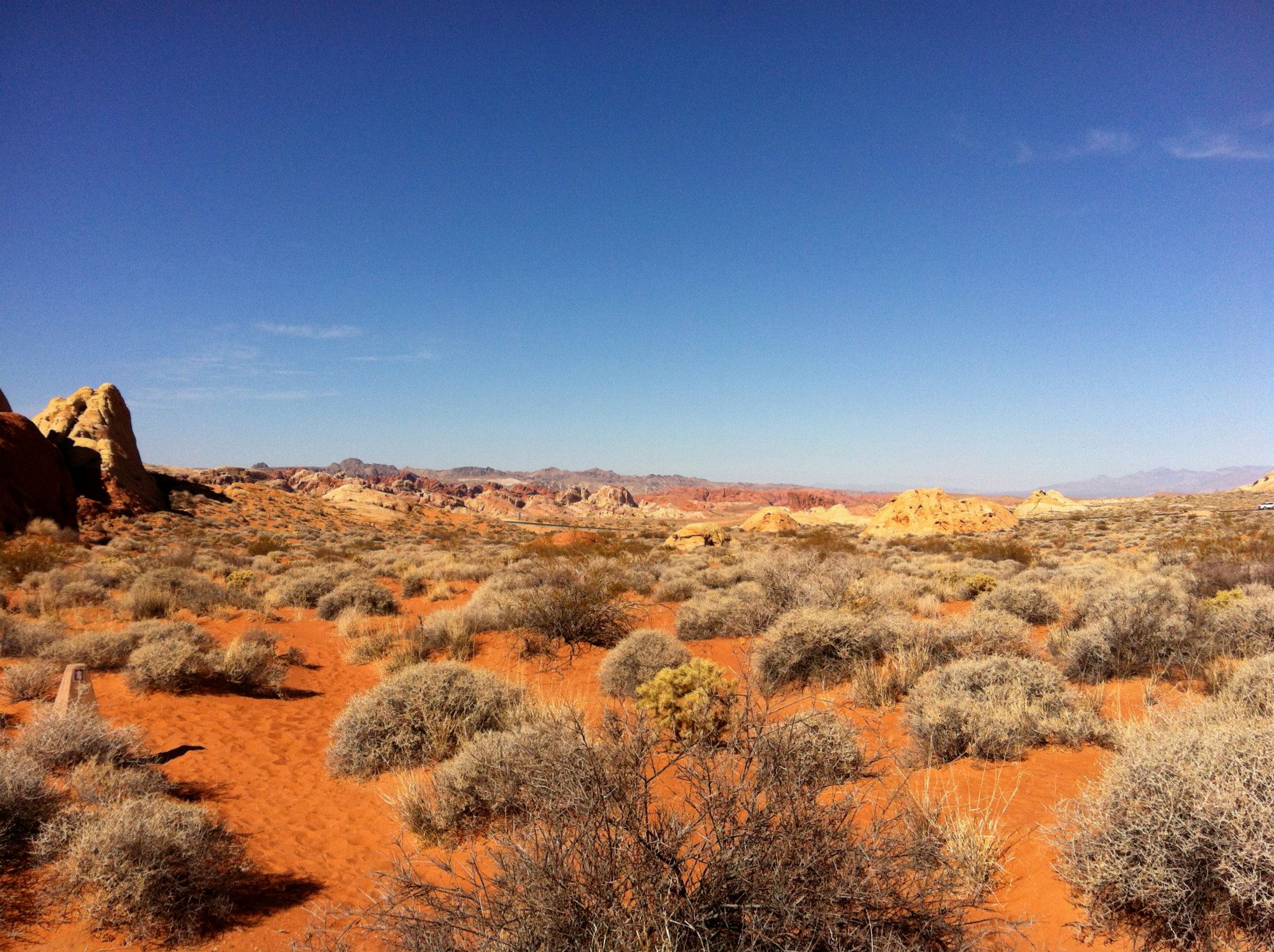 Looks like Mars, no?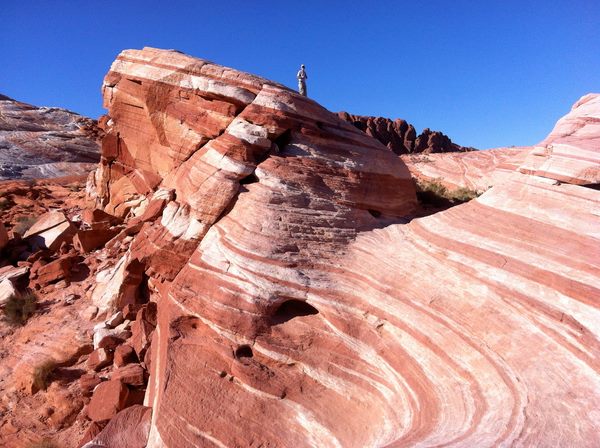 3. The Hot Springs and the Sauna Cave at Gold Strike
This hike isn't in a state park (unlike the Valley of Fire), so it's free. Free is always good in my book! The hot springs are located just outside of Boulder City (about 30 minutes outside of Las Vegas), but you have to hike in or kayak along the Colorado river in order to get there. The trek involves some scrambling, so don't go if you're not somewhat in shape. The hike is six miles round trip and while you don't have to be an expert hiker, some of the rocks are so massive you'll need to use the ropes in order to get up and over them (the rocks have "built in" ropes you can hold onto). But that's part of the adventure, right?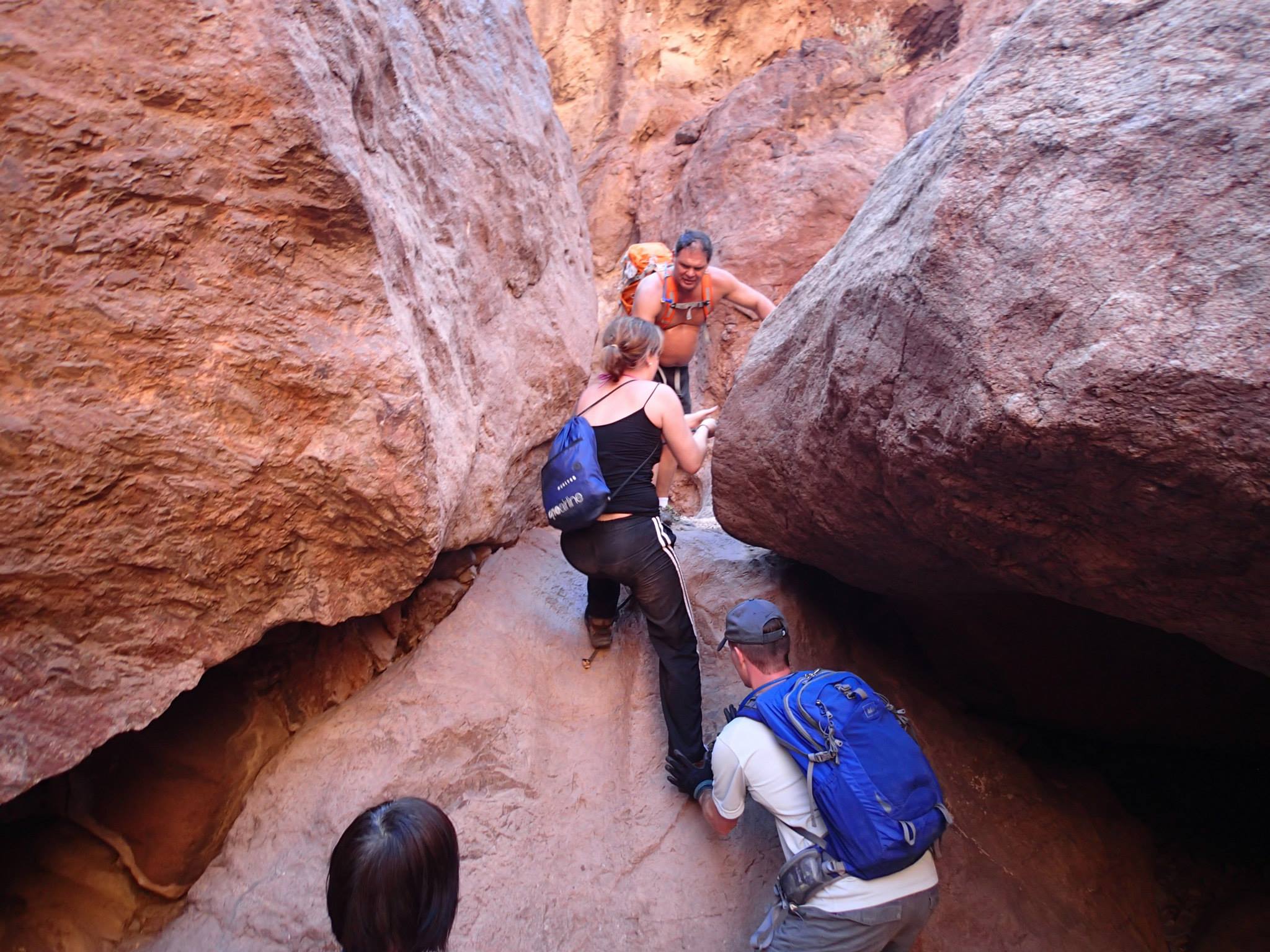 Here's me attempting to pull myself up the rock…That particular boulder required a wee bit more upper body strength than I had.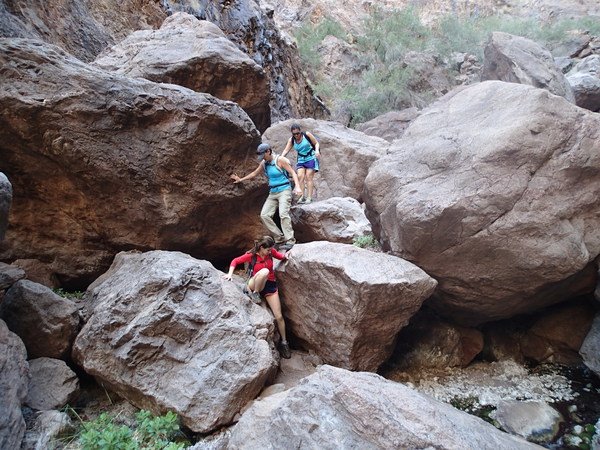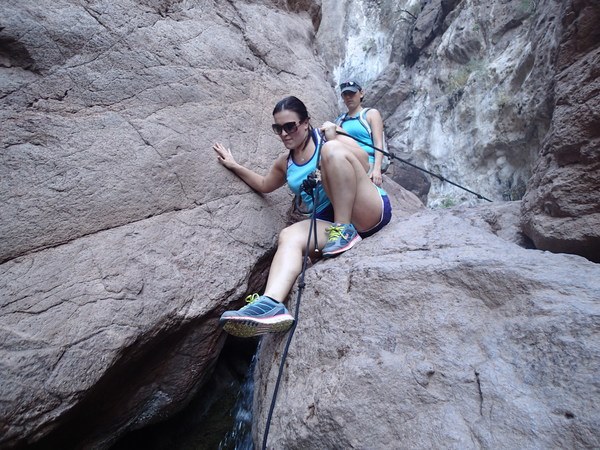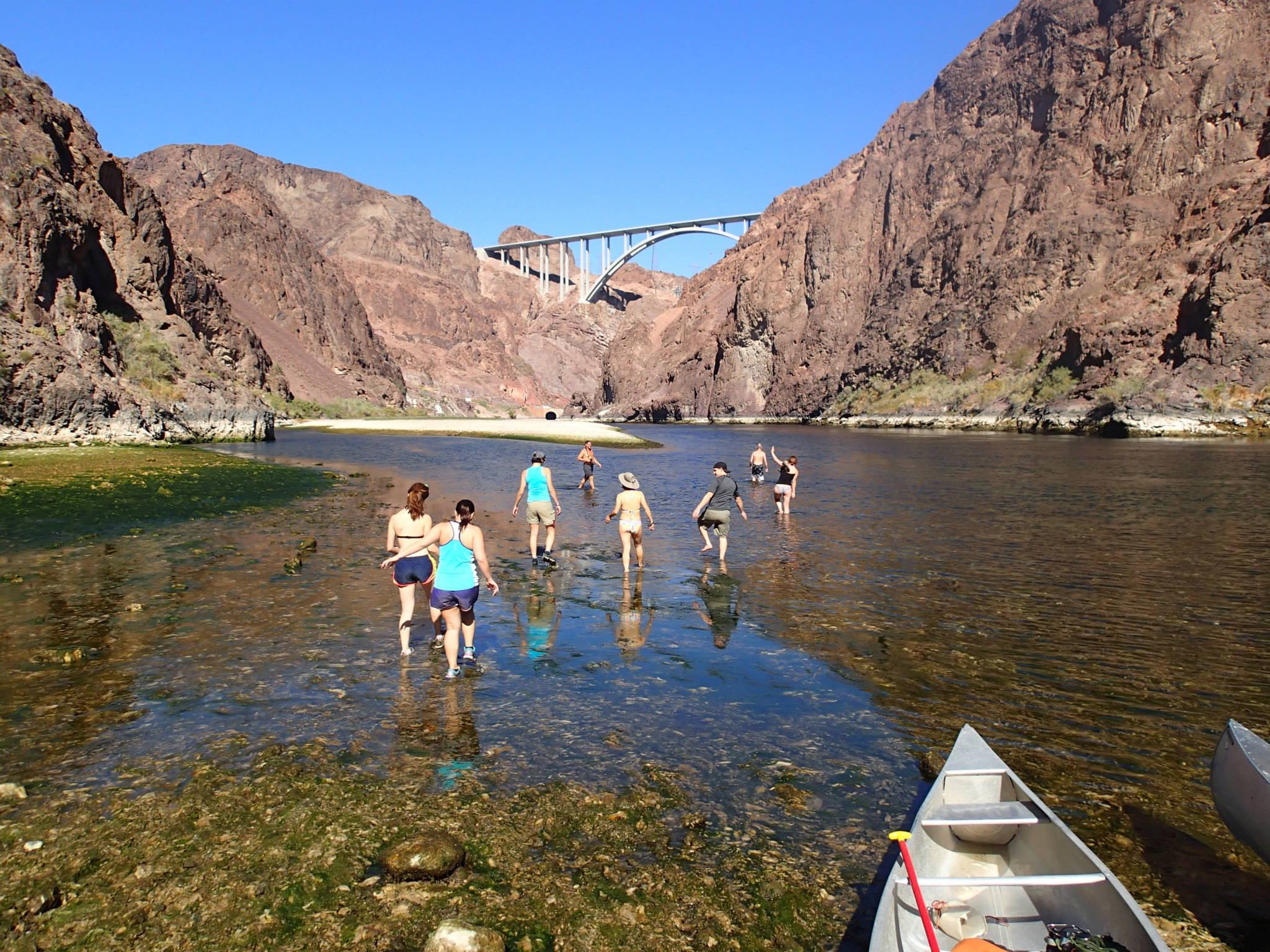 We hiked all the way down to the  Colorado river and then, because the tide was low, we waded across to visit a 'sauna cave'. The cave was more of a tunnel…completely pitch black and as hot as a sauna. 10 seconds into the tunnel and we were all drenched in sweat. Although the walk through the cave is fairly smooth (I did it barefoot), you should bring a headlamp if you have one (it's less creepy than sitting in the pitch black darkness).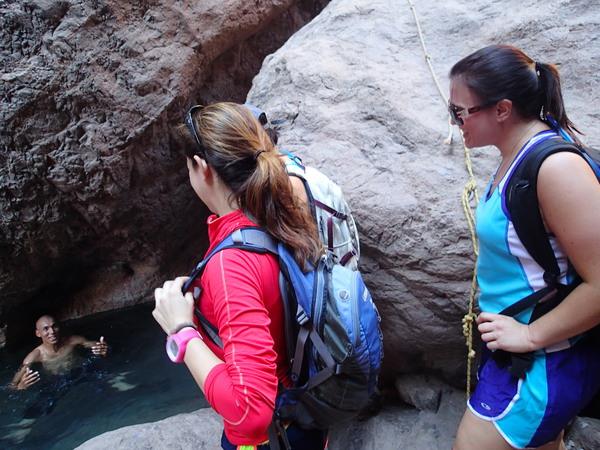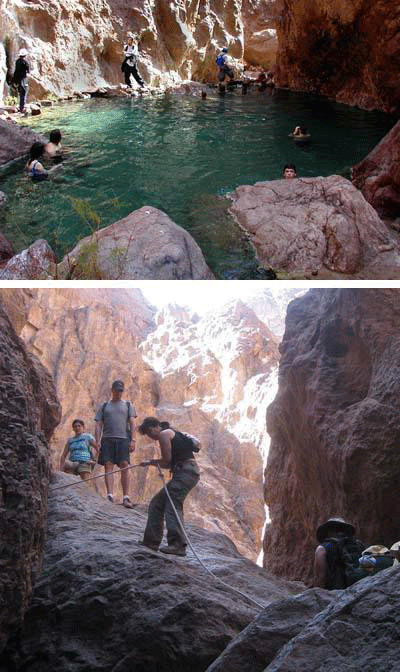 Here's one of several hot springs.
Note: 
There are no public restrooms here. There are also no park rangers. Be careful and bring a lot of water with you (at least two liters) because several people have died here of dehydration (even in the fall or winter).