In an interview with Ira Glass on the radio show "This American Life", author and Paris expat David Sedaris explains how his favorite places to visit in Paris aren't the Louvre or the Champs Essleys, but the local hardware store, flea market and movie theatre. When people come to visit and ask him where they should go for lunch, he takes them to the food court under the Louvre.
While giving Ira Glass a tour of Paris, Sedaris wanders past the Pantheon, commenting "All kinds of famous French people are entombed here….like super famous writers…but I've never set foot inside. I like the frozen grocery store that's across the street from it." He was talking about Picard, where everything is frozen. "They can freeze lettuce…They've got everything in there…from meat to frozen soups and spices…you can buy a little package of ostrich chops." Then he takes Ira to the Taxidermy store.
I can definitely relate to that.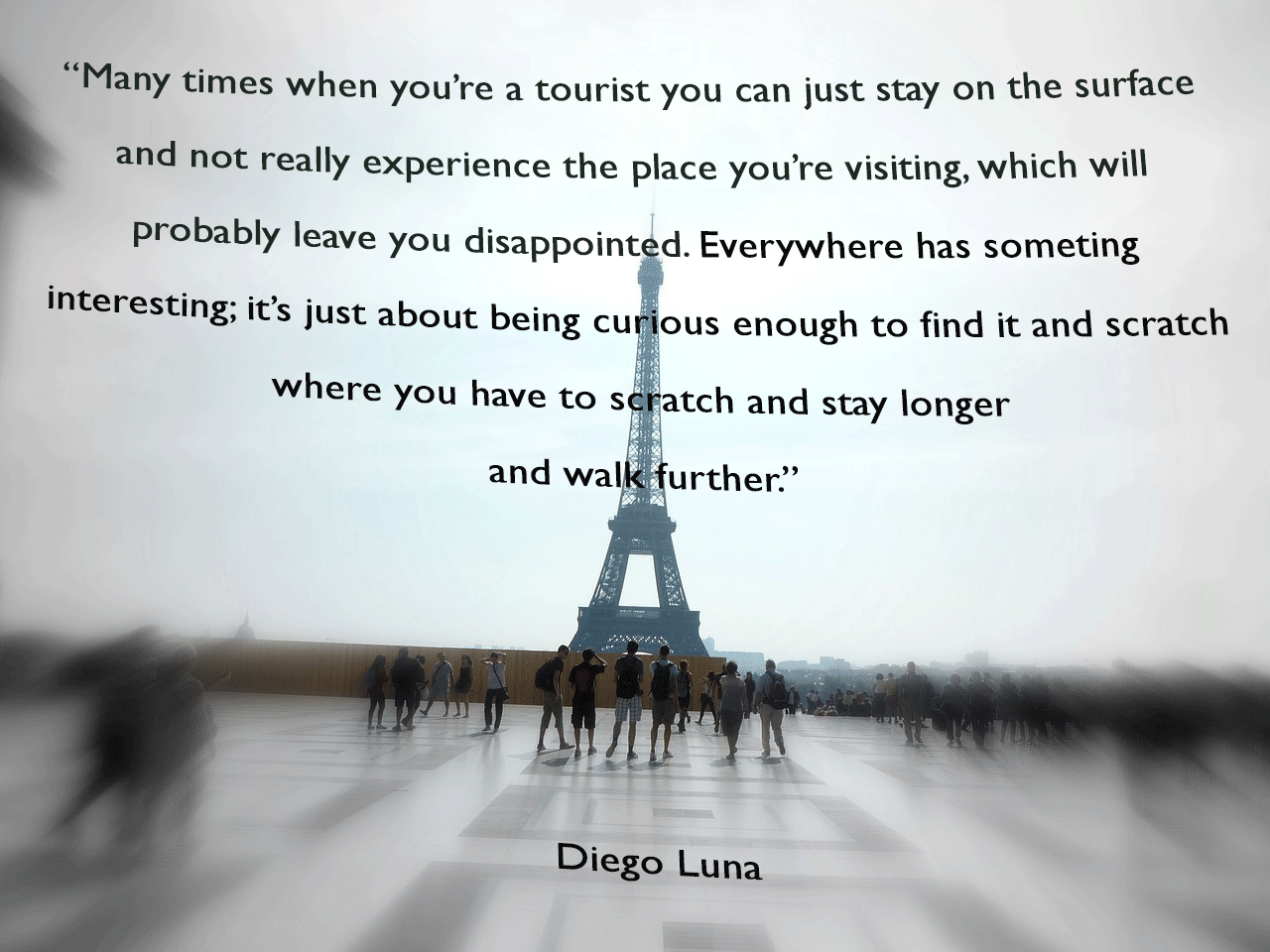 Growing up in Hawaii, I developed an aversion to tourists and anything remotely touristy. As a local in a state whose entire existence revolved around the whims of visitors, I grew to resent them and blame them for everything from the traffic and the garbage on the beach to the overpriced McDonalds menu and my high school Japanese language requirement. It's an aversion I've carried through to adulthood. And it affects the way I travel.
The following are a few tips for how to resist the pull of FOMO (Fear Of Missing Out) and embrace a more natural, relaxed and mindful tourist experience.
1. Don't sightsee, sightexperience
Having an authentic travel experience is about picking and choosing things to see and do that are enjoyable, fascinating or educational, regardless of whether or not these activities take place inside the Taj Mahal or Maria's Taco shop. Ask yourself what you'd want to do if you were at home. Would you want want to pay $30 to ride up the top of a tall building in your home city? No? Then why should you feel pressured to do it just because you're in New York? Before you embark on a manic race to complete every item on every Paris "Must See List", do an internal check. Do you really want to go to Louvre? Or do you just feel like you should because everyone else is doing it and you suffer from FOMO (Fear Of Missing Out)? Not that you shouldn't push yourself to see and do things you wouldn't normally (traveling is, after all, about stepping outside of your comfort zone), you should still remain true to your personality and interests. If you aren't a fan of old cathedrals, don't go. Check out the old pub across the street instead.
Case in point: My favorite experience in Buenos Aires wasn't the steak dinners or tango dance lessons, but getting stuck in an old fashioned elevator at my youth hostel with my mom.
2. Hang out in coffee shops
When I used to live in Tokyo, one my of my favorite things to do was to sit in coffee shops and read and people watch. That was at the top of my list of favorite experiences in Portland, Oregon, when my friend and I bought funny accessories in a flea market and then sat in a bar overlooking a busy pedestrian intersection and people watched, poking fun at the people passing by.
Coffee shops are also a great way to chat with locals. Just the other day, I was working in a coffee shop in Las Vegas when two Swedish tourists asked me for my advice on vegan restaurants. As a Las Vegas local, I was able to give them travel advice they might not have been able to find otherwise.
3. Embrace your inner Marco Polo and explore the unknown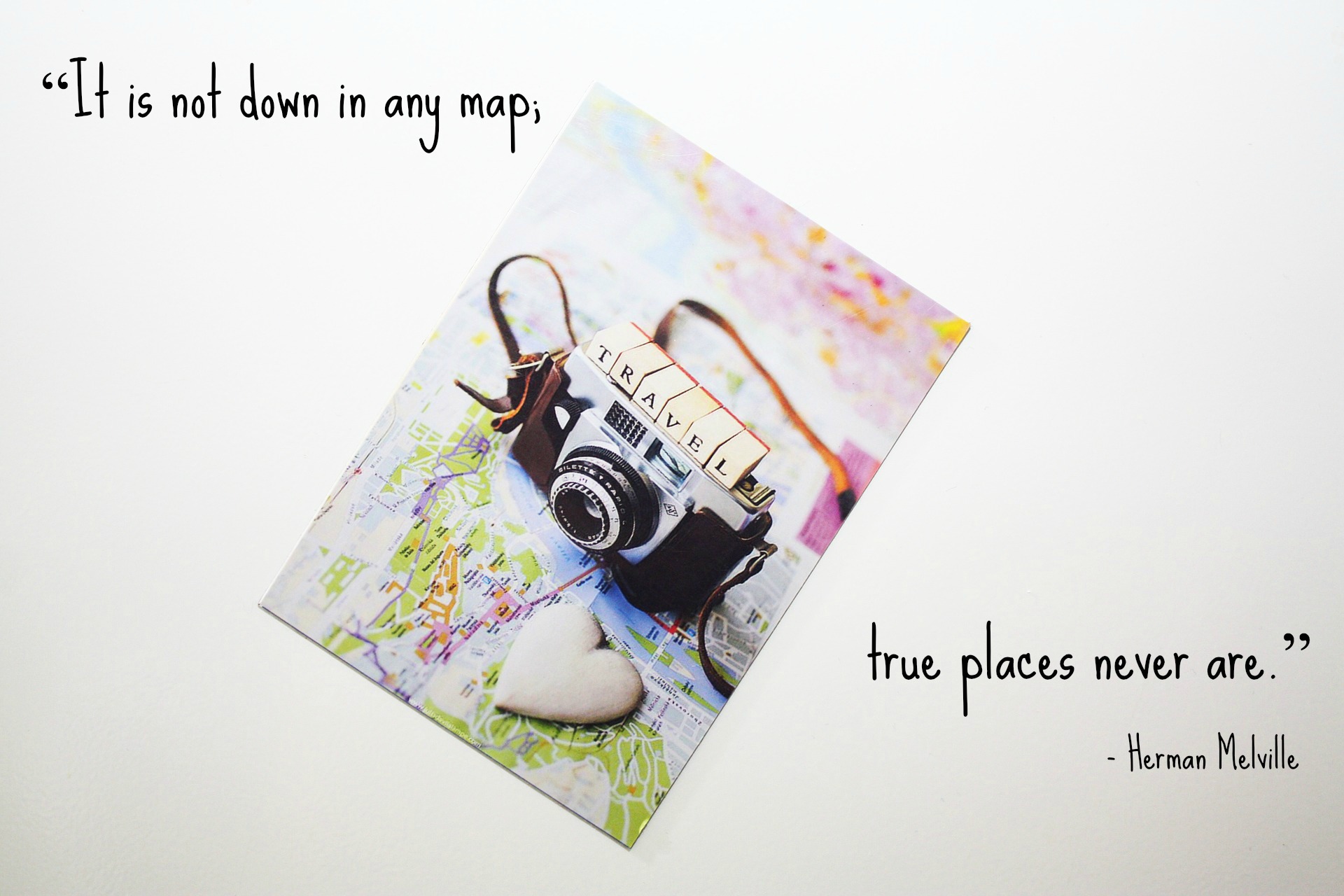 When my friend and I went to Savannah, Georgia, a couple of years ago, we decided to go on an adventure in our rental car. We made a rule that we wouldn't use our phones or maps; we'd just drive out of the city and go wherever looked interesting. We ended up in a nature preserve and then at the beach. Though nothing incredibly out of the ordinary happened, simply knowing the possibility that something might added a level of excitement to what would have likely been an unmemorable day.
You can tap into the wonder and jittery excitement early explorers might have felt by deliberately leaving the map and cell phone at home. You'll get lost and you may never make it to your original destination, but you'll be getting out of your comfort zone and embracing the journey (which is usually more fun anyway).
4. Book your hotel or hostel in a neighborhood you'd actually want to live in
Or better yet, skip the hotel and rent a home or apartment through Airbnb instead. The easiest way to get off the tourist track is to never step foot on it in the first place. Renting someone's home instead of a hotel is the easiest way to do this because most locals don't live in touristy places like Fisherman's Wharf or Times Square.
5. Go to a Meetup or other "locals -only" events
I got this idea from my friend Jeff, a writer who regularly attends Meetups in cities he's visiting, particularly when he's traveling solo. That's actually how we met. He was in Las Vegas for a bachelor party but wasn't meeting his friends for a couple of days, so he tagged along on my Meetup to Zion National Park (we went river tubing). In the few hours it took for us to reach Utah, I gave him the low down on Las Vegas and what he should do while there. We became good friends and I actually visited him the last time I was in San Jose. Going to a Meetup is a great way to meet locals and people in general, and is an especially handy tool to make use of when you're traveling on your own.
6. Read travel guides and blogs written by locals
When I was traveling in Rajasthan, India, I accompanied a travel guide book writer while he reviewed a local bar he'd heard about. The writer, who worked for a famous publication, spent five minutes inside the bar. He didn't order anything or talk to the bartender; simply glanced at the menu and jotted down a few notes about the bar's appearance. I cringe every time I think about how that bar ended up in the guide book, because I actually went there later. It sucked.
I think it's important to read a guide written by people who know a thing or two about the city they're writing about; people who've actually lived there before. I live in Las Vegas, which is a destination that frequently gets mentioned on travel blogs and in magazines, but 99 percent of the time, when I click on the author's byline, I see that they live in New York, Europe or San Francisco and haven't spent more than a handful of weekends here. What could they possible know about "real Vegas"? Nada.
If you're traveling to a country where you don't know the language, I suggest looking at an expat blog directory, like Expat Exchange. That's where you can find a list of blogs written in English by people who are living in the country or city you're looking to visit. Though they may not know as much as someone who has lived there since birth, they'll likely know more than a random travel writer.
7. Leave the camera at home
Once a year, a friend of mine goes on a digital detox vacation. No social media, no email, no internet. She doesn't even bring her fancy camera with her, only a cheap disposable. She's normally a fan of social media and has quite the collection of selfies on her Instagram account, but she finds taking the time to travel without her camera and cell phone help her live in the moment better, and break away from reality, which is what a good vacation is all about. If you want to experience a place like a local would, stop looking at every historical building or pretty sunset through a screen and see it your own eyes. You may be surprised to find what new insights you discover when you aren't preoccupied with getting the perfect angle or photo filter. Plus, research has found people are better able to remember an experience or a place when they don't take picture of it. 
8. Skip attractions and explore neighborhoods instead
Remember, there are no rules to traveling. Nothing bad will happen if you don't visit all those supposedly cool places books and blogs tell you must visit "before you die".
Some of the best travel experiences can be had by simply wandering through a neighborhood, stopping at random shops and eating at intriguing-looking cafés or food stalls. Specific attractions have their place, but focusing solely on the destination can make you miss out on what else is nearby.
9. Explore markets and grocery stores
Seeing what the staples are in any given destination can offer a lot of insight into the local culture. Make a point of seeking out markets and wandering into grocery stores. If you have cooking facilities at your apartment or hostel, buy a few things and try your hand at a local dish.
10. Take a cooking class
If you have the time, take a cooking class to get even more of an insider's perspective on local cuisine. When I traveled through India and Nepal, I took several cooking classes. It's a great way to meet locals in a relaxed environment. You can practice your language skills without feeling intimidated because you'll be too busy chopping, mixing and mashing to feel self conscious. Plus, at the end of it, you'll have a new skill you can show off when you return home.